Letter from the Executive Director


"I've started a new gratitude journal," announced Allison Dodson at our November Council meeting. She made the comment during one of our Member Development activities on Thursday morning. Allison's comment excited a number of Council members who said they too wanted to start writing down something for which they were grateful each day.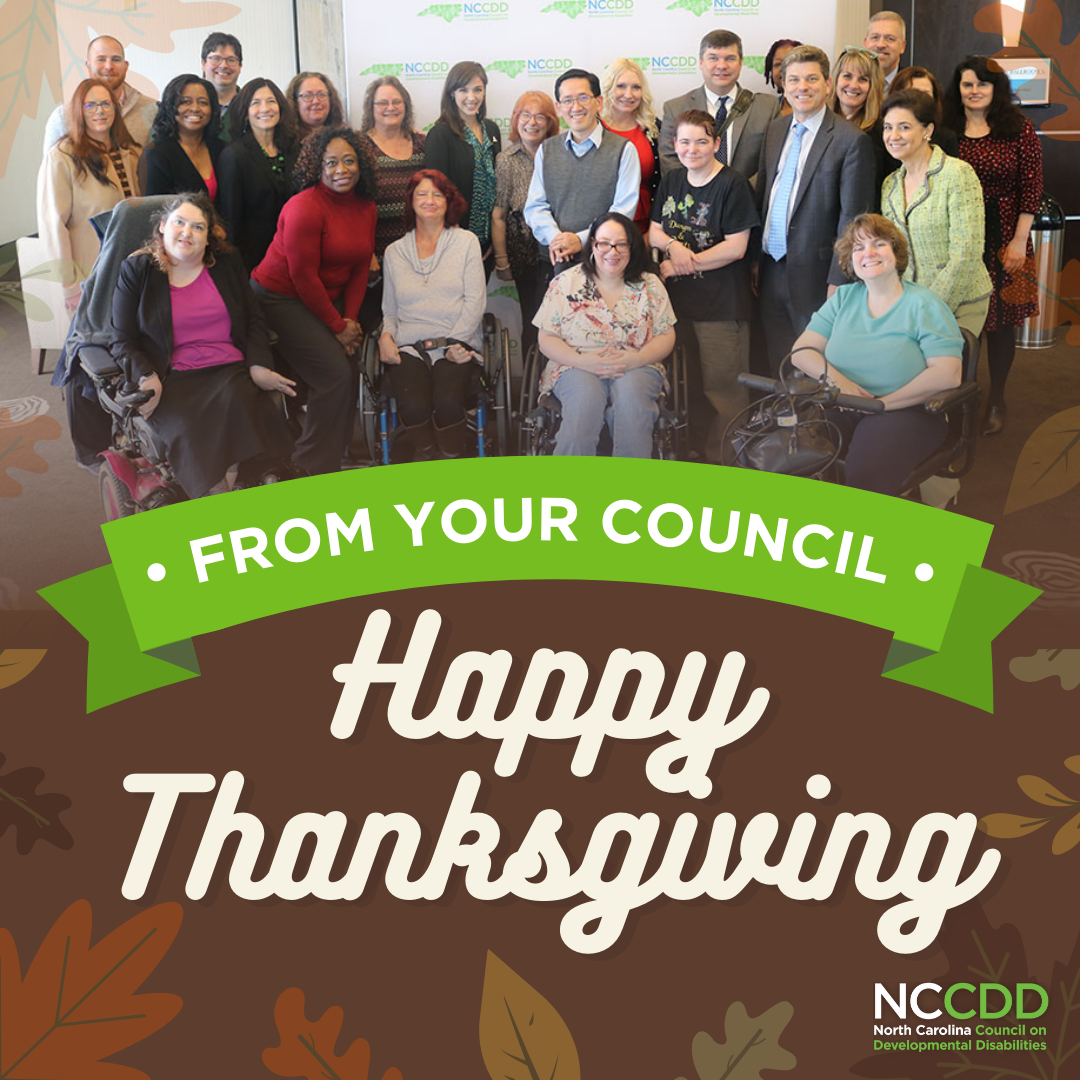 It is the month of Thanksgiving, so it is a good time to focus on gratitude.
I am thankful for the extraordinary men and women with intellectual/developmental disabilities (I/DD) in NC. Last week, I had the opportunity to drive to Statesville to spend some time with David Taylor. David is a self-advocate who received the North Carolina Council on Developmental Disabilities' (NCCDD) Leadership award at our Awards event on November 3, 2021. "David is responsible for so many positive steps in our community," said Statesville Mayor Costi Kutteh in the video accompanying David's award. The Mayor talked about how many accommodations and changes the city made because of David's advocacy. In fact, on the very day he was interviewed, the Mayor said the city staff was installing skid plates at city intersections.
David was one of four awardees that the Council recognized on November 3. The other award winners were Kathy Dooley Roscana (posthumous) and John Rittelmeyer (posthumous) who received the Jack B. Hefner Award, and Andrea Misenheimer who received the Holly Riddle Service Award. Each awardee made a lasting impact for the disability community in their local communities and across the state. These award winners are representative of the thousands of self-advocates, family members, providers, and leaders in the I/DD community who make a difference.
I am also grateful for the Council members and staff at NCCDD. Our Council members and staff think deeply about the issues that impact the disability community. They discuss and debate these issues. And they work hard to craft initiatives and programs to engage stakeholders and state leadership on the critical work needed to improve our community.
I am also thankful for our leaders at the Department of Health and Human Services (DHHS). They are working hard on Medicaid Transformation, the state's draft Olmstead Plan, converting (b)(3) services to 1915(i) services, Tailored Plans, and employment. We will continue to advocate for more and better services and shed light on the critical need in our community, but I am grateful that we have leaders that are working hard on these issues.
So, let's take time this month of thanks to focus on gratitude as we celebrate Thanksgiving to end this challenging year.
Talley Wells, Executive Director
---
Public Policy Update as of November 10

This Just In!
The following important events occurred after the original writing of the Public Policy Update.
NC Budget Update:
The budget was released on November 15th and was voted on by both chambers later that week. The Governor signed the budget on November 18th. Below are highlights related to priorities of the NC Council on Developmental Disabilities. A more detailed update will be provided in the next HHT.
Funding Direct Care Worker Rate Increase: Intent to get wages up to $15 per hour.
Direct Care Worker One Time Bonuses of $2,000.
1000 Innovation Waiver Slots.
114 CAP/DA slots.
ICF/IDD Worker Rate Increase.
Federal Update:
The infrastructure bill was passed by the House and on November 15th President Joe Biden signed the $1.2 trillion infrastructure bill into law. It will deliver $550 billion of new federal investments in America's infrastructure over five years, touching everything from bridges and roads to the nation's broadband/internet, water and energy systems.
The Build Back Better bill was approved by the House on Friday, November 19th. It now goes to the Senate where it will face more scrutiny and possible changes.
STATE UPDATE
Legislative
Over the past few weeks, the legislature's attention was on redistricting. The new maps for NC Congressional representatives and state representatives and senators have been approved. The General Assembly has not yet finalized a budget. Areas of discussion about the budget have included Medicaid expansion, taxes, and state employees' and teachers' salaries. The lack of budget may have impacts on other initiatives in NC, including the Tailored Plan and the development of Care Management for people on the Tailored Plan. We are also anticipating that 1,000 Innovations Waiver slots and increases in Direct Support Professionals' wages to be part of the budget. There is a possibility that we will see 'mini budgets' to address some of these critical issues if a state budget is not passed soon.
NC Plan for Implementation of Federal Funds from the American Rescue Plan Act (ARPA)
The DHHS submitted a proposal to the Center for Medicare and Medicaid Services (CMS) and how NC will spend these federal funds. The plan included some items that are critical to the Council's priorities.
Waiver Expansion and Waitlist Reduction
Home Health Expansion for people with complex medical needs
Expand Research-Based Behavioral Health Treatment for autism
Unified Waitlist Project
The plan has received tentative approval from CMS, but there are some clarifications requested by CMS. DHHS is working on a response to CMS. These funds are linked to items in our state budget, such as Innovations Waiver slots and the Home and Community Based Services (HCBS) Fund that was proposed in the House budget.
Tailored Plans
A critical part of Medicaid transformation is Advanced Medical Home Plus (AMH+) practices/Care Management Agencies (CMAs), which will provide coordination and support for people enrolled in the Tailored Plans. The DHHS is in the process of approving agencies as AMH+ practices/CMAs. These agencies will offer a "multidisciplinary care team to provide whole-person care management that addresses all of their needs, spanning: physical health, behavioral health, I/DD, traumatic brain injuries (TBI), pharmacy, long-term services and supports (LTSS), and unmet health-related resource needs." This is obviously an important support in the Tailored Plan. The DHHS has created a Tailored Care Management Technical Assistance Group (TAG) to provide input into how this service should be developed and delivered. The TAG includes advocates and providers and is an open meeting. The links to the meetings are:
For more information, below is a link to the TAG webpage.
Tailored Plans are scheduled to launch on July 1, 2022. There are factors that may influence the start date, including a lack of a state budget and the development of Care Management. A third factor is the development of HCBS through 1915(i) funding. As mentioned in the last Highlights and Hot Topics, NC is working on developing a State Plan HCBS benefit. The plan is to transition the current B(3) services (such as community living, respite, supported employment) into 1915(i). The state is in the process of developing policies around eligibility, services provided, and any limitations. This is important because it would allow Medicaid-eligible people to access community supports without being on the Innovations Waiver. The timing of CMS approval and development of state policies is critical as 1915(i) needs to launch at the same time as the Tailored Plans.
Olmstead Plan – A draft of the Olmstead Plan was released on October 12. The state received feedback through November 8, and the final plan is scheduled to be released in December. The purpose of the Olmstead Plan is to create a clear plan for enhancing access to appropriate community-based services and supports for people with disabilities in NC. The goal of the plan is to create a path forward to ensuring that people with disabilities can live full lives in their communities.
The NCCDD submitted feedback which highlighted some of the concerns about the draft Olmstead Plan that have been expressed from self-advocates, advocates, families, and other stakeholders. View the feedback here.
Expanding Opportunities for Competitive Integrated Employment
After considerable input and work from many stakeholders – including the NCCDD -- the State recently announced a 5-year initiative to enhance opportunities for employment for people with disabilities. The initiative will include:
Align employment services with best practice
Engage stakeholders to understand new services
Informed choice awareness campaigns
Trainings for providers, families, advocates
The goal is for people to be in Competitive Integrated Employment in the community, earning at least minimum wage. Read more here.
FEDERAL
At the federal level, there have been two major funding bills that have been discussed over the past several months: Infrastructure and Build Back Better. The Infrastructure includes investment in things like roads and internet, while the Build Back Better includes investment in people like preschool, housing, and health care.
Congress recently passed the $1.2 trillion Infrastructure bill. Key parts of the bill include:
$39 billion to modernize public transit, upgrade aging infrastructure, and make stations accessible.
$65 billion to ensure access to high-speed internet for all.
Congress continues to work on legislation as part of the budget reconciliation, or Build Back Better Agenda, that could greatly affect the lives of people with disabilities and their families. The original $3.5 trillion plan has been cut to $1.75 trillion. It still includes child care tax credit, fighting climate change and reducing prescription drug costs. Paid leave and vision/dental coverage seem to be out of the package. Importantly for people with disabilities, it continues to include expansion in Medicaid home and community-based services (HCBS):
$150 billion for Medicaid home and community-based services
---
NCCDD Honors Four Advocates with Statewide Awards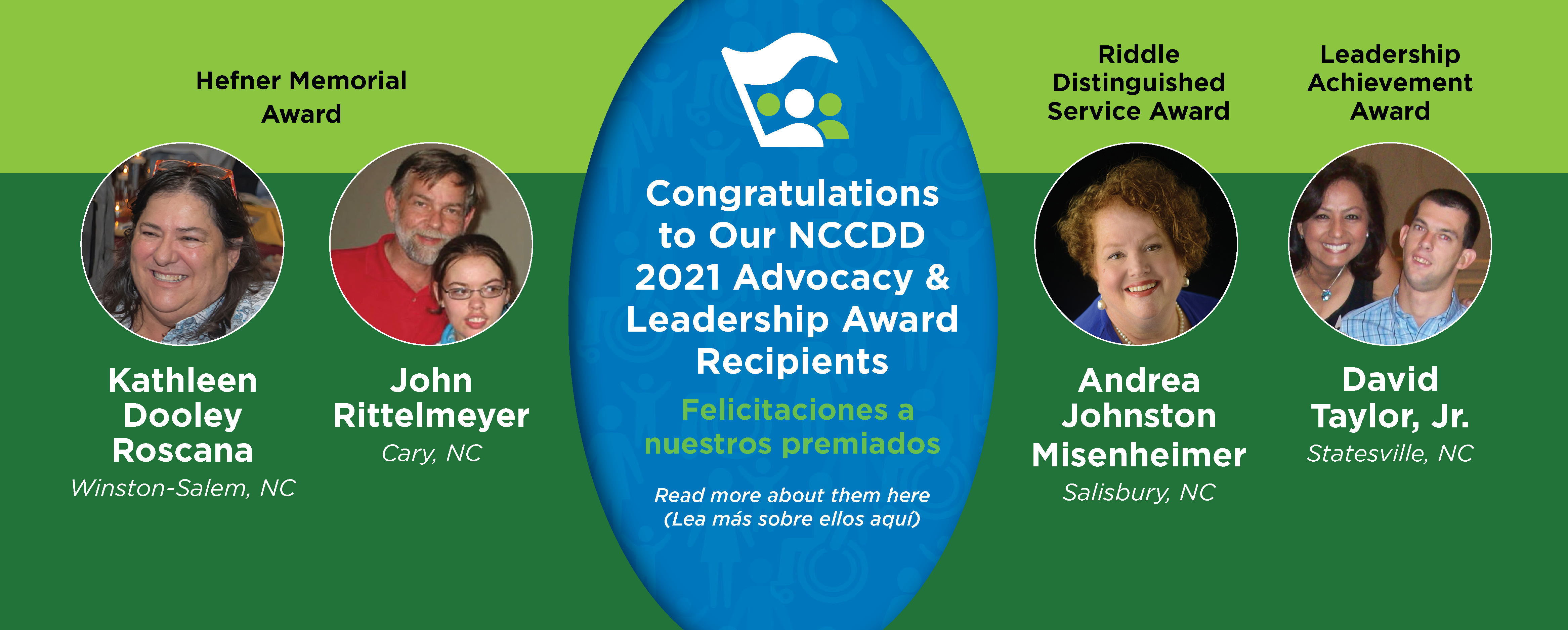 Four NC leaders in disability advocacy were honored at the annual Advocacy and Leadership Awards presentation during the November meeting of the NCCDD.
The Jack B. Hefner Memorial Award honors family members or volunteers who are advocating and building a better NC for people with I/DD. This year the award was given posthumously to Kathleen Dooley Roscana, formerly of Winston-Salem, and John Rittelmeyer, formerly of Cary.
Called the "quintessential parent advocate" by Disability Rights NC, Dooley Roscana was honored for her support of many other advocates throughout the state, guiding them through the intricacies of NC's support systems for people with disabilities, including her son Bryan Dooley who has cerebral palsy.
Rittelmeyer served as Director of Litigation for Disability Rights NC and was instrumental in transitioning NC's federally mandated Protection and Advocacy system for people with disabilities out of state government and into Carolina Legal Assistance, where he volunteered as a board member.
The NC Leadership Achievement Award, which recognizes an outstanding NC self-advocate whose work has improved the quality of life for people with I/DD, was awarded to David Taylor, Jr. of Statesville. Taylor, a certified Americans with Disabilities Act (ADA) Coordinator, has fought for and won changes in his city to help people with I/DD navigate the town with curb cuts for wheelchairs, longer traffic lights for crossing roads, ADA signage, and more.
The Helen C. "Holly" Riddle Distinguished Service Award recognizes professionals who have made lasting contributions towards improving opportunities, breaking down barriers and promoting increased quality of life for people with I/DD in NC. This year's recipient is Andrea Johnston Misenheimer, former Director of Regulatory Affairs, Cardinal Innovations Healthcare Solutions. She led the development of NC's Innovations Waiver, the first waiver in the state to offer individuals with I/DD and their families the option to self-direct their waiver services.
You can find more information about these advocates, their work, and these awards here.
---
NCCDD Hosts Self-Advocate Discussion Series: December and January Sessions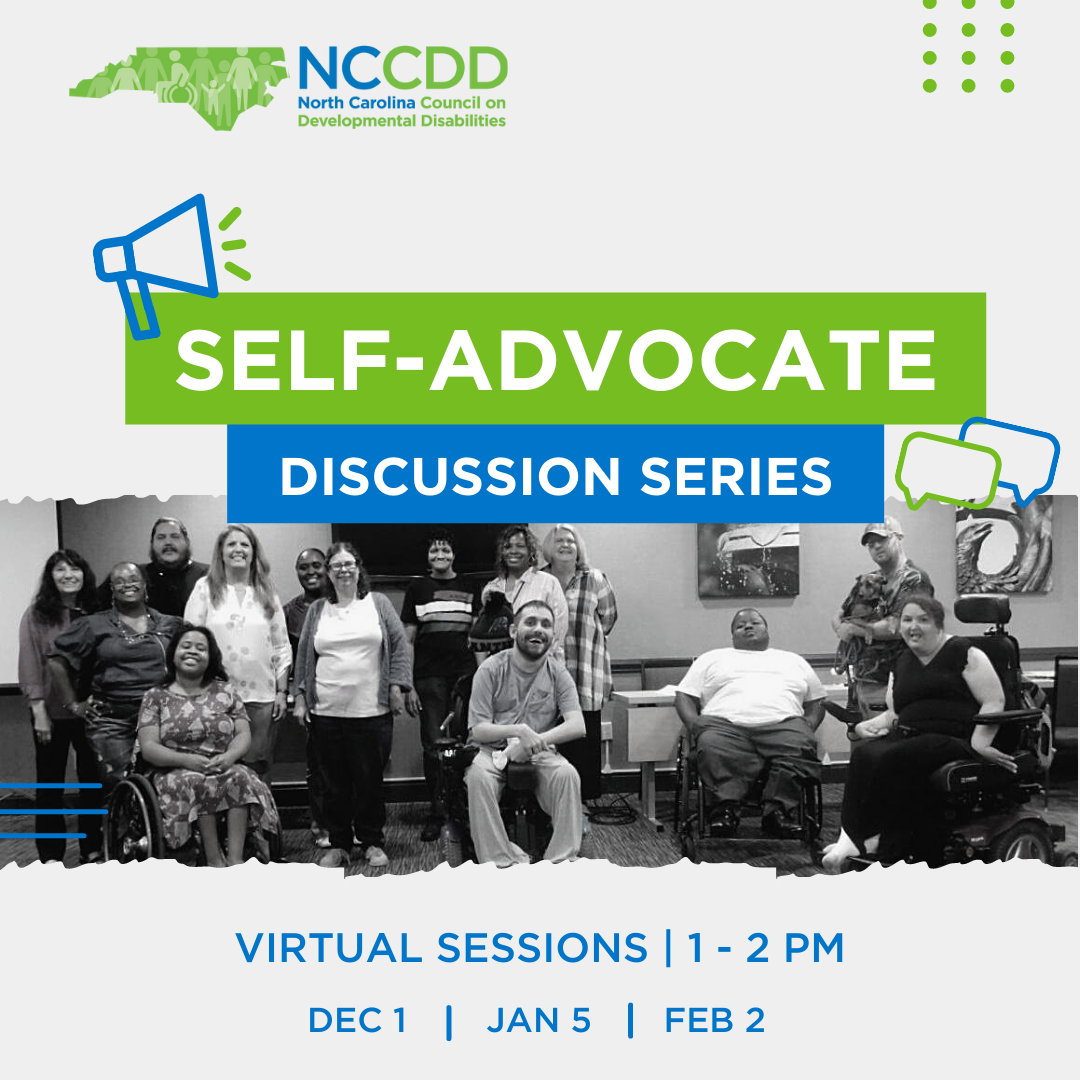 NCCDD is hosting a monthly self-advocate virtual discussion series facilitated by Chris Hendricks, NCCDD Policy Education Coordinator/Legislative Liaison, and NCCDD self-advocate Executive Committee member Cheryl Powell. The goal of the series is to prepare, organize, and mobilize NC self-advocates for influencing social and systems change. The Council aims to emphasize the value of people with disabilities to build and maintain relationships with NC legislators and decision-makers while bridging relationships and a network among NC self-advocates.
There are three sessions remaining in the series with a bonus session in January.
December 1 - Personal Story with Valuable Principle and "Hot Topic"
This session will begin with a three-minute presentation of the Valuable Principle followed by examples of personal strengths, assets, and "superpowers" by volunteer attendees. Facilitators will seek volunteers from the participant attendees to briefly describe the asset related to a current advocacy issue, hot topic, or action alert.The session begins at 1:00 p.m. Register here.
January 5 - Extra Session: Why Do You Participate in the Discussion Series Sessions?
Attendees will have an opportunity to describe their experiences of self-advocacy and advocating for others. This session will have attendees describe different ways of using one's voice to advocate. Come ready to share stories about speaking up, speaking to groups, writing and speaking to decision-makers, calling representatives, and making video messages! Register here.
February 2 - The Valuable Principle: Policy and Social Change Advocacy
Policy experts will relate the Valuable Principle to building and maintaining relationships with NC legislators and policymakers. Presenters will balance training, knowledge sharing, and attendee participation for approaching decision-makers. This session begins at 1:00 p.m. Register here.
---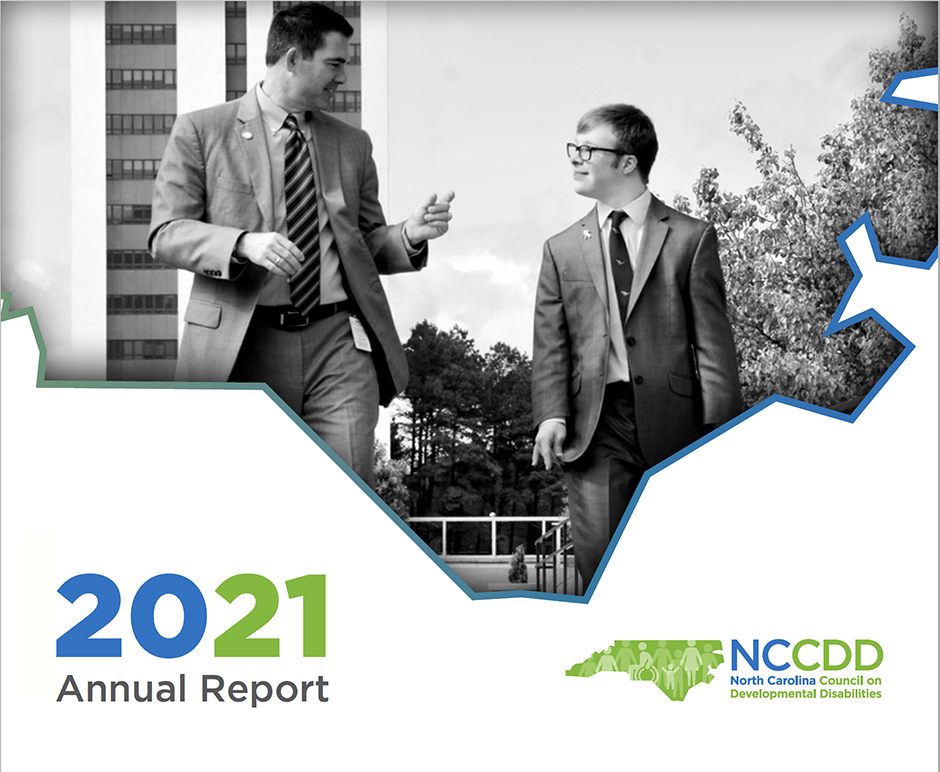 The 2021 NCCDD Annual Report is now available. The annual report summarizes the Council's activities during its last federal fiscal year and reviews the projects undertaken with the support of NCCDD grants.
Each year, the Council presents an extensive account of its performance to the U.S. Administration on Developmental Disabilities, and this document summarizes that report in a brief and readable manner. Please take a moment to review this piece documenting the past year here.
---
New Making Alternatives to Guardianship a Reality in NC Videos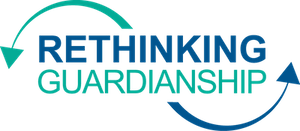 UNC Cares is promoting Supported Decision-Making and other alternatives to full guardianship through NCCDD's Making Alternatives to Guardianship a Reality in NC initiative. Sometimes guardianship takes away a person's rights to make certain decisions for themselves when a less restrictive alternative may be appropriate. The initiative has developed educational PDFs that are available on the Rethinking Guardianship website at: https://rethinkingguardianshipnc.org/
UNC Cares has recently launched a new YouTube channel to share four videos of North Carolinians who have sought alternatives to guardianship for themselves or for a family member with I/DD. You can enjoy these informative videos here.
---

---