---

A YEAR LIKE NO OTHER
It was a year like no other. There was the pandemic. There were new vaccines. There were elections and protests. And there was Medicaid Transformation, Olmstead Planning and a long legislative session.
Through it all, the North Carolina Council on Developmental Disabilities (NCCDD) worked to develop new ways to connect; to prioritize people with disabilities on its multi-year initiatives; and to continue educating and informing our community on things that matter to them. Read more from Kerri Eaker and Talley Wells here.
---
HONORING ADVOCATES AND LEADERS in North Carolina
The North Carolina Council on Developmental Disabilities (NCCDD) held its annual Advocacy and Leadership Awards event on November 4, 2020 via Zoom due to the pandemic. The awards honored self-advocates, professionals, advocates and volunteers who have passionately worked and continue to work to build a better North Carolina for people with intellectual and/or other developmental disabilities (I/DD).The 2020 Hefner Memorial award was presented posthumously to Deborah Wooolard and Bill Donohue of Winston-Salem, NC and the Riddle Distinguished Service award was presented to Betsy MacMichael of Durham, NC. The Leadership Award was presented to Suvya Carroll of Durham, NC. Watch the videos below to learn more about the 2020 recipients. Read more about the 2020 Awards Ceremony here.
---

NEW FIVE-YEAR STATE PLAN
The North Carolina Council on Developmental Disabilities' new Five-Year State Plan (2022-2026) was adopted by the 40-member Council and approved by the Administration on Intellectual and Developmental Disabilities (AIDD). Implementation began on October 1, 2021. The plan is a comprehensive review of major service systems and issues in North Carolina with goals, objectives and specific activities that will be implemented to bring about change. The new plan's goals, to be achieved by 2026, include: 1) Increase financial security through asset development for individuals with I/DD; 2) Increase community living for individuals with I/DD; and, 3) Increase advocacy for individuals with I/DD. Read more about the new Five-Year State Plan here.
---

TAKING INITIATIVE
NCCDD is dedicated to empowering people with I/DD by supporting self-advocacy, independence, and the right to self-determination. Through its Five-Year State Plan, the Council promotes advocacy development, community living and financial asset development so people with I/DD have options to make choices about work, where to live, friendships, taking part in the various activities of their community and other personally defined outcomes. Read more about the new and current initiatives supported by NCCDD.
---

REACHING OUR COMMUNITIES
Zoom became the way of life for so many because of COVID-19. And, it allowed the Council to do more work to reach out, communicate, educate and learn from individuals, families and communities about what matters to them. This included webinars exploring the Registry of Unmet Needs and Employment and Transition from School to Adult Life, an online movie screening and a Latinx virtual listening session. COVID-19 vaccine access for people with disabilities was provided in Gates and Stokes Counties in the form of three drive-through events in the summer of 2021. In an effort to advance criminal legislation, Executive Director Talley Wells, along with leaders from law enforcement, Black Lives Matter, and both political parties gathered at the Governor's Mansion in September 2021 to witness the signing of bipartisan criminal justice reform for North Carolina. Read more about NCCDD reaching our communities here.
---
HELLOS AND GOODBYES
NCCDD lost one of its former Council members this past year with the passing of Adonis Brown on July 28, 2021. The Council also bid happy retirement on June 30, 2021 to JoAnn Toomey who, for over 17 years, served as the Council's Director of Operations. We thank them both for their support and dedication to people with I/DD. In addition, NCCDD welcomed four new staff members who will continue to help communities become more inclusive of people with I/DD and promote self-determination, independence, productivity, integration and inclusion in all areas of the community. Read more details here.
---
Thanks to our Council Members, Partners and Staff
North Carolina Council on Developmental Disabilities (NCCDD), a 40-member body appointed by the Governor, is made up of:
People with intellectual and/or other developmental disabilities (I/DD)
Parent/Family member/Guardian
Representatives of State agencies
State legislators
Representatives from Disability Rights NC and the Carolina Institute for Developmental Disabilities
Provider and Local Management Entities/Managed Care Organization representatives
View our current Council here. View our Current Partners here.
---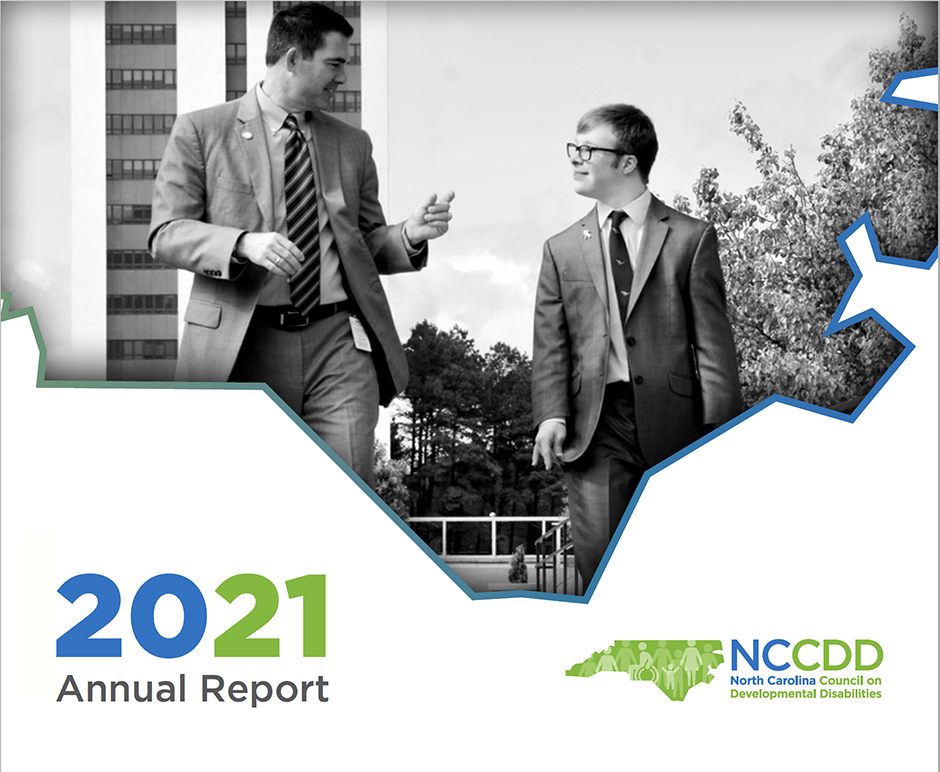 English Version
Download the pdf: English Version
Read the pdf online: English Version
---
© NCCDD 2021 Annual Report • North Carolina Council on Developmental Disabilities • 820 South Boylan Avenue • Raleigh, NC 27603
919-527-6500 (voice/tdd) • 800-357-6916 (voice/tdd) • Info@nccdd.org