A Message from NCCDD Chair Alex McArthur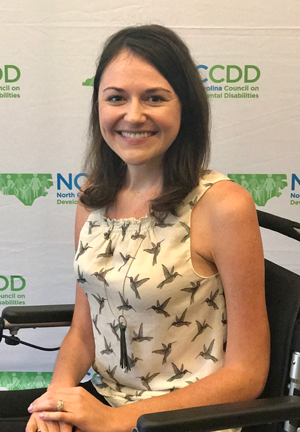 NCCDD Chairperson Alex McArthur
We just finished celebrating National Direct Support Professional (DSP) Recognition Week, which was September 8-14. What we didn't celebrate, however, is the crisis in the number of DSPs available to assist the nation's nearly 1.4 million people with disabilities who require this support in order to remain living and working in their communities.
According to the American Network of Community Options and Resources (ANCOR) the key factors in the DSP workforce crisis are:
Current Medicaid provider rates perpetuate poverty-level wages. Providers struggle to compete against other employers to attract and retain qualified staff;
Limited opportunities for career advancement;
Public policy that is slow to reflect advances in administrative, assistive and other technologies that promote staff efficiencies;
Low public awareness and recognition for the DSP occupation challenge employer recruitment strategies;
The workforce is primarily composed of working-age women, but in the coming decade, far less women will be entering the entire labor market. This will make it even more difficult to staff positions even as demand for services is expected to markedly rise.
You can read more of ANCOR's report here.
What can you do to help with this crisis? Reach out to your state legislators and tell them about the need, the crisis and the importance of DSPs. Your state representatives can and should create policy that provides funds for retaining DSPs in the workforce and guiding more people to work as DSPs. Thank you for advocating on behalf of DSPs everywhere!
The NCCDD is always here to help. Please check out our website, share your ideas, and stay in touch.
Alex McArthur, NCCDD Chair

FEDERAL
Appropriations
With the end of fiscal year 2019 looming, the Senate continues to struggle to pass its spending bills for 2020. To avoid a government shutdown, both houses of Congress will need to pass a continuing resolution (CR) before October 1. The House has passed a CR measure which funds the federal government through November 21, 2019.
Autism
The Autism Collaboration, Accountability, Research, Education and Support (CARES) Act is set to expire on September 30. The House passed a bill (H.R. 1058) over the summer to reauthorize these programs that fund autism and developmental disability research, surveillance and education programs within two federal agencies. The Senate has yet to begin the reauthorization process. Due to a "hard sunset provision" within the Autism CARES Act, efforts short of reauthorization would make continuing programs after the end of September unlikely.
Family Support
The RAISE Family Caregiving Advisory Council recently held its first meeting. The council is charged with providing recommendations to the Secretary of Health and Human Services on effective models of both family caregiving and support to family caregivers, as well as improving coordination across federal government programs. Click on the link to learn more about this Council's efforts and its voting members.
Food Insecurity
On July 24, the Administration issued a notice of proposed rulemaking that would cut current eligibility for Supplemental Nutrition Assistance Program (SNAP), a program also known as food stamps which helps low-income individuals and families including an estimated 11 million individuals with disabilities. This proposal would eliminate states' flexibility to determine eligibility and thereby cut off SNAP benefits for 3.1 million individuals. This change will also eliminate eligibility for free school meals for the children in those families. Individuals interested in commenting on these proposed changes must have submitted them by September 23.
STATE
Legislative Budget and Medicaid Transformation

The state continues to operate under last year's budget. As a reminder, the approved legislative budget was sent to the Governor who vetoed the budget bill because Medicaid expansion was not included. In an unexpected turn on September 11, House Speaker Tim Moore called a surprise vote on a motion to override Gov. Roy Cooper's June veto of the state budget bill for fiscal years 2020 and 2021. The vote took place without meaningful debate and with 64 of the House's 120 members ready and able to vote. At this point, the Senate has not taken up the issue for a vote. The House and Senate are now both in recess through the end of September.
Earlier this week the House had HB 655 on its calendar. This bill is the North Carolina Health Care for Working Families, which would extend Medicaid coverage, with co-pays and work requirements, to people who are currently not eligible. The bill was re-referred to Rules Committee so is stalled for now.
The lack of movement on the budget or HB 655 affects the ability of the Department of Health and Human Services to move forward with Medicaid transformation. The implementation of phase 1 of the Standard Plan has been delayed until February 2020, which is when phase 2 is scheduled to begin. So, we will have a single statewide implementation as opposed to two phases. The implementation date could be delayed again, depending on the legislative process around the budget.
Redistricting
Earlier this month, a panel of three Superior Court judges unanimously struck down 2017 House and Senate maps giving lawmakers two weeks, until Sept. 18, to draw new districts in "full public view" without the use of election data. The three-judge panel found they used unconstitutional partisan gerrymandering to harm Democrats when they created the 2017 legislative maps. Redistricting committees from both chambers met and lawmakers mostly agreed to use baseline maps from an expert for the plaintiffs in Common Cause v. Lewis, the litigation dictating the process, and submitted these to the court. Parties to the plaintiffs, Common Cause, have until October 4 to provide any objections to the maps and supply any alternative maps.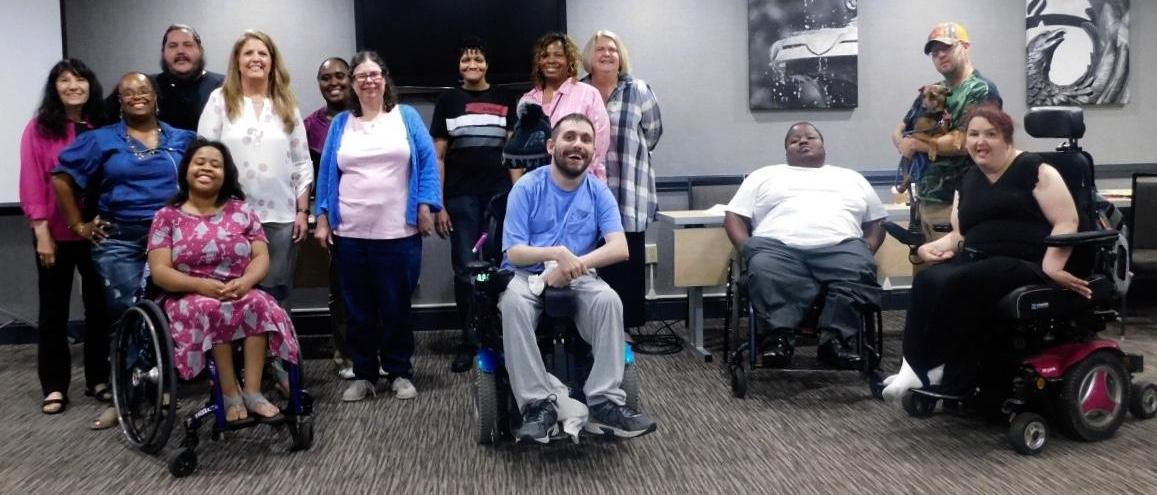 NC ADA Network Train-the-Trainer workshop participantsThe NC ADA Network Coordination, Technical Assistance and Fiscal Intermediary initiative provided a Train-the-Trainer workshop in May for individuals with intellectual or other developmental disabilities (I/DD) to strengthen their Americans with Disabilities Act (ADA) knowledge and be able to train others on the ADA's basic principles. Through this partnership with the Southeast ADA Center, individuals who completed the workshop are required to lead two ADA trainings in order to earn their ADA trainer certificate.

NCCDD member Bryan Dooley and Dave Owen, Bryan's Direct Support Professional, participated in the May workshop. On August 12, Bryan and Dave partnered with Arts Access, Inc. to deliver an ADA training to approximately 70 NC State Historic Site staff at the Charlotte Hawkins Brown Museum State Historic Site in Gibsonville. They presented Module 2d: Empathy not Sympathy: Interacting Respectfully with People with Disabilities, where they discussed attitudes, person-first language and how to create a culture of inclusion. They received a hearty round of applause for their contribution that day.

"I've always liked history as I majored in the subject in college," Bryan said. "So, I jumped at the chance to teach the staff of NC's various historical sites." He pointed out the value of the partnership opportunity with Arts Access, adding, "Their mission is vital, and I hope I have the opportunity to work with them again."
Read more about the initiative below.
Disability Rights NC Unveils New Logo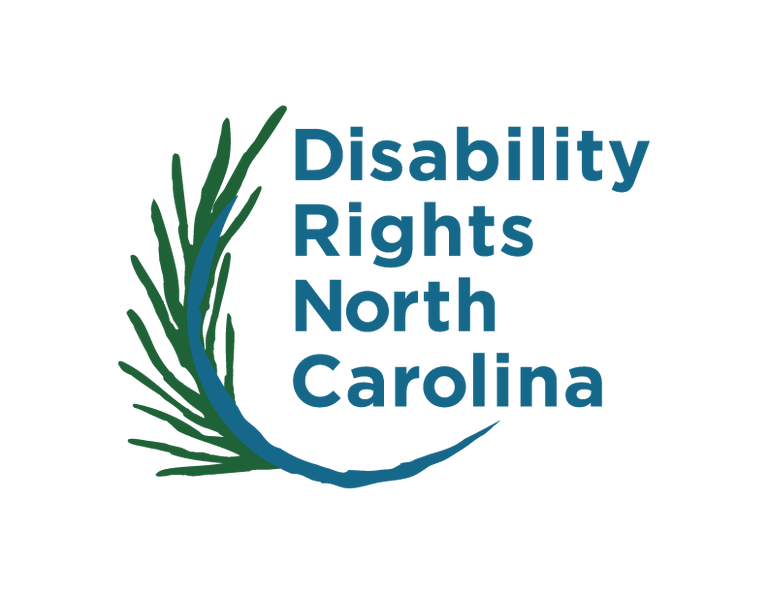 Disability Rights NC (DRNC) has unveiled a new logo with a special meaning. The blue and green design represents the agency's continued dedication to its mission to advance and defend the rights of people with disabilities in North Carolina. The longleaf pine, North Carolina's state tree, incorporated into the design is part of a diverse, evolving and interconnected ecosystem, a parallel that can be drawn with the state's diverse disability community.
Disability Rights NC, a part of the NC DD Network, partners with and represents the one in five people living in North Carolina who are living with a disability. DRNC feels disability is a common, natural part of human existence that affects people in every region and from all walks of life. The agency continues its fight for the rights of all people with disabilities.


National Disability Employment Awareness Month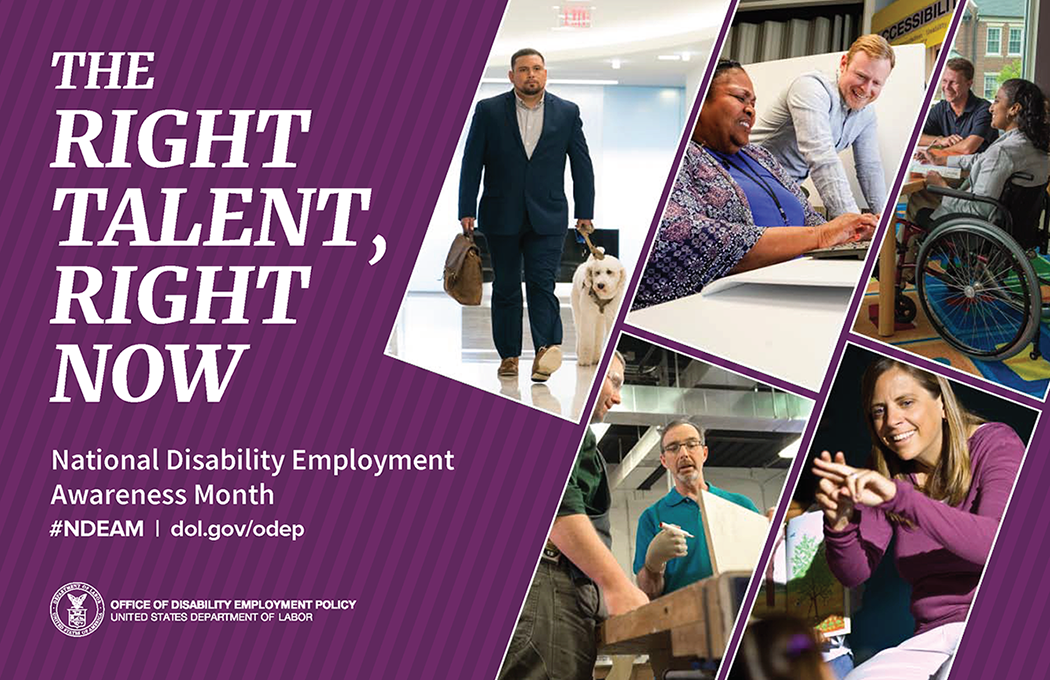 October 2019 is National Disability Employment Awareness Month (NDEAM), celebrating more than 70 years of disability inclusion. This year's NDEAM theme is "The Right Talent, Right Now."
Emphasizing the role that people with disabilities play in America's economic success, NDEAM celebrates America's workers with disabilities, inclusive policies and practices so all who wish to work can work and access supports and services for all to be gainfully employed.
Focusing on a commitment to a competitive and thriving American workforce, NDEAM celebrates the many contributions of workers with disabilities. This month of NDEAM celebrations also helps to educate everyone about the value of an inclusive labor force and the unique talents and work skills all can, and do, bring to their workplaces.
Check out NCCDD's calendar of events to find events and celebrations of NDEAM near you.


Council Initiative Highlight: NC ADA Network
Funded by the North Carolina Council on Developmental Disabilities (NCCDD), the NC ADA Network Coordination, Technical Assistance & Fiscal Intermediary initiative supports NCCDD's Goal 3 of the Five-Year Plan: Increase advocacy for individuals with intellectual and other developmental disabilities (I/DD).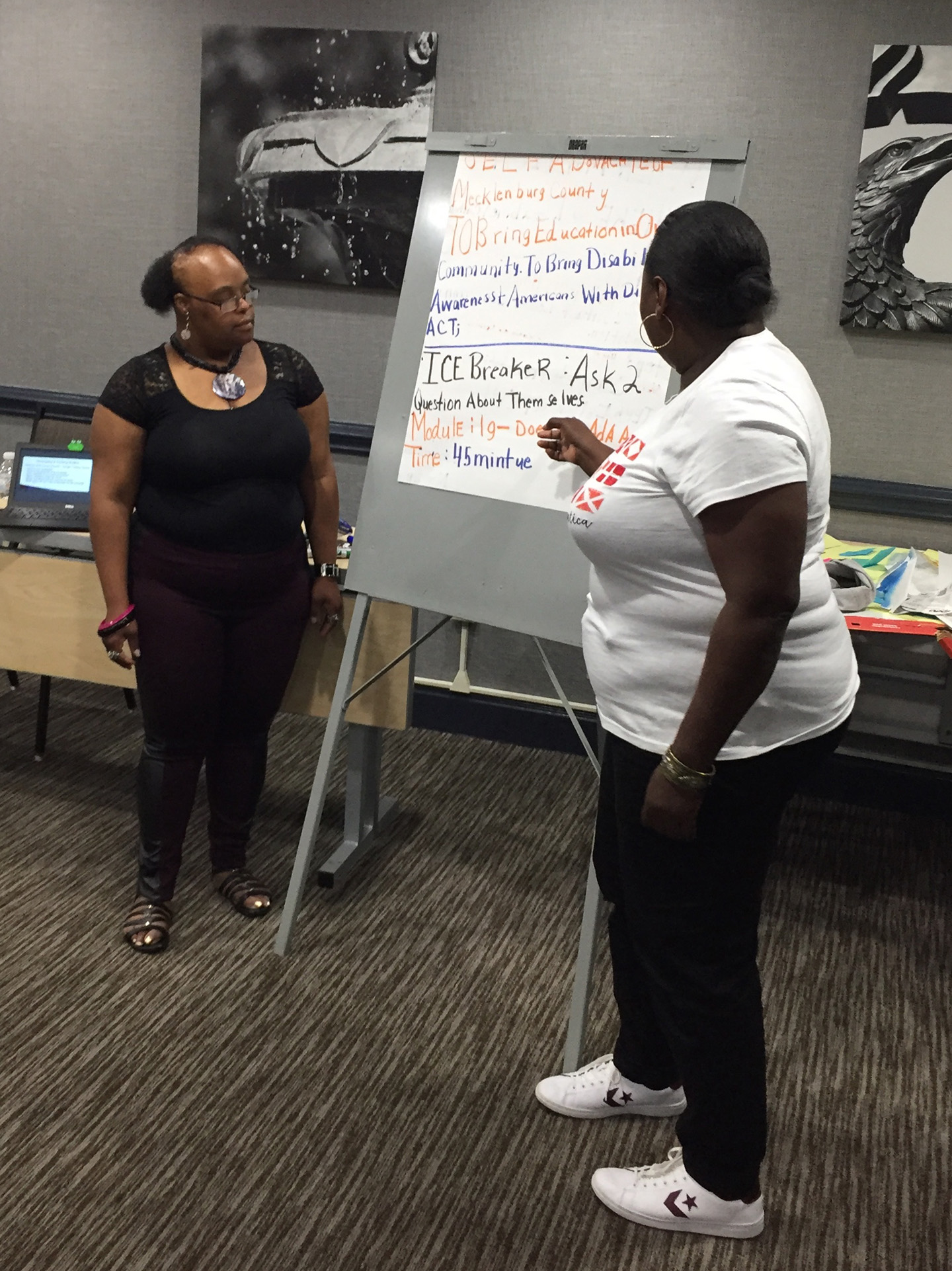 Trainers at the NC ADA Train-the-Trainer workshopThe initiative's purpose is to partner with advocates with disabilities and their family members to increase compliance with the Americans with Disabilities Act (ADA) in local communities across North Carolina. Currently, advocates are focusing on compliance in restaurants, city government services and facilities, community colleges, and banks along with disability and barrier awareness.
In 2019, the initiative has provided ADA technical assistance services in more than 28 North Carolina counties through local ADA Projects led by people with disabilities, ADA trainings, ADA information/referral, and partnerships with other statewide initiatives. Common topics have included: reasonable accommodations; service animals, identifying local ADA Coordinators, accessible parking, recreation, facility accessibility and much more.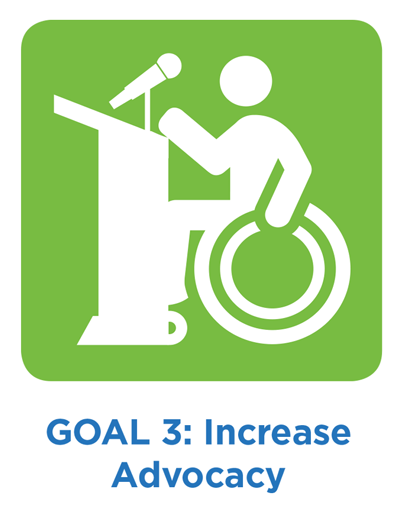 Nine advocates successfully completed the ADA Train-the-Trainer workshop conducted by the Southeast ADA Center in the spring. ADA Trainers have conducted 14 ADA presentations throughout North Carolina, and six more are scheduled. The ADA trainings have drawn over 100 participants.
The ADA Network initiative collaborates with several other statewide organizations including:
Disability Rights NC on the Accessible Public Transportation Project.
Southeast ADA Center on the Accessible Banking Research Project.
NC Office on Disability and Health regarding local Health Department accessibility.
The initiative is currently working with the Southeast ADA Center to identify ADA publications and webinars offered in Spanish to share with North Carolina community groups working with people with disabilities.
Eventually, the initiative hopes to build a network of a hundred advocates and community leaders statewide to create greater accessibility for all and make improvements to promote inclusion that supports individuals with disabilities.
If you would like to know more about this initiative and how to become involved, contact Karen Hamilton, NC ADA Network Coordinator, at karen.hamilton336@gmail.com. For answers to your ADA questions, contact the Southeast ADA Center, at 1-800-949-4232 or visit www.adasoutheast.org
---
En Espanol - August 2019

---
Audio - Highlights and Hot Topics