A Message from NCCDD Chair Alex McArthur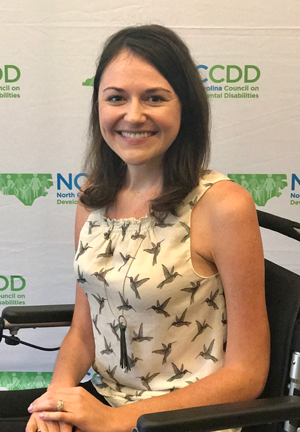 NCCDD Chairperson Alex McArthur
With a backdrop of ocean waves and bright sunshine, the North Carolina Council on Developmental Disabilities (NCCDD) members convened in Carolina Beach, NC for their May quarterly meeting. This provided the group with an opportunity to meet with community partners on the eastern coast of the state.
The Council hosted a panel representing eastern North Carolina organizations from the disAbility Resource Center to The Arc of North Carolina to Robeson Community College and more.
NCCDD is seeking input from everyone across the state for two upcoming projects including:
2019 Advocacy and Leadership Awards: Each year, the Council recognizes three outstanding individuals for their work in self-advocacy, advocating on behalf of people living with I/DD, and professionals who advance programs for people with I/DD across the state. Nominations will open on June 3.
Ideas and input for the Council's next Five-Year Plan: While the current plan runs through 2021, we begin our outreach efforts on the feedback of what we are doing now and input on what areas of work we should be focusing on across the state. If you have ideas on what you would like to see in the next Five Year Plan that will be in place from 2022-2026, share them with us.
A lot of work was accomplished at the May Council meeting including taking our advocacy efforts to the beach for all Council members, their family and friends to enjoy the surf and sand using beach access surface mats and the beach wheelchairs.
Alex McArthur, NCCDD Chair


FEDERAL
Health
As part of the Medicaid Services Investment and Accountability Act of 2019 (H.R.1839), the ACE Kids Act became law. The law will expand access to patient-centered pediatric-focused coordinated care models tailored for medically complex kids.
On May 1, bipartisan cosponsors in the House introduced the Healthcare Extension and Accessibility for Developmentally Disabled an Underserved Population Act (H.R.2417). This bill would declare people with DD as a medically underserved population, a designation that comes with access to 25 government programs.
Also, 16 democratic cosponsors in the House introduced the Medicare for America Act (H.R.2452). The bill would expand Medicare to cover all persons not covered by employer-sponsored health plans. Another notable component of the bill would expand Medicare benefits to include long-term services and supports, something that's currently only available through Medicaid.
Education
The Government Accountability Office released a report documenting the differences between states in rates of eligibility for services under the Individuals with Disabilities Education Act (IDEA), ranging from 6.4-15.1%. The range is attributed to the flexibility given to states by law. The report also notes difficulty identifying English language learners with disabilities due to a lack of staff who are fluent in the student's native language.
House and Senate members jointly introduced the Keep Our Promise to America's Children and Teachers Act (S.1172/H.R.2315), which gradually increases funding for Title I of the Elementary and Secondary Education Act and special education (Part B, the State Grant Program) under IDEA until both are funded at authorization levels.
ABLE Account Guidance
The US Department of Housing and Urban Development recently issued long-awaited guidance clarifying that funds in ABLE accounts should not be included in determining a person's eligibility for means-tested housing assistance.
Budget and Appropriations
On May 8, the House Appropriations Committee approved its Labor, Health and Human Services, Education and related agencies bill for fiscal year (FY) 2020 with overall funding of $189.9 billion, a 7% increase from last year. The Arc of US compiled a detailed list of funding levels. Despite progress in the House, Senate appropriators signaled they will not move forward until a deal is reached to increase spending caps on discretionary programs. Without a unified agreement, all non-defense discretionary programs will face a 9% reduction due to the Budget Control Act of 2011.
DD Act programs
On May 5, the Administration on Community Living (ACL) announced a proposed reorganization that would split oversight of DD Act programs, DD Councils and University Centers for Excellence in Developmental Disability separate from Protection and Advocacy Centers.
STATE
Budget – The General Assembly is in long session with a major task being the biennial budget. At this point, the House has approved its budget and sent it to the Senate. The Senate is working on their budget and is expected to approve it in the next few weeks. Highlights of the House budget include:
Medicaid Transformation Reserve: Funds from the Medicaid Transformation Reserve of the State General Fund to pay claims during the transition to managed care. Funds for the Ombudsman Program and the Enrollment Broker are also included here.
Expanding Innovations Waiver by 150 Slots: NC DHHS will amend the North Carolina Innovations waiver to increase the number of slots by 150. We are hoping to see more in the Senate budget.
Traumatic Brain Injury Funding set to $2.3 million recurring each fiscal year of the biennium
ICF "In Lieu of" Service: This service definition uses community-based supported living as an alternative to an ICF residential setting.
Supplemental Short-Term Assistance for Group Homes fills a gap created when people with I/DD lose funding due to eligibility changes to Personal Care Services.
Single Stream Funding Cut Change: Revises and decreases the recurring reductions made previously to LME/MCOs. This revision actually increases funding to each LME/MCO.
Group Home (GH) Wages: Increases the capitation rates for LME/MCOs, effective January 1, 2020, to enable increases in the wages paid to direct support personnel (DSP) working in GHs for individuals with I/DD. While we support increased wages, we would like to see increases for all DSPs, not just those in GH settings.
*These are all only in the House budget. Once the Senate approves their budget, the standard process is to have the differences in the two budgets resolved with a Conference Committee.
Bills – Several bills met the crossover date (a bill has to pass through either the House or the Senate by a certain date to be eligible for action during the session). Below are two that are of interest and expected to pass both chambers.
HB 619 (PASSED HOUSE) - An act to establish a Rethinking Guardianship Workgroup to study and recommend changes to current guardianship statutes. This is in line with the work the Council has been doing related to guardianship. Expected to move through the Senate.
S556 GSC (PASSED SENATE) - The People First Language (PFL) 2019 bill updates statutes relating to the provision of services with PFL by changing the phrase "mental retardation" to "intellectual disability" or "intellectual or other developmental disability." Moving through House.
Medicaid Transformation continues to move forward with Standard Plan expected to launch in November. The Department of Health and Human Services (DHHS) is working with the Prepaid Health Plans (PHPs) on the development of their networks of providers.
The Tailored Plan (TP) is projected to launch in July 2021. There was a recent white paper on Eligibility for the Tailored Plan and on Care Management.
Key Points:
Notification of changes to Medicaid with be sent to individuals/families. One letter will be sent to Head of Household saying there is a new way that Medicaid will be managed and it will describe the different situations for each family member. This is an improvement over an initial plan to send individual letters to each Medicaid recipient.
There are identified variables that create an assignment to Tailored Plan (Innovations recipients, people on the waitlist, people receiving state-funded services, etc). There will be a way for an individual who is not initially assigned to request the Tailored Plan. The assessment for this will be conducted by an independent vendor.
Once someone is eligible for the Tailored Plan, it should be simple to go in and out of the TP if needed.
Enrollment Broker website should be up by June 28. DHHS is working with Maximus on notices, flyers, posters, social media, etc.
There were no responses to Omsbudsman RFP due to restrictions on who could apply. DHHS got feedback from potential bidders and is revising the RFP and will issue it soon. This is critical for people to have an advocate.
Eastern NC Disability Organizations Meet NCCDD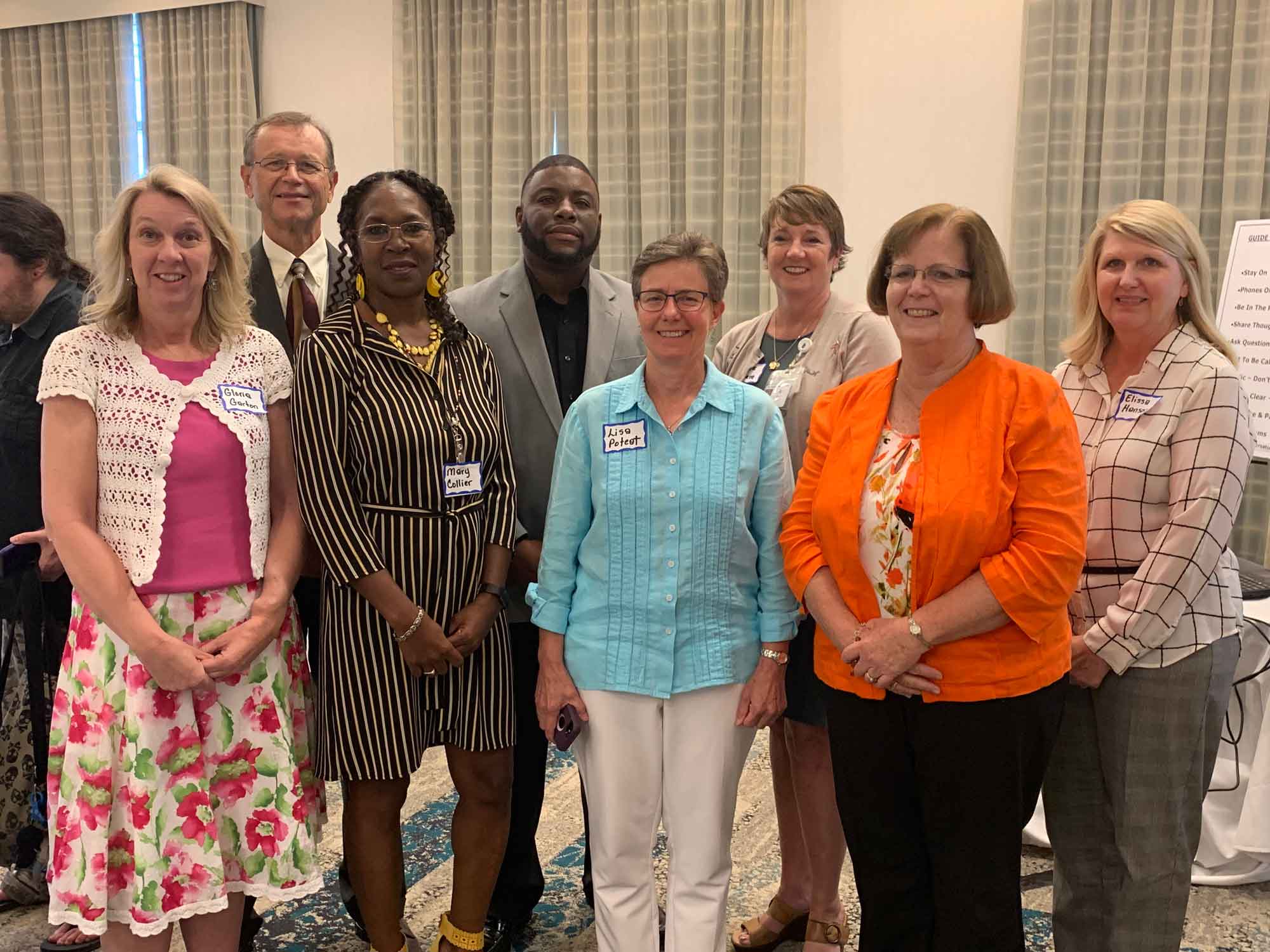 Representatives from Eastern North Carolina's agencies met with NCCDD earlier this month.
Eight individuals, representing a myriad of services for individuals with I/DD, met with NCCDD at its May meeting in Carolina Beach, NC. The meeting allowed the 40-member Council to meet face-to-face with individuals working along the eastern coastline and get up-to-date information on what is available for individuals with I/DD.
The panelists included:
Mary Collier, Vocational Rehabilitation Counselor II, Project SEARCH Counselor, and Community Rehabilitation Program Liaison at NCVR
James Mitchell, Educational Coordinator for the College and Career Division at Robeson Community College
Rose Burnette, Trillium Health Resources Senior Director of I'DD Care Coordination and I/DD Clinical Director
Gloria Garton, Executive Director of the disAbility Resource Center
Lisa Poteat, Deputy Director for The Arc of North Carolina
Wes Juda, Chair of the Advisory Council for the Brunswick Interagency Program, Brunswick Community College
Elissa Hanson, Behavioral Health Director with Community Care of the Lower Cape Fear
Joyce Hatem, New Hanover County Public Health
Each spoke about their organizations, the mission and work and the future direction of their work. Council members were able to chat with panelists as well as network for future connections.
Council Member Spotlight: Kristy Locklear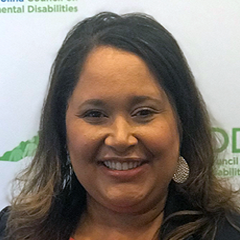 Kristy Locklear, Chief Financial Officer for Robeson Health Care Corporation in Pembroke, NC, was appointed to NCCDD as a parent advocate last July by Governor Roy Cooper.
Locklear is the mother of a four-year-old son with Down syndrome. She has three goals in her advocacy work for people with disabilities: to increase understanding and awareness of children with disabilities, to discuss the challenges that parents face, and to be her son's voice.
"My longtime friend, Judge Brooke Clark informed me about the Council and based on my background, I was interested in serving. My mother was a recipient of the Order of the Long Leaf Pine award for her work as a child advocate, so I think the passion was instilled in me while growing up. Then, when I had a child with a disability, it seemed like a good fit for me. I look forward to serving and learning about the Council," Locklear said.
Locklear is a graduate of the UNC-Chapel Hill with a bachelor's degree in Public Policy Analysis and earned a Master of Health Administration from the Medical College of Virginia at Virginia Commonwealth University.
Locklear hopes to see the Council focus on education and healthcare. "My biggest challenge is navigating through the education system and the lack of resources available in the rural areas. Also [challenging is] talking with individuals about their perception of people of disabilities. People look at my son like he is different, but he is more alike than different. I want people to see him for the loving and fun little boy that he is, not for his disability," Locklear explained.
Currently a resident of Pembroke, Locklear is active with the Alpha Pi Omega Sorority and the Healthcare Financial Management Association. Reflecting on her short time with the Council, Locklear said, "I was really inspired by the self-advocacy I have seen, but what that most interests me is community living, more specifically the natural support initiative."
Accessibility Makes Beach Fun for All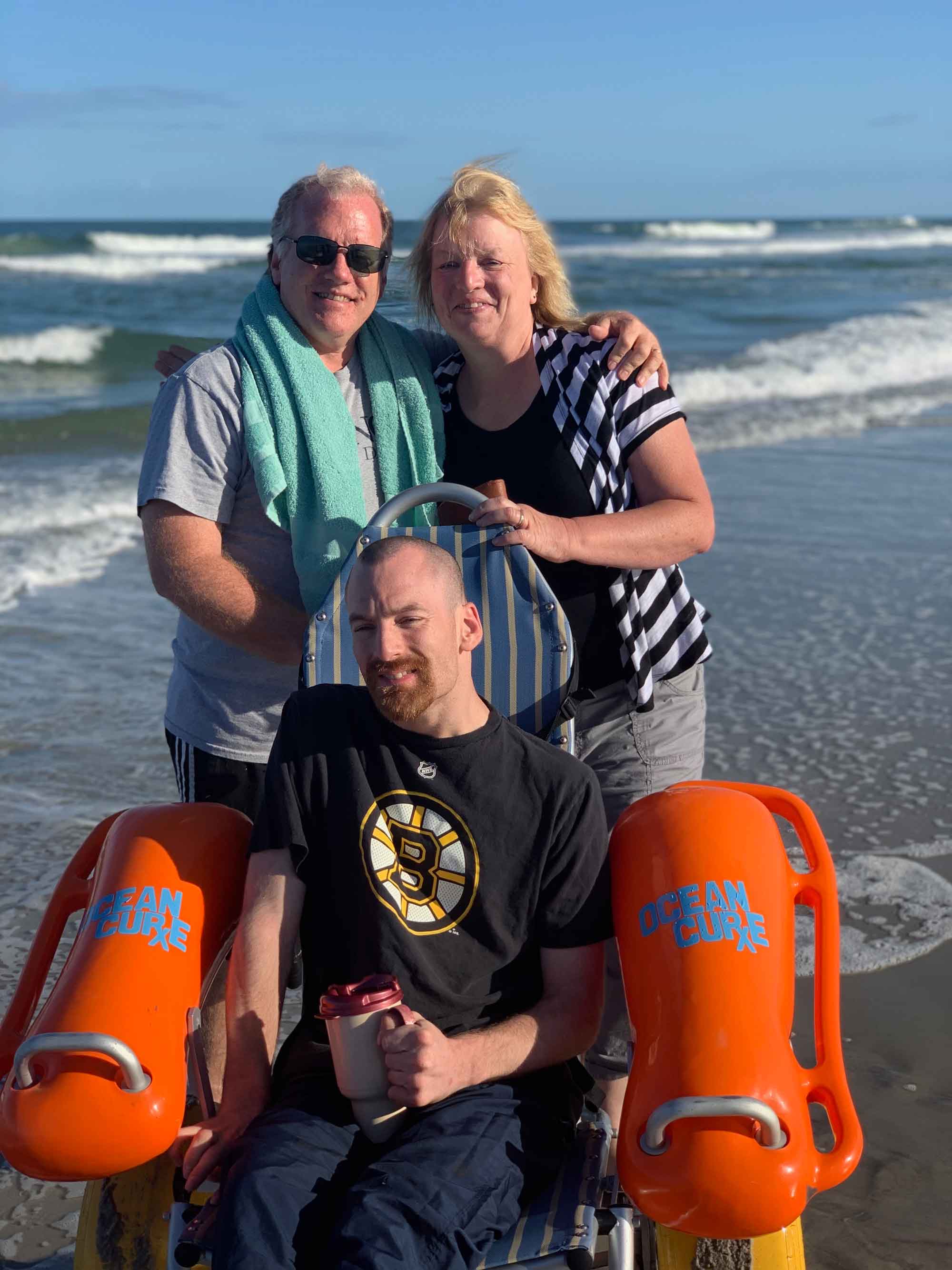 The Hildreths enjoyed Carolina Beach using one of the beach wheelchairs.During NCCDD's May meeting at Carolina Beach, members had a chance to access and enjoy the beach.
The Town of Carolina Beach worked with Ocean Cure Founder Kevin Murphy to lay down a beach access surface about 50 yards long connecting the beach to the boardwalk. The surface, made of rubberized material, allows a standard wheelchair, walker or stroller to move across the sand with ease. Ocean Cure also reserved two beach wheelchairs for use.
NCCDD members Brendon Hildreth and Aldea LaParr enjoyed using a beach wheelchair and taking in the sand, sun and water. Brendon was able to drive his motorized wheelchair onto the beach and transfer into a beach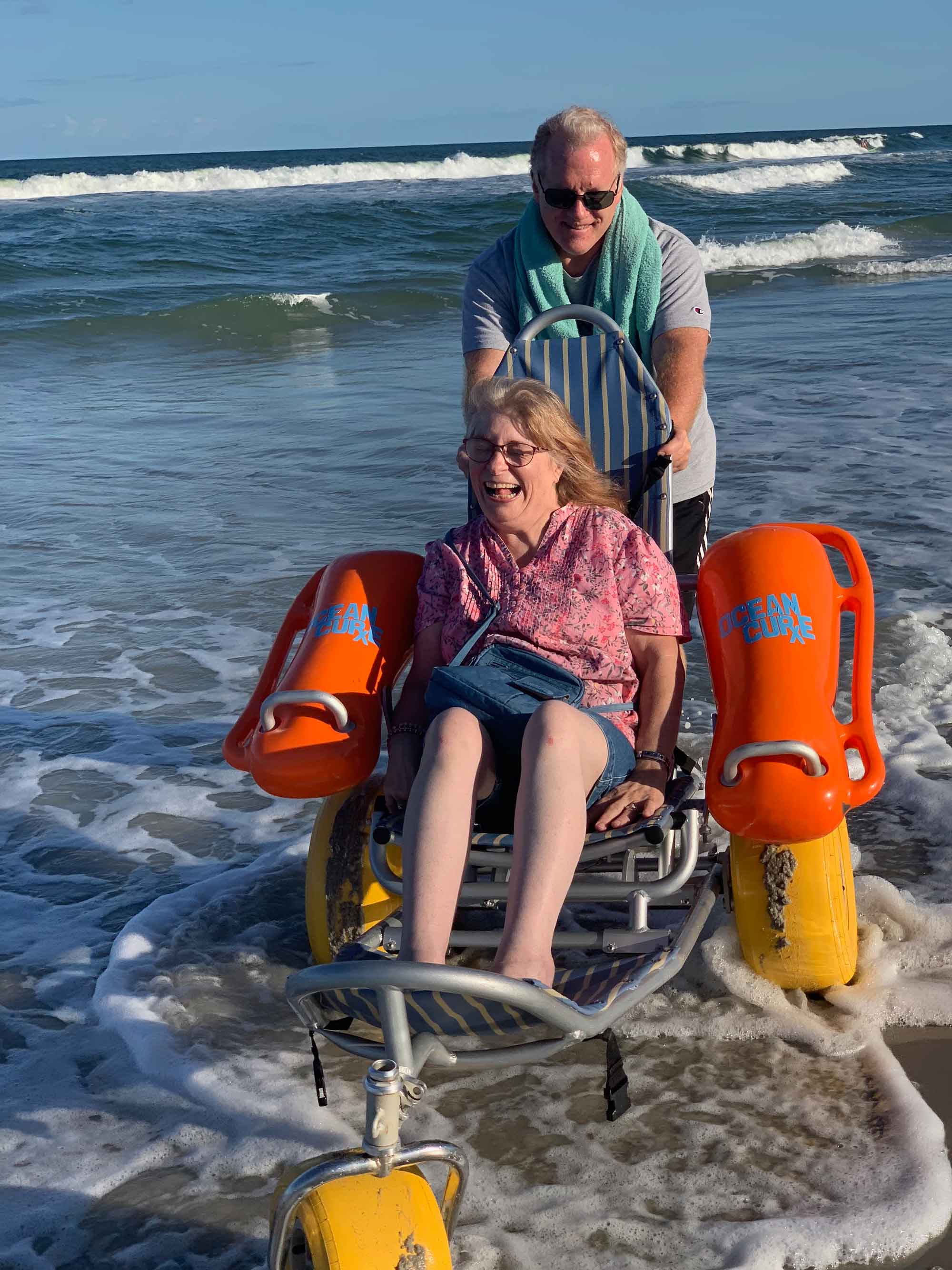 Aldea LaParr enjoyed the beach in the beach wheelchair. wheelchair that his father, Tim, pushed down to the water.
"I really like to put my feet in the water, but I sometimes feel like I am going to fall when the water goes back out," said Aldea. "In the chair, I was able to put my feet in the water without fear of falling. I loved it!"
Life Rolls On, an organization started by the Christopher Reeve Foundation, donated the surface to Ocean Cure.
To reserve a beach wheelchair when visiting Carolina Beach, contact the Recreation Center at 910-458-2977. The beach wheelchairs are available free of charge on a first come, first serve basis.
En Español- Mayo 2019 - Aspectos destacados y Temas de interés