Letter from the Executive Director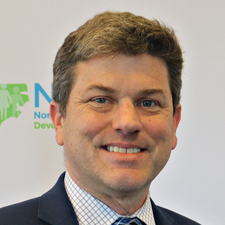 988 is the statewide North Carolina crisis and suicide hotline. If you or a family member are experiencing a crisis, you can call 988 to have 24-hour access to trained counselors. You can also use the text or chat feature. Counselors will assess whether there is a need for further intervention by mobile crisis, law enforcement, or a referral to the community.
988 launched in July 2022. Currently, about 5,000 people call the number each month in our state. The average wait time for the phone to be answered is 19 seconds, which is about half of the national average. Callers can also be routed to call centers specializing in Veterans, Spanish language, and LGBTQ+ for ages 13-24 years old as well.
North Carolina needs to continue to fund, increase, and improve mobile crisis and other crisis response services for 988 to be successful for those who need crisis services. Too many of us in the intellectual and other developmental disability community have friends and family members who have experienced crises that resulted in the unnecessary involvement of law enforcement or extended stays in local emergency rooms.
Often, someone who is in crisis just needs to talk to another person. Forty percent of those who contact 988 are repeat callers. While 988 has trained counselors for when someone is in crisis, the state is planning to roll out a peer warmline that individuals can call when they need someone to talk through a problem or when feeling isolated or alone and not in crisis. A warmline is currently available for Mecklenburg residents at 1-833-390-7728.
You can find out more about 988 at https://988lifeline.org/. Take some time also to learn about what mobile services exist or don't exist in your local community. Then, consider advocating with local and state leaders to ensure that when someone in our community is in crisis, they have the support they need.
Talley Wells, Executive Director
---
Public Policy (as of August 16, 2023)



Federal
Budget
Congress is in recess until September 12. The deadline for the budget is September 30.

As a reminder, the negotiations and deal agreed upon on the debt ceiling resulted in no major changes to Medicaid. However, the agreement includes spending caps that are likely to impact disability programs for years to come. The new limits on domestic spending over the next two years will affect a wide range of federal programs for people with disabilities. For example, freezing funding at current levels until 2025 effectively cuts spending on special education, housing, and vocational rehabilitation, and many other programs. This could affect state Councils on Developmental Disabilities as well.
Centers for Medicare & Medicaid Services (CMS)
CMS has proposed two rules related to Home and Community Based Services.
Access Rule

Required to reassess the needs of each individual receiving home and community-based services annually and revise service plans.
At least 80% of what Medicaid pays for personal care, homemaker and home health aide services would be required to go directly to the person providing the support.
States would need to publish the average hourly rate paid to direct care workers.
Reports on waiting lists, reports on quality measures.

Managed Care Access, Finance and Quality Rule

Require states to regularly survey managed care enrollees about their experiences.
Institute maximum appointment wait time standards.
Require states to conduct secret shopper surveys annually.
These rules were up for public comment through July. CMS will review comments and finalize rules by the first of the new year.
Plain Language:
The federal government has proposed two rules to improve services to individuals with developmental disabilities. The first rule would require most of the money from Medicaid Waivers to go to the caregiver (Direct Support Professional). The second rule would help people who have managed care.
State
Budget and Medicaid Expansion
Legislators were expected to deliver a budget by July 1. It appears that it might be mid-September before a budget is passed. Several items in the budget are critical to people with intellectual and developmental disabilities. The budget will include the final number of Innovations Waiver slots and the final amount for DSP raises; as well as funding for Medicaid that is critical for the transition to managed care.

Medicaid expansion is also tied to the budget passing. The Department of Health and Human Services (DHHS) recently announced plans to roll out Medicaid expansion on Oct.1, This is conditional on the budget passing by September 1 or authority from the General Assembly. This authority can be granted without a finalized budget, although it would require the passage of a separate bill which seems unlikely. DHHS continues to work toward the October 1 date for Medicaid expansion, while also acknowledging that it may be delayed.
Plain Language: The state budget is delayed. This is because the North Carolina House and Senate have not yet reached an agreement. There are many important items in the state budget that could help people with developmental disabilities. The budget must also be passed for Medicaid expansion to start.
Tailored Plan
The launch for the Tailored Plan has been delayed beyond the October 2023 date and no new date has been set. DHHS continues to work with Local Management Entity-Managed Care Organizations (LME-MCOs) on building capacity in the provider networks. Access to physical healthcare and specialty care has been a concern expressed by many self-advocates and family members. This delay should allow more work on ensuring the networks include the services needed by people with I/DD.
Plain Language: Tailored Plans are delayed. There is not a start date for when they will begin. The delay will allow continued work to try to ensure people can keep their doctors by adding more doctors.
1915(i)
The 1915(i) services became available on July 1. The initial focus has been on transitioning people who currently receive B3 services to 1915(i). Those who are in the Tailored Plan will work with their Tailored Plan Care Manager for assessment, authorization of services, and monitoring of service delivery. People who are not currently receiving services should reach out to LME-MCOs where a Care Coordinator can begin the assessment process.
Plain Language: 1915(i) is a new service for people with developmental disabilities and Medicaid. Talk to your Tailored Care Manager about obtaining this service.
---
Next Self-Advocate Discussion Series: Jean Wolff-Rossi Fund for Participant Involvement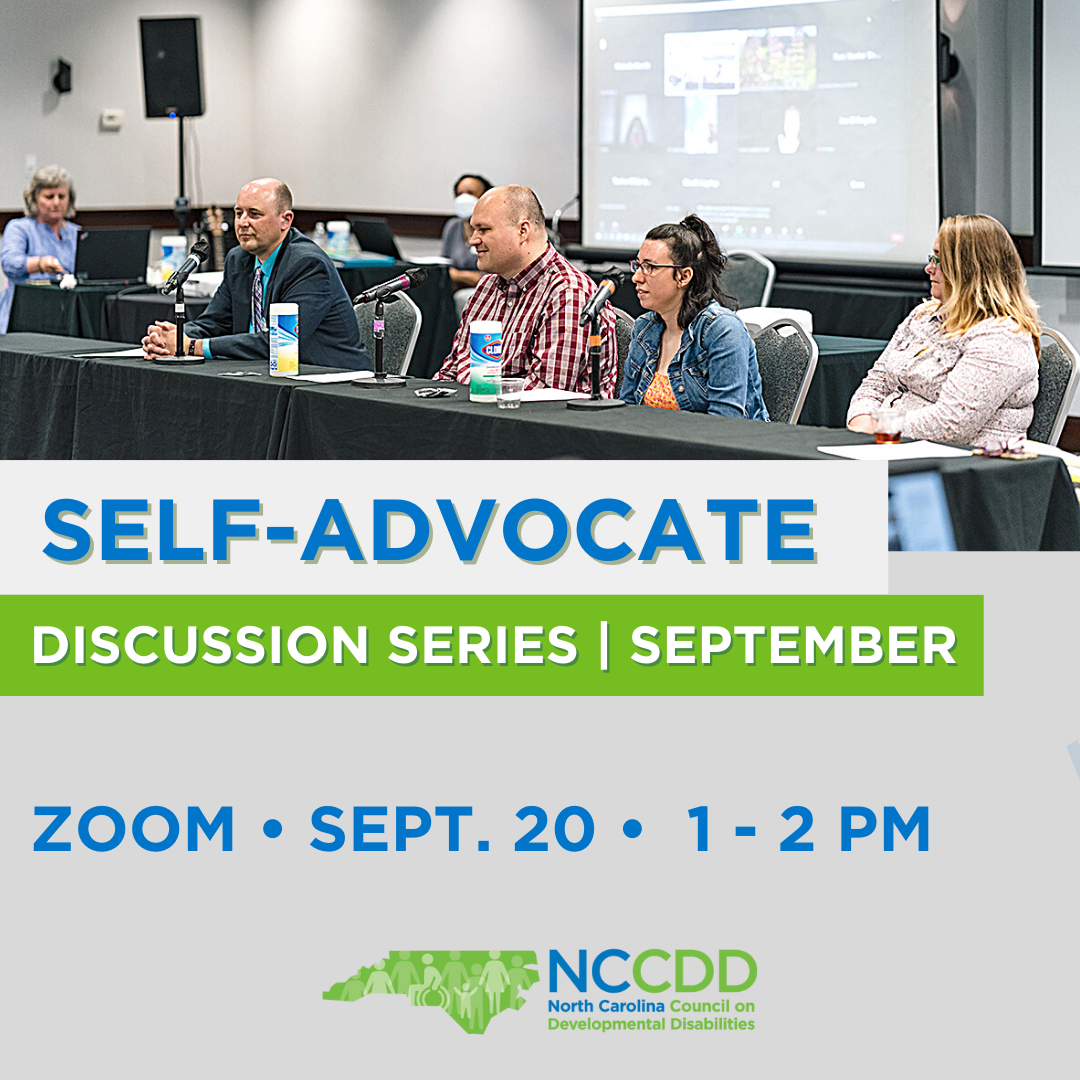 The next webinar in NCCDD's Self-Advocate Discussion Series will inform you about our Jean Wolff-Rossi Fund for Participant Involvement. The fund supports individuals with intellectual or developmental disabilities (I/DD) and their family members to receive reimbursement for specific expenses for trainings and conferences that are designed to improve their knowledge, networking and skill levels for advocacy. During the webinar, you will learn how to apply for the fund and other important details.
Please join us on Wednesday, September 20 from 1 to 2pm. Register here.
And be sure to view the video recordings of previous Self-Advocate Discussion Series webinars on our YouTube channel!
---
NCCDD Holds Statewide I/DD Town Hall Meeting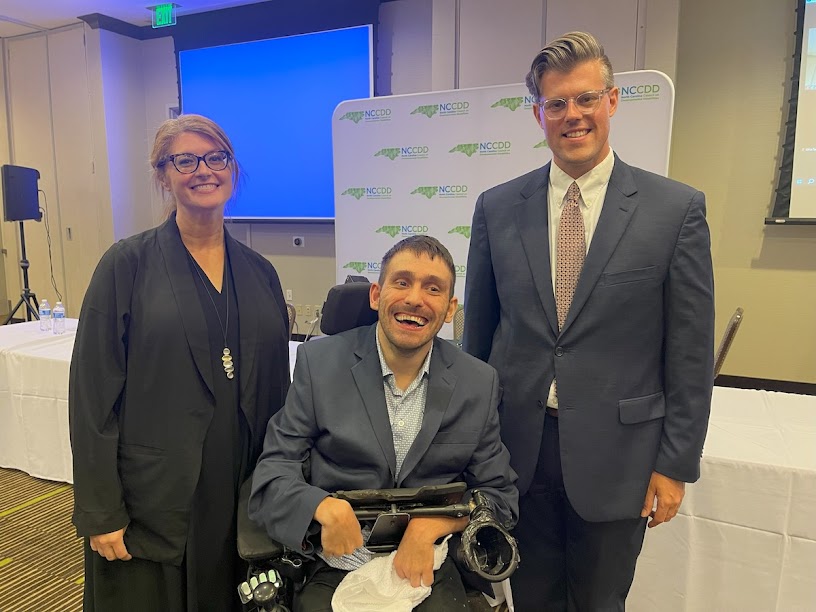 Approximately 350 people attended a hybrid statewide Town Hall Meeting on August 10, 2023 to discuss issues impacting people with intellectual and/or developmental disabilities (I/DD) living in North Carolina. The meeting was held in-person at the site of NCCDD's quarterly Council meeting, Hilton Garden Inn in Cary, as well as online. The event featured Kody Kinsely, Secretary of the Department of Health and Human Services, and Kelly Crosbie, Division Director from the Department of Mental Health, Developmental Disabilities and Substance Use Services. Topics discussed included updates on the state I/DD budget, 1915(i) Medicaid services, Medicaid Expansion, and more. Attendees had a chance to ask questions during the meeting.
Bryan Dooley, Chair of NCCDD, opened the meeting by welcoming everyone and briefly sharing his own struggles with service and daily living disruptions due to the Direct Support Professionals (DPS) workforce shortage.
Dr. Charlrean Mapson, Chair of NCCDD's Community Living Committee and a parent of a child with I/DD, also spoke on how the workforce shortage is critical and finding and keeping DSPs is nearly impossible. Mapson went on to explain the mission of NCCDD and the role of its Council members. She then introduced the speakers, providing background information on Secretary Kinsely and Director Crosbie, describing both as "true champions for North Carolinians with I/DD."
Secretary Kinsley started the Town Hall discussion by emphasizing that North Carolina is in a state of urgency like never before when it comes to waiting lists and the DSP workforce. He expressed his frustration with how these issues have escalated to the point where they are now.
However, he feels that the state is heading on the right track. "There is more traction and more of a sense of collective action and purpose than ever before," said Kinsley. "Governor Cooper understands the issue, and it is striking a chord and being heard by the General Assembly," he added. In spite of obstacles to resolve the issues, the progress of the 1915(i) Medicaid services and Tailored Care Management are gaining momentum to help bring the vision of "whole person health" to reality.
Secretary Kinsley said he feels strongly that when we point fingers and cast blame, there is no way to move forward. Instead, we need to focus on building a continuum that provides choice for all people and builds opportunities to lead better lives. There is no one-size-fits-all for the I/DD community. Building a community involves meeting people where they are in their own lives.
Director Kelly Crosbie spoke on the importance of being informed. She emphasized that she continues to meet with many families who don't understand the system – they don't know where to go or what to do or even what services are available to them. She feels there should be a stronger focus on helping people to learn about and navigate North Carolina's systems of services and supports.
A question-and-answer session was then opened to the audience. Secretary Kinsley and Director Crosbie fielded questions on several topics and issues, including the Samantha R. case and its potential impact on community-based services, an explanation of 1915(i) entitlement services, the need to bring more psychiatrists and psychologists into the North Carolina public service sector, DSP wage disparity and more.
During the session, a self-advocate asked about the best way to advocate with legislators. She expressed that she was having a difficult time getting meetings set up for herself and other advocates. Representative Sarah Crawford from District 66 was in the audience and chimed in with some tips.
Crawford said it's important to be clear and persistent with your message. "If you don't hear back from your representative, don't give up!" she said. She also stressed that it's also important to contact the members of the General Assembly who represent the district where you live. She added that the current legislature is very disability-friendly and welcomes input from their constituents.
Nessie Pruden Siler, Vice Chair of Council, ended the meeting with a closing message and thanked the speakers and audience for their participation. Executive Director Talley Wells added that he was deeply grateful for all the work Secretary Kinsley does on behalf of North Carolina's I/DD community.
You can watch a recording of the Town Hall Meeting on NCCDD's Facebook page.
---
Celebrating the Importance of Direct Support Professionals!
In September, the North Carolina Council on Developmental Disabilities is proud to celebrate Direct Support Professional (DSP) Recognition Week by recognizing the dedication and accomplishments of outstanding DSPs and their contributions to the disability community across North Carolina and the nation.
The importance of DSPs in supporting people with intellectual or developmental disabilities (I/DD) cannot be overstated. They provide daily support and services that encourage individuals to live, work and play in their communities and to achieve success and live out their dreams.
Join us in celebrating the hard work and dedication of DSPs during DSP Recognition Week, September 10th – 16th! If you are a person or caregiver of someone with I/DD, please send us a picture of you and your DSP. Your photo will be used to make a video to commemorate the importance of DSPs. Please ensure to submit a photo release.
---