Letter from the Executive Director


Equity, Fairness and Justice
Equity is central to so much that is happening right now. Yet, I find myself looking up the definition of the word over and over again. It is a difficult concept to fully understand and achieve.
Equity is defined, in part, by Dictionary.com as "something that is fair and just."
But what is fair and just? That is a question we start asking as children. It is the question we wrestle with on the Governor's Task Force for Racial Equity in Criminal Justice, which began in 2020. It is the question many of us have been asking about the COVID-19 vaccine and when individuals with I/DD can receive it.
Equity is a critical concept for the intellectual and developmental disability (I/DD) community. It is at the core of our systems-change work at NCCDD. It is also at the heart of the policy conversations and work that have occurred in our state and country in the last year. It is an essential issue raised by the murder of George Floyd. It is also the issue raised by the disparate impact of COVID-19 on minority and disability communities.
February is Black History Month. Black history in our country is overflowing with inequity and injustice. There will be presentations and events at the Department of Health and Human Services and across our state to commemorate Black History Month. I encourage you to participate and wrestle along with me on how we can make our community more race equitable. Then, together we must take more concrete steps to make our state more equitable.
At NCCDD's February Council meeting, the Council discussed equity and the concrete actions we can take. We have a lot of work to do, but we are dedicated to making our communities more equitable, more fair, and more just.
Talley Wells, Executive Director
---
Public Policy Update as of February 10

FEDERAL

COVID Relief
Both the Senate and House of Representatives approved a budget resolution that creates a path for COVID-19 relief efforts through budget reconciliation. Reconciliation is a special process that allows lawmakers to pass a relief package with only a simple majority. Democrats currently hold the majorities in both the House and Senate, so it is expected that most of President Joe Biden's $1.9 trillion COVID-19 relief package will pass.
The process of budget reconciliation does not allow for policy changes, only changes to funding lines. Currently, the budget resolution includes $9.7 billion for Medicaid Home- and Community-Based Services and includes adult dependents within the recipients of the $1,400 Economic Impact Payments. The process will likely take several weeks as negotiations on details take place. Until it passes, we will not see the legislative language.
This is not the only path to negotiating a COVID-19 relief package. It could still go through the typical legislative process as a bipartisan group of lawmakers are working on a potential COVID-19 package in place of the budget resolution. This approach will require agreement of 60 Senators instead of the 50 Senators needed for budget reconciliation.
The goal is to have something passed by March.

Other Congressional Activities
Lawmakers in both the House of Representatives and the Senate have been busy introducing new legislation and reintroducing legislation from the previous Congress that did not pass. Below are three bills that have been proposed or introduced that could impact people with I/DD. Important to track in the 117th Congress:
COVID-19 Relief
COVID HCBS Relief Act (H.R.525, S.151): a bill to provide an emergency increase in federal funding for state Medicaid Home- and Community-Based Services (HCBS).
All Dependents Count Act: Senator Tina Smith and Representative Angie Craig propose to expand the definition of dependents to include children younger than 19, college students below the age of 24, disabled adults and qualified relatives, ensuring these people are included in economic stimulus payments.
Supporting Children with Disabilities During COVID-19 Act (S.240): a bill to appropriate emergency funding for the Individuals with Disabilities Education Act (IDEA), early childhood education programs, and the Assistive Technology Act of 1998.

STATE UPDATE

Legislative
Both the House and the Senate have standing committees that are focused on public policy areas in order to move legislation. When a bill is introduced in the legislature, it is typically sent to a standing committee. Some of the key standing committees in both the House and Senate with appointed chairs include:
House Appropriations – Chairs: Rep Dean Arp, Rep Donny Lambeth, Rep Jason Saine
House Health – Chairs: Rep Kristin Baker, Rep Donny Lambeth, Rep Larry Potts, Rep Wayne Sasser, Rep Donna White. Vice Chairs: Rep Carla Cunningham, Rep Verla Insko
House Appropriations on Health and Human Services – Chairs: Rep Kristin Baker, Rep Larry Potts, Rep Wayne Sasser, Rep Donna White. Vice Chair: Rep Donny Lambeth
Senate Appropriations/Base Budget – Chairs: Sen Kathy Harrington, Sen Ralph Hise, Sen Brent Jackson,
Senate Health Care – Chairs: Sen Jim Burgin, Sen Joyce Krawiec, Sen Jim Perry
Senate Appropriations on Health and Human Services – Chairs: Sen Jim Burgin, Sen Joyce Krawiec, Sen Jim Perry
Oversight Committees are established by State law for a specific purpose and usually focus on providing oversight of a state agency or policy area. Below are appointed chairs of the ones with most potential impact for I/DD.
Joint Legislative Oversight Committee on Mental Health, Developmental Disabilities, and Substance Abuse Services – Chairs: Sen Joyce Krawiec, Rep Donny Lambeth
Joint Legislative Oversight Committee on Medicaid and NC Health Choice - Chairs: Sen Joyce Krawiec, Rep Donny Lambeth
Joint Legislative Education Oversight Committee - Chairs: Sen Deanna Ballard, Rep Hugh Blackwell
The Council's policy team will provide updates on the budget process and pertinent bills, especially those related to the Council's priority areas for educating policy makers. These include:
COVID-19 Access
Registry of unmet needs (RUN)
Olmstead Planning
Medicaid Transformation/Tailored Plan
Direct support professional (DSP) wages
Housing and Transportation
Employment First
Bills
Multiple bills have been filed in the early days of the legislative session on a wide variety of issues, but we have not yet seen many that impact people with I/DD.
2020 COVID Relief Bill Modifications – This bill modifies some of the reporting requirements and timelines for several agencies for use of previously allocated funds. For example, it extends the deadline for DPI to use COVID funds for several purposes including emergency nutrition services, mental health services, and student support service programs for at-risk students whose learning has been negatively affected by COVID-19 impacts. This bill passed the Senate, House, and was signed into law by the Governor.
SB 61 - Dental Services/Medicaid Transformation – This bill directs the Department of Health and Human Services (DHHS) to enter into capitated contracts with at least two prepaid dental plans for the provision of dental services to Medicaid and NC Health Choice recipients consistent with the goals of Medicaid transformation. This bill has passed first reading in the Senate.
We will continue to monitor bills as they are filed. There is much interest in both the House and Senate on additional innovations slots.
Medicaid Transformation
Medicaid Transformation continues to move forward. The Standard Plan is scheduled to launch on July 1, 2021. Information on how to enroll in a Medicaid Managed Care health plan will be sent to beneficiaries soon. These integrated managed care products called Standard Plans will cover physical health, behavioral health and pharmacy services. The open enrollment will be from March 15, 2021 through May 15, 2021.
Behavioral Health I/DD Tailored Plans, which is specialized managed care focusing on the needs of individuals with significant behavioral health disorders, intellectual and developmental disabilities (I/DD), and traumatic brain injuries (TBI). These plans are scheduled to begin in July 2022 and will cover a more robust package of Behavioral Health, I/DD and TBI services compared to Standard Plans.
On February 2, DHHS released a memo titled Behavioral Health I/DD Tailored Plan Memo on Eligibility and Enrollment Updates, which clarified the process to identify the people who will not be automatically enrolled in the Standard Plan. Claims and encounters with dates of service since Jan. 1, 2018 will continue to be utilized to identify beneficiaries with Behavioral Health I/DD Tailored Plan qualifying diagnoses and service utilization for purposes of identifying individuals who will be in the Tailored Plan. DHHS has also expanded the list of qualifying I/DD diagnoses included in its claim/encounter data reviews to include some additional types of cerebral palsy, additional genetic disorders, and pervasive developmental disorder.
The Request for Applications deadline for the Tailored Plan was on Feb 2. The LME/MCOs submitted proposals to operate the Tailored Plans. While reviewing the applications, DHHS is in a 'silent period' until they award the contracts.
---
Two Current RFAs Now Open - Apply by March 5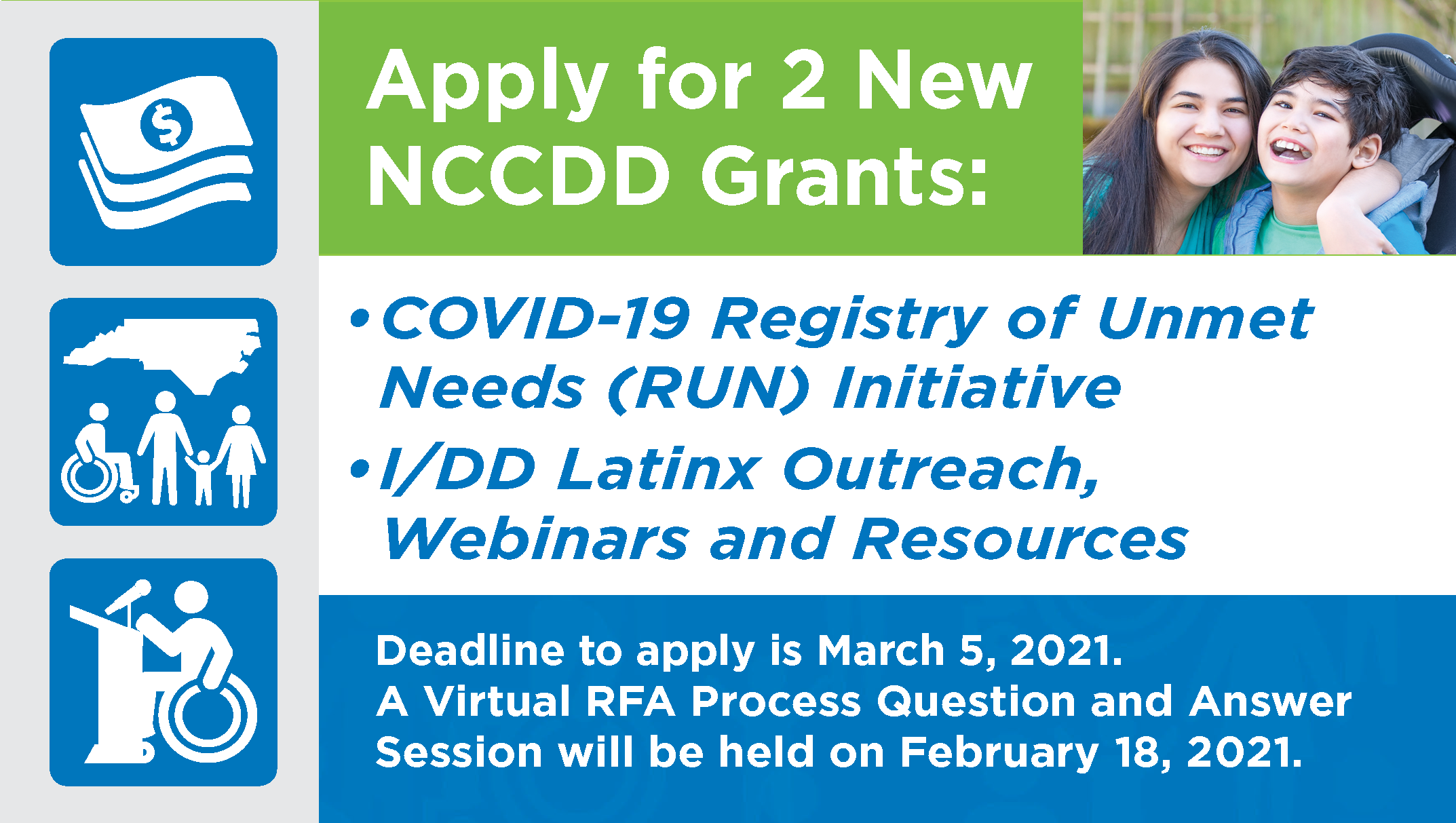 Two Requests for Applications (RFA) have been announced by the North Carolina Council on Developmental Disabilities (NCCDD). RFAs are the way NCCDD asks for proposals for initiatives that will help the Council achieve the goals outlined in its Five-Year State Plan.
NCCDD will fund an initiative to determine and meet needs of individuals with intellectual and other developmental disabilities (I/DD) who are on the Registry of Unmet Needs (RUN) whose unmet needs were exacerbated by the COVID-19 pandemic and to recommend future advocacy and initiatives to the Council related to the Registry of Unmet Needs.
The second RFA is to fund a short-term initiative to provide resources and information to the North Carolina Latinx I/DD community, particularly for those with unmet needs, to make connections that can grow in the future between the Council and the Latinx I/DD community, and to hear the needs of this community and receive recommendations for potential future initiatives.
The RFAs are due by March 5. The details and how to apply can be found here.
---
COVID-19 Information and Updates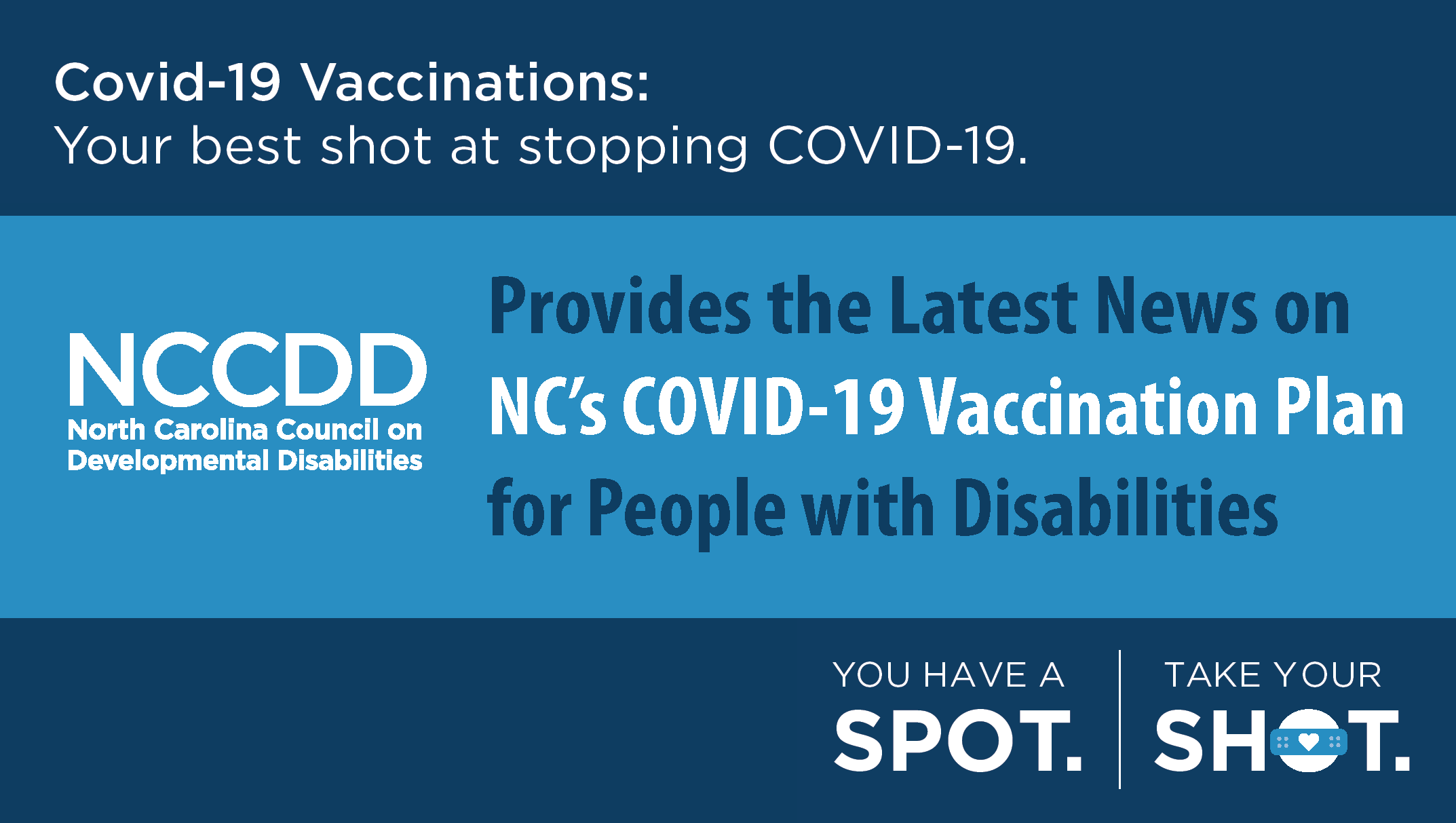 The latest news on the COVID-19 pandemic and vaccinations can be found on the North Carolina Council on Developmental Disabilities (NCCDD) website here. This page now includes the January online presentations that were done in conjunction with the North Carolina Department of Health and Human Services (NC DHHS) about the vaccine and its rollout phases impacting the statewide disability community.
Also on the webpage are individual links that guide you to specific coronavirus information for education resources, self-advocates, direct support professionals, families and individuals with disabilities and stakeholders, the general community, and for navigating your benefits.
The state has administered 90 percent of their available first dose vaccines and 40 percent of their available second doses as of early February. Currently, individuals 65 years and older are eligible for the vaccine, as are healthcare workers, long term care staff and residents.
View updated COVID information and the virus impact on NC DHHS website. To get information on when and where to get the vaccine in your area, visit https://covid19.ncdhhs.gov/findyourspot or call the COVID-19 line Toll Free at 1-877-490-6642.
---
Taking Initiative: Justice: Release, Reentry and Reintegration
NCCDD funds various initiatives to support its Five Year State Plan. The Taking Initiative series will highlight its various projects to build a more inclusive and integrated North Carolina for people with intellectual and developmental disabilities (I/DD).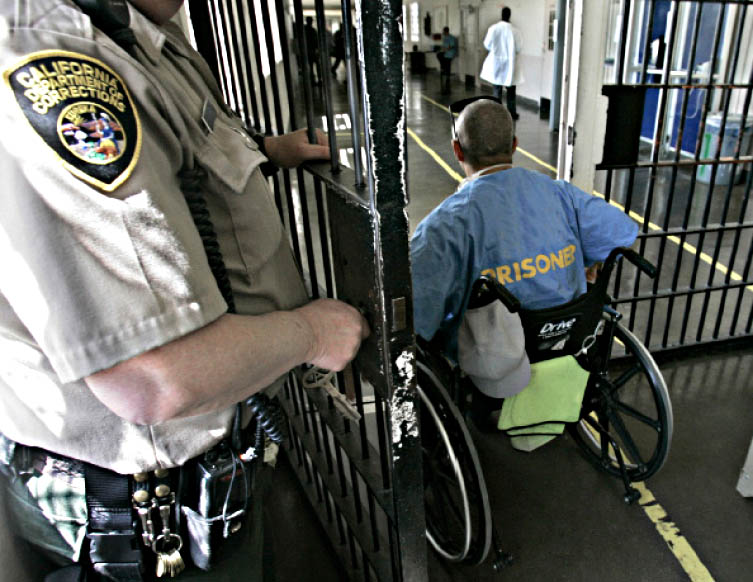 One of the North Carolina Council on Developmental Disabilities' (NCCDD) initiatives, managed by the North Carolina Alliance of Disability Advocates, is Justice: Release, Reentry, and Reintegration. This initiative is part of NCCDD's Five-Year Plan's Goal #2 of increasing community living.
There are approximately 2.2 million adults in the U.S. prison system, with an estimated 750,000 individuals with disabilities. The purpose of this initiative is to improve transition outcomes after incarceration for individuals with intellectual and other developmental disabilities (I/DD).
The initiative's long-term expected outcomes include more individuals with I/DD, upon leaving incarceration, successfully reintegrating into their community with more supports to utilize - resulting in fewer instances of recidivism. In addition, North Carolina's prison system will have a model of culturally competent success plans to study along with the right partnerships in place to help prisoners with disabilities successfully reintegrate into the community.
In the six months since this initiative has been underway, the initiative's staff has taken Reentry Monthly Training and received an invitation to attend the Governor's Reentry Council meetings. Through previous reentry work, they have developed relationships with federal probation and parole officers in the Triangle region and the Orange County Commission for Reentry. As a result of these relationships, they have received referrals for post-release individuals from state prisons in the Triangle area.
For further details about this initiative and its accomplishments, please click here.
---

---