by Travis Casper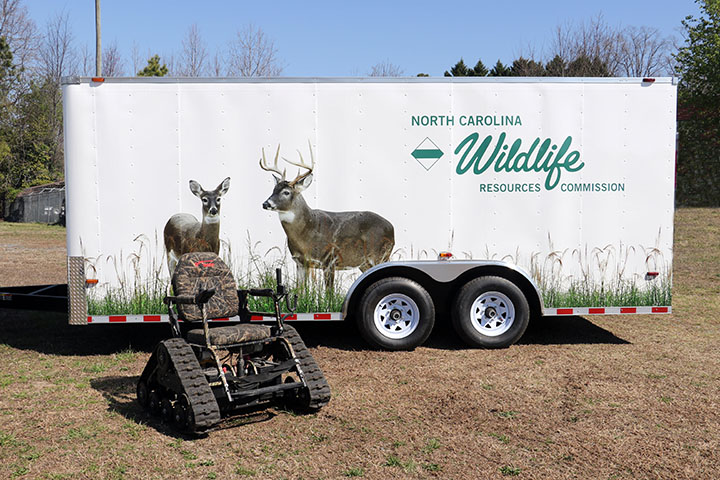 A track chair with rubberized tracks sits on the grass in front of a North Carolina Wildlife Resources Commission trailer with two deer pictured on the side of the trailer.The North Carolina Wildlife Resources Commission (WRC) provides track chairs for use by sportsmen with mobility disabilities at organized wildlife recreation events. The track chairs, which were supplied by the N.C. Legislative Sportsmen's Caucus, the Commission and other donors, are equipped with rubberized tracks instead of wheels and two 12-volt batteries, allowing the user to overcome many types of terrain for up to six hours. Each chair is outfitted with a fishing rod and long gun holder, providing greater access to hunting, shooting, angling and wildlife-watching opportunities for people with disabilities.
At the moment, we are utilizing an 18-foot trailer with six of the track chair units that can be deployed at Commission sanctioned events by our staff and partners. Our partners can reserve the Chairs at this link https://www.ncwildlife.org/Hunting/Before-the-Hunt/Disabled-Hunting-Program/Track-Chair The Chairs are deployed at events such as Back in the Woods Again, programming by the North Carolina Bowhunter Association, National Wildlife Turkey Federation and various ones by Commission staff.
There is also a chair at the John Lentz Hunter Education Complex that can be used on the Commission Shooting Range and a chair at the Troy Wildlife Depot in Troy, North Carolina.
Click here to reserve the track chairs for your organized event. For more information on the WRC track chair program, contact track.chairs@ncwildlife.org, 919-707-0170.