Category: Community
November 14,2022-12:00 PM
The North Carolina Council on Developmental Disabilities and Community Bridges have released a new white paper titled "Mission Possible: Advancing Whole Person Care by Employing People with I/DD & Family Members as Care Extenders." The summary report of the Care Extenders White Paper project is funded by NCCDD.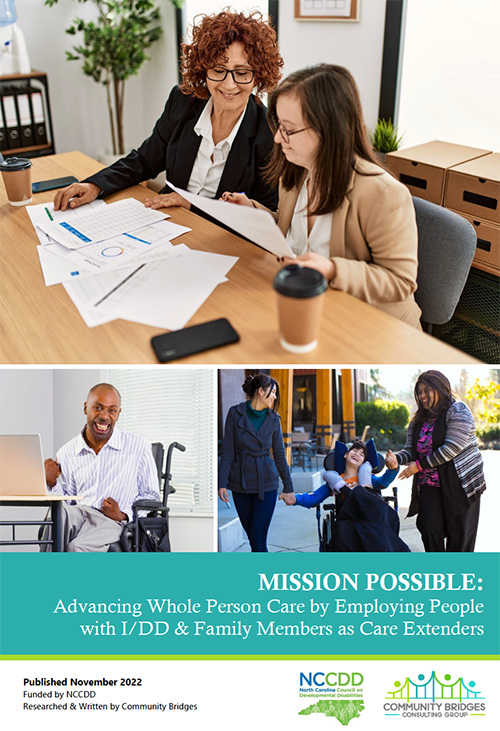 Download the white paper.The new Care Extender waiver service definition creates a pivotal opportunity to advance paid, professional family navigation and peer support services in the North Carolina I/DD service system. The attached report includes the following:
What Community Bridges learned during 60+ interviews with individuals with I/DD, family members, DD providers, advocacy organizations, health care providers, and state policymakers.
Recommendations for short-term and long-term strategies that can address structural barriers and promote systems change.
Vignettes that illustrate how peers and family members can provide valuable and unique care extender services; and,
Related resources.
This report aims to provide information and recommendations that advance the role of Care Extenders with lived experience in Tailored Plans. NCCDD appreciates everyone's contributions to this project and the NC Council on Developmental Disabilities investment and focus on the role of Care Extenders with Lived Experience in Medicaid Transformation.
The Care Extender White Paper Project Team:
Kelly Friedlander
Karen Luken
Jade McWilliams
Sheron Mosby
View the complete report and resources here. Contact Kelly Friedlander at Community Bridges with questions about the Care Extender White Paper Project.
This project was supported, in part by grant number 2101NCSCDD ($2,155,004.00), from the U.S. Administration for Community Living, Department of Health and Human Services, Washington, D.C. 20201. Grantees undertaking projects with government sponsorship are encouraged to express freely their findings and conclusions. Points of view or opinions do not, therefore, necessarily represent official ACL policy.