North Carolina Council on Developmental Disabilities is proud to recognize October as National Disability Employment Awareness Month. Reflecting the important role disability plays in workforce diversity, this year's National Disability Employment Awareness Month (NDEAM) theme is "Inclusion Drives Innovation." Observed each October, NDEAM celebrates the contributions of workers with disabilities and acknowledges their contributions that strengthens business, increases competition and drives innovation.
Get to know:
Jeff Balek, "Caution! Blind Driver" drummer and volunteer at YMCA of Greater Charlotte
Elise and Carolyn Sampson, mother-daughter founder and baker duo at Reason to Bake
Tiffany McDowell and Mallory Snellen, sisters moving mountains for adults with disabilities at Mallory Paige Designs
ZABS Place, an affordable, upscale, inclusive thrift store located in Matthews, NC
---
Jeff Balek's disability doesn't define who he is as a musician or stop him from helping kids learn to read:
You can't talk to band members Tom, Jenny or Jeff Balek of Charlotte, NC, without getting caught up in their humor. It starts with the band's name, "Caution! Blind Driver", accompanied by a photo of Jeff in dark glasses behind the truck's steering wheel, white cane hanging out the window and his bandmates terrified in the back seat.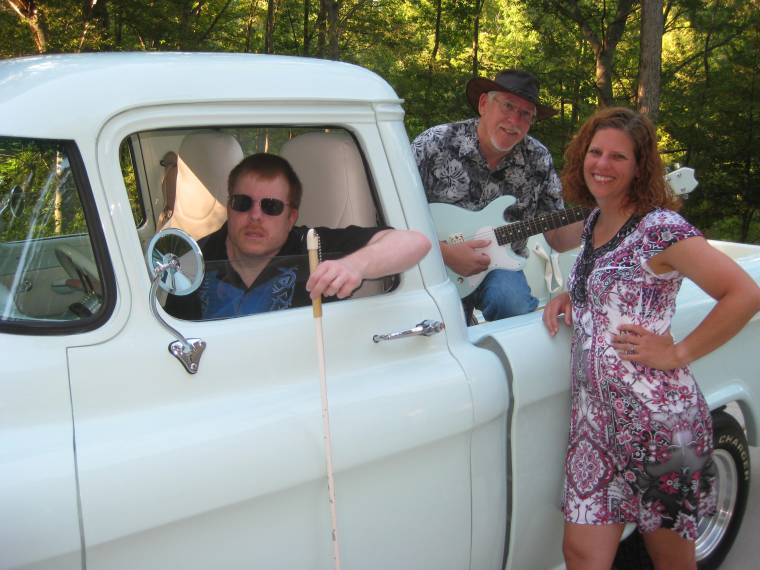 Yes, Jeff is blind. He has been since birth. But nothing was stopping him from picking up his drumsticks and pounding out a solo at the age of seven. He comes from a very musically inclined family going all the way back to Jeff's great-great-grandparents, specifically citing "Great-Great-Grandpa Joe with an accordion in his huge hands, a mouth-harp strapped around his neck, stomping out polkas in Bohemian."
Jeff's dad, Tom, is the band's leader who plays guitar and sings and Jeff's big sister, Jenny Schmidt, plays bass and does vocals. They're both quick to say that Jeff is the "driver" of the band. "[Jeff] has the musical memory," explains Tom, who quickly adds, "but no, we don't allow him behind the wheel!"
Musically, Tom has an affinity towards country tunes; Jenny loves 80s and 90s music, while Jeff is into more classic rock and roll. "We argue about music all the time," admits Tom, who says decisions are made by voting on when to add new songs. They currently have a list of over 500 songs they play at gigs, everything from Roger Miller to Nirvana.
And speaking of gigs, they've had some wild times. They've played for a family-dog event called "Paws in the Park" in Pine Hill, NC and sang every dog song they could come up with – from "Puppy Love" to "Who Let the Dogs Out." They once hauled a generator in to a box canyon in Montana, their backdrop a wall of Indian petroglyphs. One year, they played a New Year's Eve show in Montana when it started to snow. By the time the band played its last song, it was a full-on blizzard and the road was a total white out. They followed the reflectors on the side of the road to make the three-mile trek home.
Then there was that time on a cruise ship where the cruise band invited others to come up and play. Jeff, Jenny and Tom took over the stage and played for the rest of the night to the 700-people gathered in the lounge!
Caution! Blind Driver is a part-time gig for the Balek family. When Jeff puts down the drumsticks, he picks up books and volunteers for the YMCA of Greater Charlotte's Y Readers program. The literacy program serves rising first through third grade students who are reading below grade level. Jeff is the first blind person to work with sighted students. As they read their print books to him, Jeff follows along in Braille.
At first, the students are amazed by Jeff's disability and even learn a bit of Braille as Jeff shows them how. "I eliminate any excuses. If I can read, they can read," explains Jeff. Three years ago, Jeff appeared on The Dr. Oz Show to talk about his work with Y Readers. His work with the students was also featured in People magazine.
Two years ago, Jeff received an award for his volunteer service from then-Governor Pat McCrory and last year, he was awarded the Nish Jamgotch Jr. Humanitarian Award, which is presented annually to an individual or group that demonstrates exceptional service to the Charlotte-Mecklenburg Community.
The band also likes to give back to the community and for the past four years has done a free concert at Camp Dogwood in Lake Norman, NC. The camp is for the blind and visually impaired and serves up to 880 campers each year. The camp offers boating, fishing, swimming, arts and crafts as well as off-site trips for bowling and to auto racing and art museums and more. This year is the camp's 50th anniversary and the band is geared up for making it a great celebration.
Is there anything Jeff can't do? "I can't set up my own drums," Jeff admits.
Tom quickly adds, "And he can't drive the truck!"
There's one more thing Jeff hasn't been able to do and that is to find employment in spite of having a college degree, the Y Readers experience with teaching kids and reliable transportation. As he continues to look for a job, his weekend gigs and his volunteer work remain his focus.
Next up for Jeff and for Caution! Blind Driver members is learning new songs to add to their repertoire including music by Hole, Garbage, Cheryl Crow, Blink 182, Lenny Kravitz and more.
If you're in the area, you can catch a Caution! Blind Driver show on these dates at these locales:
• October 14 at Mac's Speed Shop, 2414 Sandy Porter Rd, Charlotte, NC
• October 16 at Connolly's Irish Pub, 24 E Court St, Greenville, SC
• November 3 at Camp Dogwood in Lake Norman, NC
• November 10 at Brew's Tavern, 8083 Charlotte Hwy, Fort Mill, SC
Keep watching their website at www.cautionblinddriver.com for more dates and locations near you!
---
Mother-daughter duo, Elise and Carolyn Sampson, look to create a work environment where there are no limits to learning:
Reason to Bake set out to create a work environment in which life is sweet, creativity thrives, and there are no limits to what anyone can learn and accomplish. They achieved it! Open since August of 2013, Reason to Bake is an artisanal, small-batch bakery in the North Carolina Appalachian Mountains specializing in gluten-free, all natural, made-from-scratch cookies.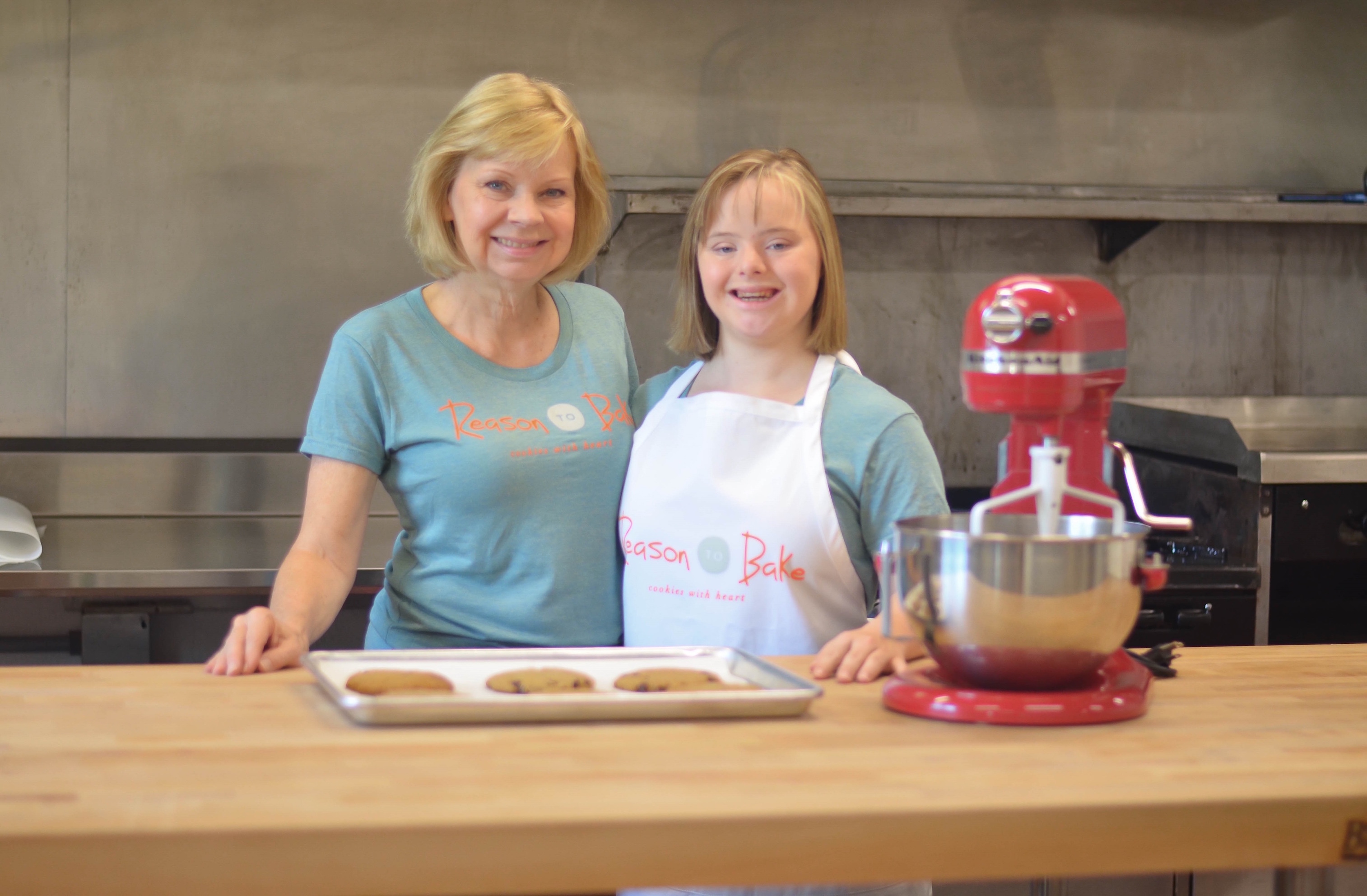 Elise and Carolyn Sampson, a mother-daughter duo who run the business in Transylvania County in North Carolina, are on a mission to grow a successful company that hires and trains adults with intellectual and developmental disabilities (I/DD) while providing delicious baked goods for a gluten-free lifestyle. Carolyn, who is gluten-free, is also diagnosed with Down Syndrome.
Carolyn had had a variety of part-time summer jobs, but her job coach had been unable to find her anything to do full-time. When she turned 18 years old, her mother, Elise, had no idea where to turn. But then Elise experienced a series of dreams, with a voice clearly saying, "Listen to Carolyn."
Her daughter had been talking quite a bit about how much she loved baking and would do it whenever she had the chance. Elise wondered if that is what her dream meant. "I thought small and local, thinking Carolyn could make cupcakes for bake sales, gluten-free of course," said Elise. But that all changed when a local coffee shop called Reason to Bake looking for gluten-free baked goods to sell in their store. The coffee shop even offered the use of their kitchen for Carolyn to bake cupcakes.
By the second year of business, Carolyn was now baking special order birthday cakes, bread and cookies in addition to the cupcakes. A financial review by their bookkeeper showed the business' cookies were the best seller and highest profit. A local business planner, who offered her services for free, developed a plan for moving the Reason to Bake business to its next phase. That's when Elise had another dream about a business that would "impact hundreds of lives".
So they transitioned to solely making gluten-free cookies. "Those are easy to teach how to produce at a small cost for a better profit," explained Elise.
Carolyn, who explains she is the "face of the business", wanted to make cookies "that changed the world!" She began testing flavors, a six-month process, and decided on three: chocolate chip, cranberry oatmeal and spicy ginger. Later she would add white chocolate/cherry/almond for the holidays. They are also considering adding peanut butter cookies down the line.
Besides testing flavors and talking to everyone about her cookies, Carolyn is responsible for kitchen set up for the day, measuring the dry ingredients for the daily orders, scooping and patting down the cookies and washing dishes. The business is organized in stations and while Carolyn oversees the 'dry' ingredients station, there is one for the wet ingredients, scooping and baking, washing dishes and packaging.
Reason to Bake currently has four employees, two of whom have disabilities – Carolyn and Jamey, who is diagnosed with Asperger's and epilepsy. Elise has begun a list of people who want to be hired which she says they plan to do as sales increase.
What's next besides the possible addition of employees, both with and without disabilities, as well as peanut butter cookies? Carolyn is busy talking to lots of people about the company. "I would like to also branch out to making cakes," she added. They've also been asked to open a second kitchen in Tennessee. Plus, with Carolyn's dietary restrictions including her now being dairy and egg free, they are working on a line of vegan cookies.
Elise continues to adjust her thinking to a bigger stage. "I believe we'll be nationally known. The idea of individuals with special needs, especially people with Down Syndrome, becoming entrepreneurs is receiving notice," Elise said. "I'm also noticing changes in Carolyn. She has become a self-starter so when her kitchen duties are finished, she is seeking more training and looking for more things to do. She has become quite the business woman, is very confident and loves to talk to people," Elise added.
In growing the movement of entrepreneurs focused on creating jobs for adults with disabilities, "Everyone deserves a place to put their creativity to work, experience a sense of accomplishment, personal growth and know that their individual contribution counts toward a meaningful goal," Elise said.
The cookies are sold in a variety of coffee and gourmet shops across North Carolina in Black Mountain, Brevard, Hickory, Saluda and more. In addition, they are also sold in Franklin, TN.
Orders are also taken online at www.reasontobake.com and cookies are shipped throughout the United States.
---
Save
Sisters, Tiffany McDowell and Mallory Snellen, look to promote the abilities of people with disabilities one piece of jewelry at a time:
Mallory Paige Designs in Trinity, North Carolina plans on moving mountains for adults with disabilities by eliminating the stigma placed on their friends with Down syndrome as well as other disabilities.
"Our number one priority is promoting the abilities of those so many in society see as disabled and unable to provide for themselves. We vehemently disagree with this notion and are on a mission to prove the value these individuals bring to the workplace and to society," says Tiffany McDowell, who along with her sister Mallory Snellen who has Down syndrome, opened Mallory Paige Designs three years ago.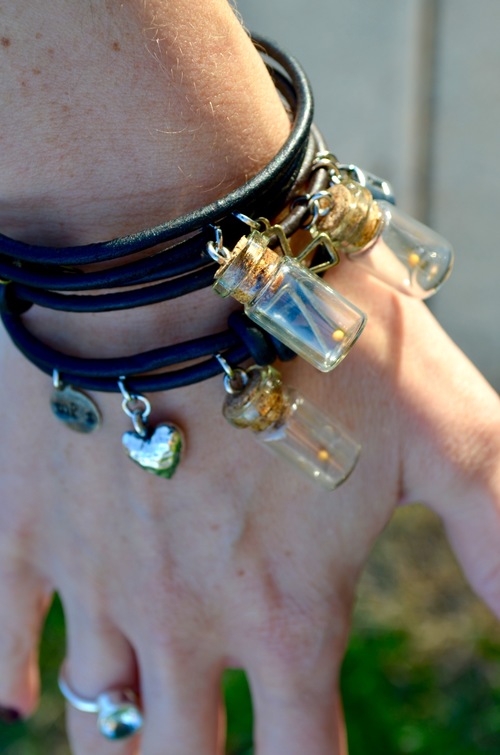 The business sells beautiful hand-made bracelets, each sporting a mustard seed. All of the designs are made with 100% real leather. McDowell explains, "Our jewelry is designed in-house by a talented staff of typically-abled and differently-abled employees. Each purchase comes with a handwritten note from Mallory herself!"
"We chose the mustard seed based on Matthew 17:20 where Jesus tells His disciples that faith as small as a mustard seed can actually move mountains. Our goal is to move the mountain of stigma for adults with special needs. We want to help our typically-abled friends and clients see what Down syndrome, and other conditions, really is," explains McDowell.
Each jewelry piece carries the initials of its creator to serve as authenticity of who directly benefits when that particular bracelet is sold with the employee receiving an above-average commission for that design. "The bracelets are lovingly designed and created by the hands of someone who loves what they do," adds McDowell.
"Mallory is responsible for writing thank you on every tag and stamping our logo on every muslin bag. Up until this weekend we were stamping every letter of her initials, MPS, on a tiny blank using a single die and hammer. However, we were blessed to finally be able to purchase an arbor press and found someone to custom make a single die with all three letters so, moving forward, Mallory will be able to operate the press on her own to pull the lever and stamp her own initials," McDowell added.
The sisters' story goes back to 1989, the year Snellen was born. McDowell, six-and-a-half years old at the time, was thrilled to gain a sister. McDowell became Snellen's number one supporter and protector. So it was an automatic "of course I will" when their mother, as she lay dying of stage IV breast cancer, asked McDowell to continue to take care of Snellen. Part of that commitment included making sure Snellen had employment with a purpose and thus Mallory Paige Designs was born.
Snellen, a graduate of Southwest Guilford High School in High Point, North Carolina, says, "I love my designs. I write notes and help my sister do work. We make a good team."
Right now, the business takes just a few hours each week for Snellen who is very busy with her social life at Lindley College as well as taking road trips every few months with her college friends.
"We're a for-profit and for-purpose company that sees tremendous skill and ability in the people that have been overlooked by other employers. Our business model empowers adults with different abilities to lead the life they have dreamed of by allowing them to earn a fair wage doing great work," McDowell adds.
The next step for the business is participating in local craft shows and getting the word out before the upcoming holiday season. "We were selected as one of 100 vendors to participate in Southern Charm at the Farm at Tanglewood Park in Clemmons, NC on Saturday, October 28th from 9:00 a.m. to 5:00 p.m.," McDowell said. "We've been working hard – nearly seven days a week for the last three months – to build our inventory, we usually 'build to order' through online sales, and design our booth. We invite everyone to come see us and meet Mallory in person."
You can find all the products offered by Mallory Paige Designs at http://www.mallorypaigedesigns.com/shop.
---
ZABS Place offers people with disabilities in Matthews the opportunity for employment and to explore their talents:
"What do you want to be?"
"What do you want to do?"
Those are the two questions asked of applicants applying for employment at ZABS Place in Matthews, North Carolina. For most of the applicants, they've never been asked those questions before.
ZABS Place, operated by several young adults with disabilities, is an affordable, upscale and inclusive thrift boutique at 100 N. Trade Street, at the corner of Trade and John Streets, in downtown Matthews offering everything from clothing and jewelry to beautifully refinished and reupholstered furniture to art and vintage items.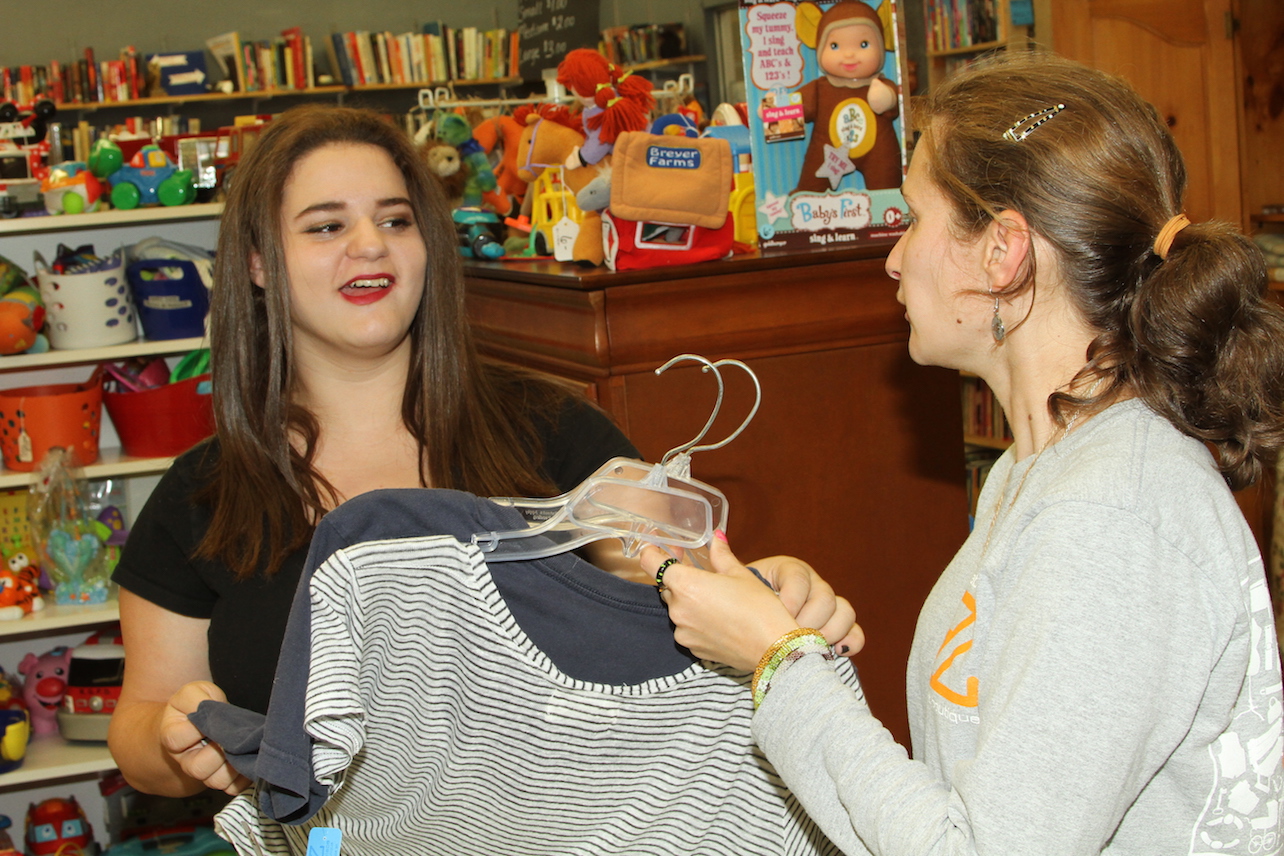 The store has 12 paid employees, six interns who are working their way up to become paid employees and 12 volunteers who are learning a variety of new skills – all who are people with disabilities. In addition, 30 students from area colleges studying special education, occupational therapy, psychology, speech pathology and more serve as job coaches at the store.
Employees and intern work varies based on abilities and include running ZABS Place's eBay and Etsy sites, upcycling donations into unique arts and crafts items for sale as well as running the store's cash register. In addition, some of the employees run their own micro-businesses within the store and sell bath bombs, hand-made jewelry and unique photographs of landmarks turned into postcards.
Other workers in the store work on sorting donated items, counting puzzle pieces to make sure sets are complete, organizing the donated board games and refinishing small furniture pieces that are dropped off to be sold.
But it's what these young adults achieve beyond their daily duties that inspires ZABS Place development and marketing director, Bentzion Groner. "These young adults are exploring talents and skills they never knew they had," Groner explains.
Groner talks about one store employee who loves to communicate through her writing and computers. She was put in charge of the Etsy store to utilize her talents. This was a smart move for the store, Groner explains, as she recently sold a handmade clay mouse figurine online for $200. There was nothing extra-special about the mouse to warrant that price; however, it was the story she wrote about the mouse's daily life and adventures online that led to that $200 sale. Her hope now is to get a job that can utilize her writing skills.
"In the right environment with the right people around, everyone can discover their skills," Groner says. He recalls that 'right environment' which assisted one young man who works at the store. Each day, employees are given a list of job tasks; however, this gentleman was unable to read. So, the store provides pictures to explain his tasks for the day. That simple change led him to excel and he is now working an additional job at a restaurant preparing cutlery and napkins each day.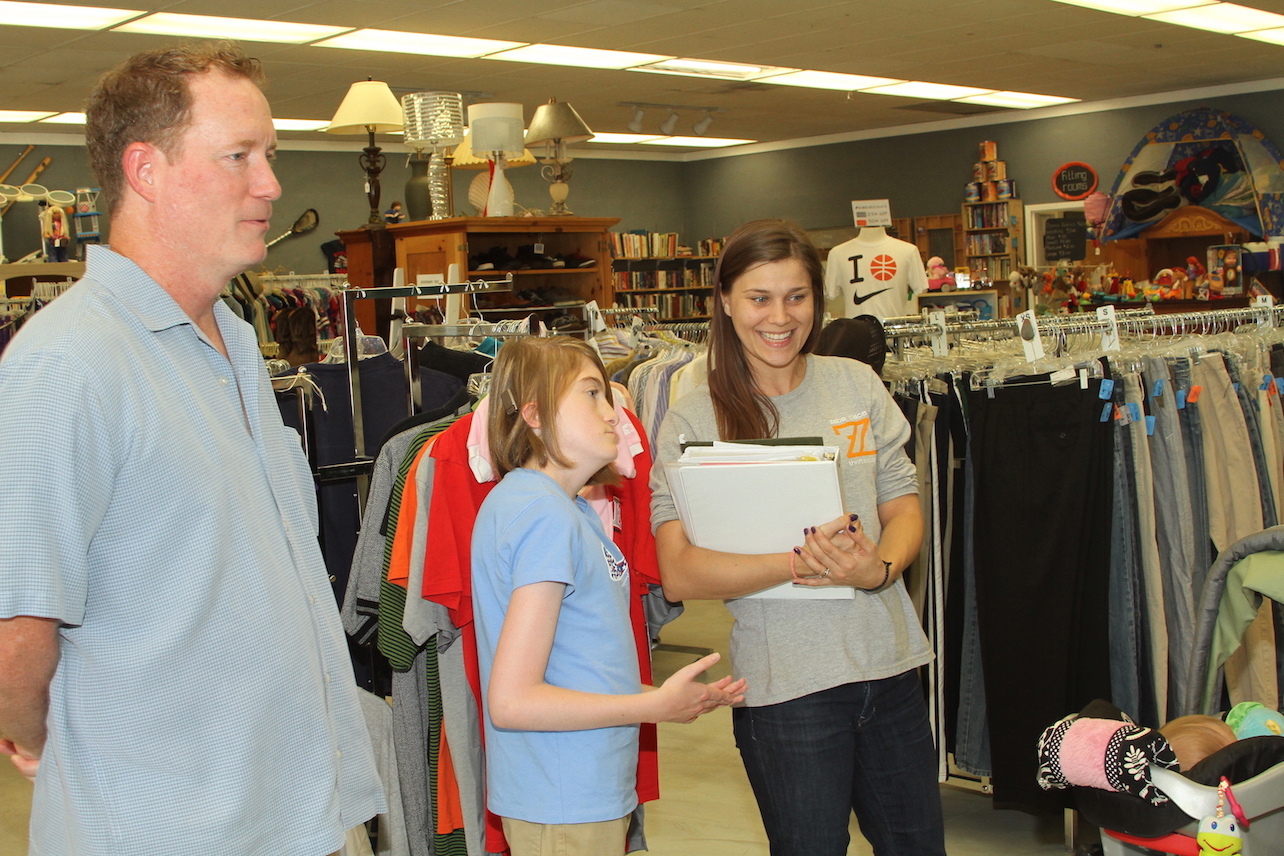 "All because people believed in him," Groner adds.
ZABS Place, named for Zecharya Avraham Boruch Shporer, a 19-year-old Friendship Circle volunteer who died of leukemia in 2012, opened in November 2014 following two families seeking a solution to needs not being met.
The Groners, Bentzion and Rochel, who is the general manager, head the Friendship Circle in Charlotte which helps Jewish children and teens with special needs create genuine friendships and enjoy inclusive social experiences. But the Friendship Circle ends for attendees when they graduate high school. The Groners knew that not only did these young adults need friends, they also needed employment.
At the same time, Charlie and Caren Gale saw their son Jonathan preparing to age-out of the Friendship Circle and the future looked empty. Together with the Groners, they decided to be the solution to the problem and ZABS Place was born.
The key to ZABS Place's success is the belief that everything and everyone has value. "None of us are extra," Groner says. "Everyone has hidden potential, everyone is here for a reason. By helping someone discover their talents, you end up helping yourself."
The future of ZABS Place, Groner explains, is to help their employees move on to working in new jobs in the community. Groner is currently working with local business leaders to create a plan to help train businesses in hiring people with disabilities.
Until that happens, ZABS Place continues to give the community a place to donate items in tip-top condition to be sold, with all the profits staying in the business.
To shop the vast array of items for sale at ZABS Place as well as on their eBay and Etsy sites, go to http://zabsplace.org/shop.
ZABS Place is open Monday to Thursday, from 10 a.m. to 6 p.m.; Friday, from 10 a.m. to 3 p.m.; and Sunday, from noon to 6 p.m. for anyone to shop in-store.
Save
Save