FOR IMMEDIATE RELEASE
MEDIA CONTACT:
Devika Rao
O'Neill Communications
678-384-7836 (office); 404-374-5231 (mobile)
devika@oneillcommunications.com
EveryBody Works North Carolina Celebrates One-Year Anniversary
Employment campaign brings attention to employment for North Carolinians with disabilities
October 1, 2018 (Raleigh, NC) – The North Carolina Council on Developmental Disabilities (NCCDD) is celebrating the one-year anniversary of EveryBody Works North Carolina, an awareness campaign for the untapped pool of talent found in the North Carolina disability community and to create more jobs and job oriented educational opportunities.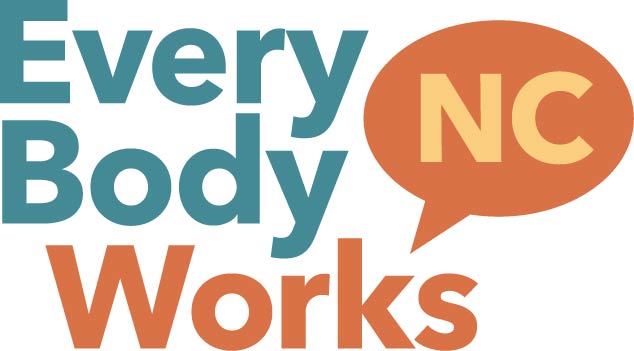 NCCDD launched its EveryBody Works NC campaign aiming to bring attention to and reduce the employment gap of working-age people with disabilities; educate the business community on the benefits of hiring people with disabilities; and show how the disability community is an untapped and valuable workforce. The campaign is in collaboration with the North Carolina Business Leadership Network (NCBLN) and North Carolina Vocational Rehabilitation (NCVR).
Additionally, the campaign educated self-advocates and their families about the value of employment and how to access employment, training and education programs to improve an individual's employability.
This anniversary is celebrated during October's National Disability Employment Awareness Month (NDEAM), a national annual awareness campaign that takes place each year. EWNC was launched in October 2017.
"NCCDD is proud to recognize National Disability Employment Awareness Month this year and celebrate EveryBody Works NC," said Chris Egan, NCCDD's executive director. "We have really increased the awareness of the talented workforce that is available across the State. Working closing with NC VR and and DHHS' Secretary Mandy Cohen's team has been essential to recognize, celebrate and promote the importance of achieving employment for individuals with intellectual or other developmental disabilities (I/DD)."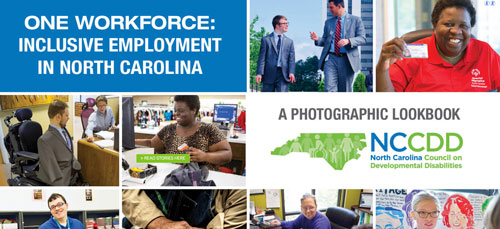 Additionally, NCCDD released their photographic employment lookbook, One Workforce: Inclusive Employment in North Carolina, in June 2018. The lookbook shares the stories and photographs of 30 different people with disabilities across the state, hard at work in their chosen employment fields.
The purpose of National Disability Employment Awareness Month is to educate about disability employment issues and celebrate the many and varied contributions of America's workers with disabilities. This year's theme is "America's Workforce: Empowering All."
About the North Carolina Council on Developmental Disabilities: The North Carolina Council on Developmental Disabilities (NCCDD) works to assure that people with intellectual and other developmental disabilities (I/DD) and their families participate in the design of and have access to needed community services, individualized supports and other forms of assistance that promote self-determination, independence, productivity and inclusion in all areas of community life. Through its Five-Year Plan, the Council identifies and funds innovative projects and initiatives that promote the goals of the Developmental Disabilities Assistance and Bill of Rights Act (DD Act) for all North Carolinians.
###