A Message from NCCDD Chair Alex McArthur and Executive Director Chris Egan: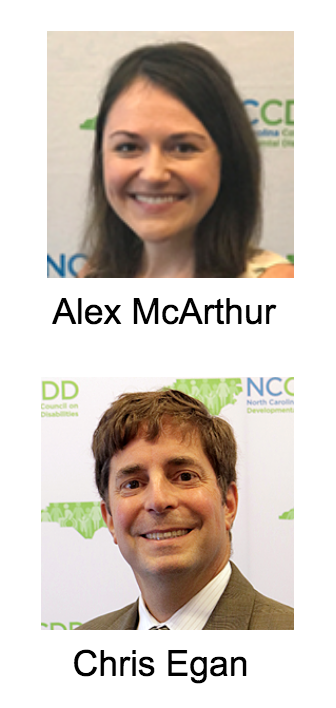 Earlier in August, we left central North Carolina for the beautiful mountains of Asheville for our August meeting of the North Carolina Council on Developmental Disabilities. We began the time in Asheville with an open reception Wednesday evening and welcomed nearly 200 friends, advocates and colleagues from the western part of the state. The evening provided the Council with a chance to highlight what we are working on in collaboration with many partners. This reception also gave us an opportunity to listen and discuss current successes, resource gaps, and the opportunities ahead for systems change work across NC. We thank everyone who took time to attend this event!
On Thursday and Friday, the formal meeting began and we highlighted the importance of collaboration and building relationships as we work together to continue to influence positive change. We welcomed several new Governor appointed members to the NCCDD. We also recognized the contributions of Vicki Smith, a DD network partner and active member for over 11 years. She is retiring as the Executive Director of Disability Rights North Carolina at the end of the month. Her career started with teaching special education in West Virginia and then as the deputy director of the National Association of Protection and Advocacy Systems in Washington, DC. Vicki's unwavering support along with her passion and knowledge has served our Council well and we thank her.
We also took time to remember former Council member and advocate, Renate Macchirole. Renate passed away on August 4. After moving to the Outer Banks in 2005, Renate focused on increasing the availability of respite services for individual with disabilities and families, promoted educational and employment opportunities and advocated most recently for Room in the Inn to support assistance and lodging for people in need of shelter. Renate was also a long-term advocate for direct support professionals in the field of disabilities. She promoted the importance of their efforts and the need to recognize the current and growing crisis facing this important profession due to the high need for this work and low wages paid to those in these positions.
As we look ahead, September brings us to Direct Support Professionals (DSP) Week. Where would we be without these amazing people who assist individuals with disabilities and their families? The week is celebrated from September 9-15 and we encourage you to take a moment to reach out to all the DSPs you know and thank them!
As always, thanks for your advocacy, your leadership and your partnership!
Alex McArthur Chris Egan
Chair Executive Director
STATE
The Medicaid Transformation in NC is moving forward. The Department of Health and Human Services released Requests for Proposals (RFPs) for the Standard Plan. The proposal are to award four statewide Prepaid Health Plans (PHPs) and up to 12 regional Provider Led Entities/PHPs. The Behavioral Health/Intellectual-Developmental Disability (BH/I-DD) Tailored Plans, which will include people with I/DD who are on the Innovations Waiver, receiving other services and supports through the LME/MCOs, or on the waiting list, will begin at least one year after the Standard Plan begins. Discussion and input regarding the BH/I-DD Tailored Plan is still occurring and welcomed by the Department.
The General Assembly reconvened this week to work on the Constitutional Amendments that will likely be on the ballot in November. A three-judge panel concluded that the initial language was too misleading to go before voters, potentially keeping two amendments that would shift appointment powers from the governor to the legislature from being on the ballot at all. The Republican majority decided Thursday to come back into session to address the court's concerns, setting up the third General Assembly session of the year to deal with these amendments.
Two of the six amendments have the potential to affect individuals with intellectual/developmental disabilities (I/DD). One amendment: Cap Income Tax at seven percent, reduces the maximum allowable income tax rate from 10 percent to seven percent. Limiting how much the income tax could rise in the event of a recession or depression could affect the resources available for one's services and supports. It could also force the state to consider sales taxes and fees which could disproportionately affect people with I/DD. Another amendment, Voter ID, requires photographic identification before voting. There is concern that the details of what type of identification will be required and how this will be obtained is not clear. We will continue to consider these developments over time.
FEDERAL
The U.S. House of Representatives remains in recess, giving members an opportunity to engage with constituents in their home districts. The Senate leadership opted to shorten their scheduled summer recess to address legislative issues.
Each election year, every House seat and one-third of Senate seats will be on the ballot. Leading up to elections, there will be a number of local opportunities to meet your current elected official and others running. This is a great chance to hear more about their priorities and educate them about the needs of individuals living with disabilities in North Carolina.
The 2018 elections are just around the corner. Click here for useful information from Disability Rights North Carolina about your rights as a voter.
Celebrating Direct Support Professionals Week!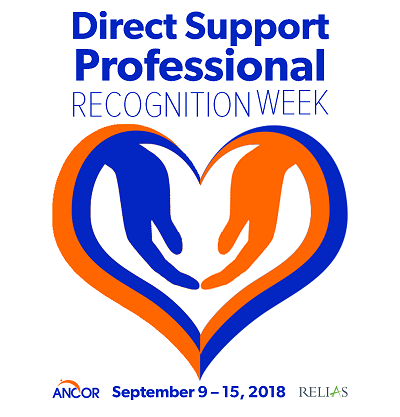 There are approximately 1.3 million Direct Support Professionals (DSP) throughout the United States providing a myriad of services including, but not limited to, assistance with living needs, life skills, transportation, etc. to ensure that individuals with disabilities integrate into the daily life of their communities. This year's Direct Support Professionals Week is September 9 – 15, and will honor DSPs and the vital contribution they make to the individuals they care for and the impact they help make on communities.

Although providing such critical service to people with disabilities, DSPs earn an average hourly wage of just $10.72, causing a high turnover rate in the profession. Because of a mis-classification of the DSP job with the Department of Labor's Bureau of Labor and Statistics, the DSPs' skill set is not adequately acknowledged.
To fix this, the National Alliance for Direct Support Professionals (NADSP) is leading a nationwide effort to establish a Direct Support Professional Standardized Occupational Code. Individuals can sign the NADSP petition to show your support for this standardized occupational code at https://bit.ly/2nFvcXz.
And, remember to thank a direct support professional today!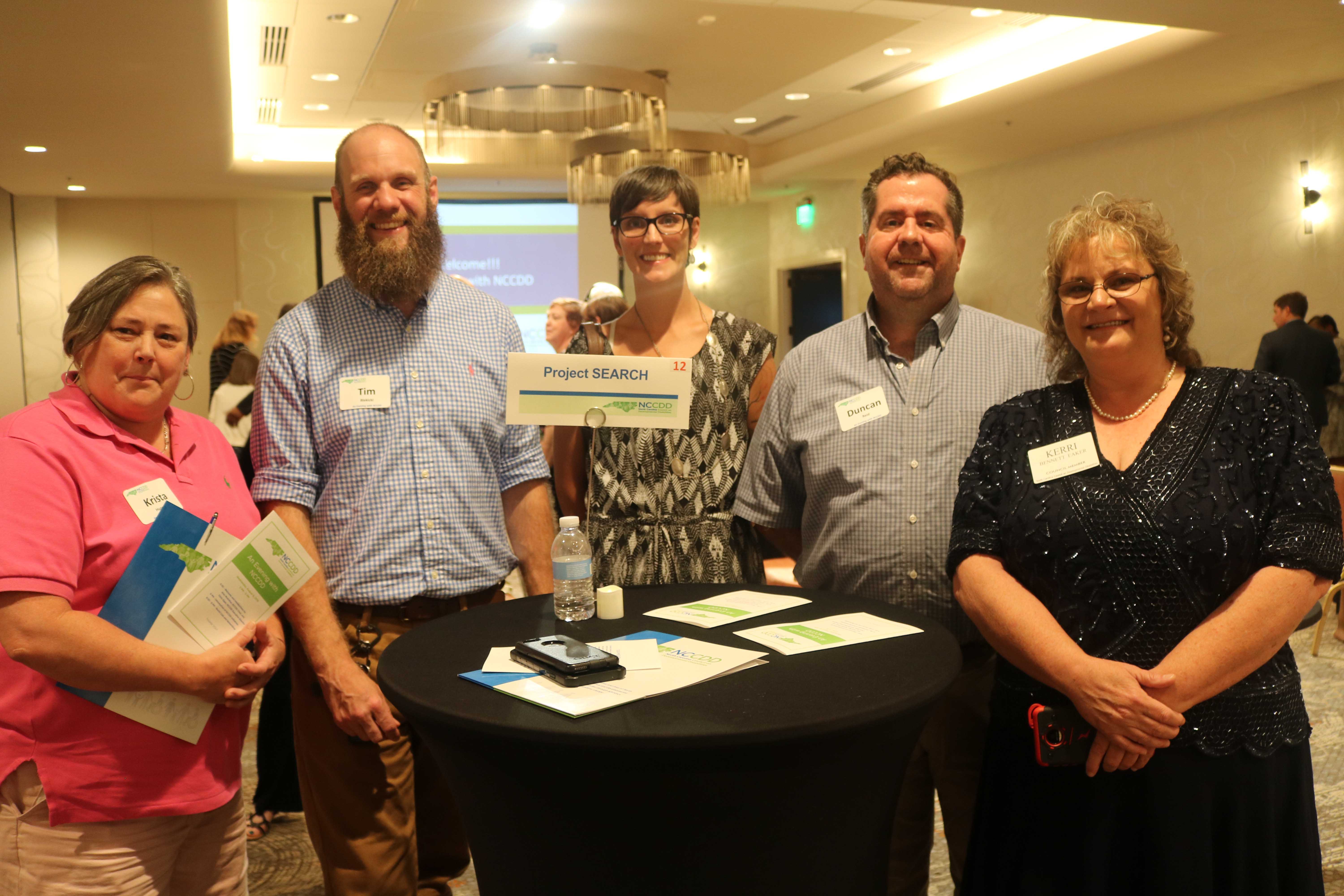 The Project SEARCH team presented at NCCDD' evening event.With the Great Smoky Mountains as a backdrop, nearly 200 individuals, including 20 partner organizations from across NC, attended our "Evening with NCCDD" in Asheville in early August. Attendees were able to meet the NCCDD members and to hear about the work we are doing that is impacting Asheville as well as the entire state of North Carolina. We thank everyone who worked hard to make this happen and to all who attended!
Check out more photos here and our current initiatives.
North Carolina Governor Roy Cooper declared August as Achieving a Better Life Experience (ABLE) Act Month! NC ABLE Act allows people with disabilities to save and invest money without jeopardizing Medicaid and other programs and supports.

The ABLE Account allows for people with disabilities to save money, work, go to school and build financial security. NCCDD encourages all persons with intellectual and other developmental disabilities to take advantage of this great opportunity to save for their future.
But, what does having an ABLE account mean? Opening an ABLE account can allow individuals, family members and caregivers to:
Save up to $15,000 per year without endangering benefits from federal and state means-tested programs.
Be assured that up to $100,000 is not counted towards eligibility for SSI or other federal means-tested programs
ABLE accounts are open to people living with disabilities. The onset of the individual's disability must have occurred before their 26th birthday. No special medical forms are required. Individuals can self-certify that they qualify to open an ABLE account.
It takes only 15 minutes to sign up. But, if you need more information, visit: https://savewithable.com/nc/home.html
Council Member Spotlight- Tara Myers
Tara Myers is nearing her November one-year anniversary as a member of the North Carolina Council on Developmental Disabilities (NCCDD). Myers is the Senior Director for the North Carolina Division of Vocational Rehabilitation (NCVR), Division of Services for the Blind (DSB), Division of Services for the Deaf and Hard of Hearing (DSDHH) and Disability Determination Services (DDS) within the Department of Health and Human Services.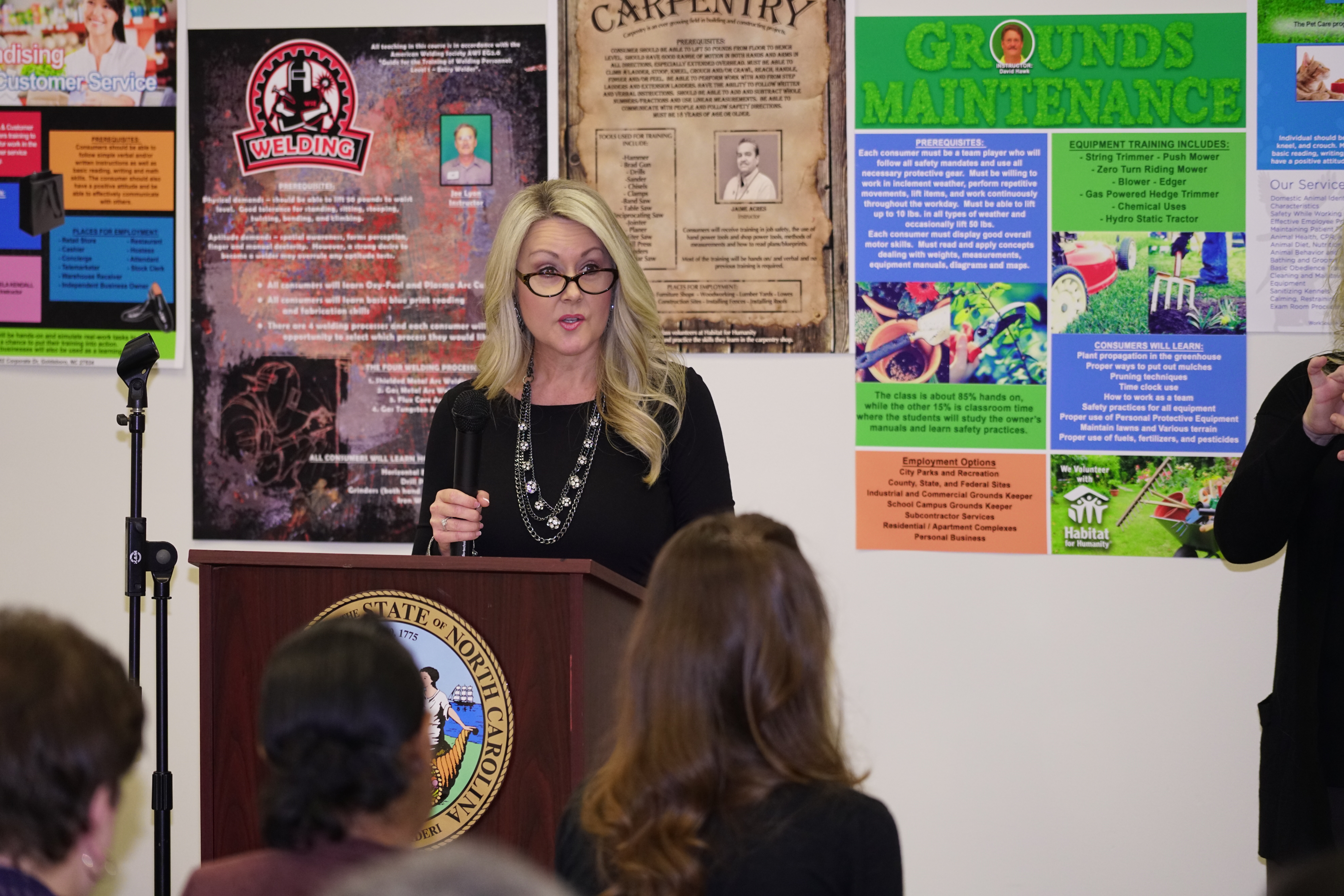 Tara Myers speaks at an NC EveryBody Works Event"I believe the Council is always focusing their attention and resources in the right direction and on the right topics. Of course, there's always much work to be done regardless of how hard councils or agencies work to meet the needs of those we serve. The Council's endeavor to promote employment for persons with disabilities is one of the best things they are working on," Myers said.
In addition to NCCDD, Myers is involved as the co-chair for the Education and Employment Advisory Council and is a member of the Governor's Workgroup on Veterans and Family Members, an ex-officio member of the State Rehabilitation Council, a member of the Executive Committee for the Council of State Administrators of Vocational Rehabilitation (CSAVR), chair of the Veterans Committee for CSAVR and is on the Technical Assistance Team for Strategic Planning with the NC Department of Transportation. Myers is also a Certified Rehabilitation Counselor and Certified Public Manager.
Myers explains her passion for her work like this: "As I travel to various VR offices across the state, I tell our staff that it only takes a split second and we could be on the other side of the table needing our services, therefore, my expectation is that we provide the highest level of customer service as we would expect to receive."
Myers earned a Bachelor of Science degree in Speech Language and Auditory Pathology from East Carolina University and her Master's degree in Rehabilitation Counseling from Virginia Commonwealth University.
#OneWorkforce Spotlight - Patrick Newman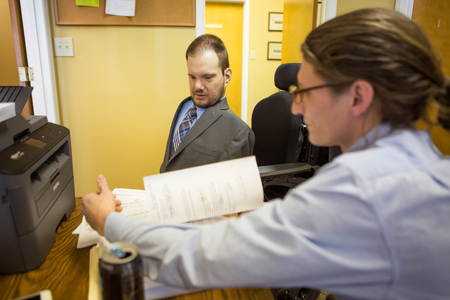 Patrick Newman is an attorney in Morehead City, NC.Patrick Newman jokes that his very first job ever was as a lawyer, but it's actually true. Before becoming a lawyer, Patrick never had a job and rather focused all of his energy on completing his degree at Campbell Law School in Raleigh, NC.
Five years later, Patrick says there's no shortage of people who need lawyers, so he's working hard to build his practice in a smart, deliberate way.
He jokes again, "I don't need to be Bill Gates, but I would like to go to Disney World." Currently, Patrick does predominantly court-appointed work as a criminal defense trial lawyer in Morehead City, NC.
Born without arms, Patrick uses his feet to control his wheelchair and going to trial for him is the same as for any other lawyer.
One of the barriers Patrick has had to overcome is that many courthouses are historic and not required to be fully accessible. Despite such challenges, Patrick continues to build a very successful practice as a criminal defense attorney, including recently trying a case in North Carolina Superior Court.
And, hard work paid off for Patrick. This month, he received the 2018 Small Business of the Year award from NC DHHS Division of Vocational Rehabilitation Services. The award recognizes the success of clients who overcame disability to become self-employed and highlights community and state partners who provide critical support to entrepreneurs with disabilities.
This story is a part of NCCDD's employment lookbook, One Workforce: Inclusive Employment In North Carolina. The lookbook shares the stories and photographs of 30 different people across the State - all talented, hard at work and engaged in their chosen fields of employment. By showcasing the talent, determination and initiative of people with disabilities, we can create a state where everybody works together in one united workforce.