A Message from NCCDD Chair Alex McArthur and Executive Director Chris Egan: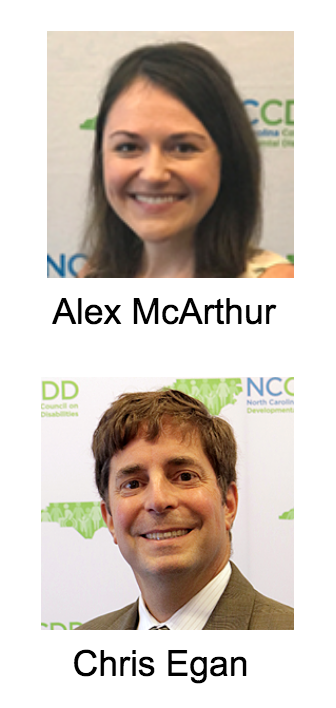 This month is a significantly important month for individuals with disabilities across the nation. In 1990, 28 years ago, the Americans with Disabilities Act (ADA) was signed into law to assure equal opportunity for individuals with disabilities for access to businesses, employment, transportation, government services and telecommunications. This legislation was groundbreaking at the time and continues to guide our efforts, today.
In North Carolina, we recognize over 1.3 million North Carolinians who have one or more disabilities and we celebrate their civil rights protections on the 28th anniversary of the ADA.
NCCDD shared a Celebrate the ADA's 28th blog series on our website with different blogs from advocates around the State and a list of ADA celebrations occurring throughout North Carolina. You will also find the ADA proclamation signed by Governor Cooper which we have also translated to Spanish. We are especially pleased with the Governor's press release and his statement that, "We've made progress since this landmark legislation was signed into law 28 years ago, but we have more to do to assure equal and full participation in community life for North Carolinians living with disabilities." He goes on to say that we must increase our focus on opportunities for education and careers, and, "encourage employers to make our state a national model for diverse workplaces." And while we celebrate the ADA in July NCCDD's efforts are focused on the promise of the ADA all year long.
A few more updates include a change in venue for the NCCDD August quarterly meeting! We will be in in Asheville, NC, where we will host an evening reception to highlight various NCCDD initiatives, resources and our Five-Year State Plan. We are looking forward to meeting the over 200 people who have signed up to drop in! This will give us a chance to learn from each other, share priorities, network and enjoy an evening together.
We also want to remind you that our annual meeting happens each November. During these meetings, the Council honors the significant contributions made by advocates who are working passionately to change attitudes and support greater choices for a more inclusive North Carolina. The awards include the longstanding Jack B. Hefner Memorial Award and Helen C. "Holly" Riddle Distinguished Service Award. Additionally, the Council has launched the North Carolina Leadership Achievement Award to recognize self-advocate leadership within the State.
The nominations for the 2018 Advocacy and Leadership Awards are open for just another day, so please be sure to submit your nomination(s)! All nominations received after August 1st, 2018 will be considered for our 2019 annual meeting honors and awards event(s).
As always, thanks for your advocacy, your leadership and your partnership!
Alex McArthur Chris Egan
Chair Executive Director
STATE
As mentioned in the last update, on June 15, 2018, the North Carolina General Assembly passed House Bill (HB) 403, amending S.L. 2015-245, "An Act to Transform and Reorganize North Carolina's Medicaid and NC Health Choice Programs." This new law authorizes 1) the carve in, or inclusion, of behavioral health services into Standard Benefit Plans, and 2) the creation of BH IDD Tailored Plans—specialized managed care products targeted toward individuals with significant behavioral health needs (including mental health and substance use disorders), intellectual/developmental disabilities (I/DDs), and traumatic brain injuries (TBIs). This allows the Department of Health and Human Services (DHHS) to move forward with the Medicaid transformation plan. One of the first steps is to release an RFP for the Standard Plans. We expect those to come out very soon. As described before, the plan is to have three statewide commercial plans and up to 12 regional Provider Led Entities (PLEs).
DHHS intends for BH IDD Tailored Plans to be operational at the start of the first fiscal year that is one year after the implementation of the first contracts for Standard Benefit Plans. The Tailored Plans will initially be operated by LME/MCOs, but after four years will also be out for bid through a RFP process. While the Tailored Plans are designed to support individuals with I/DD, we know that there are many people with I/DD who are not connected to or receiving support through Innovations or state funding, so expect that some of these individuals will initially be assigned to a Standard Plan. We will follow the development of both plans and continue to advocate for choice and appropriate outcomes for the I/DD population.
Federal Policy:

Education

Reauthorization of the Higher Education Act

On July 26th, Representative Bobby Scott (D-VA) introduced the Aim Higher Act (H.R. 6543) with 16 cosponsors. (The PROSPER Act, an alternative reauthorization bill in the House, last had movement in February.) Disability specific highlights of the bill include requiring colleges to accept formal disability documentation from high school for accommodation requests, and reauthorization of the Transition and Postsecondary Programs for Students with Intellectual Disabilities (TPPSID) and teacher preparation programs that train teachers to educate diverse learners.

Career and Technical Education Reauthorization Signed into Law

The Strengthening Career and Technical Education for the 21st Century Act (H.R. 2353)passed by both the House and Senate and was signed by President Trump last week.
As part of the reauthorization of federal career and technical education (CTE) programs, individuals with disabilities are now:
- included among the stakeholders who must be consulted in the development of the state plan
- part of a new set aside for the recruitment to CTE programs that lead to high-wage in-demand careers
- included in provisions around public reporting on student subgroups and special population performance by program of study
- expanding access and requirements for teacher professional development in universal design for learning and other research-based teaching methods.

Employment
Disability Employment Incentive Act Introduced
Senator Bob Casey (D-PA) has introduced the Disability Employment Incentive Act. This bill increases three tax credits for employers. The Work Opportunity Tax Credit, which provides incentives for businesses to that hire people referred by vocational rehabilitation, or who are on Supplemental Security Income of Social Security Disability Insurance, would be increased from $2,400 to $5,000. The Disability Access Expenditures Tax Credit will be increased from $5,000 to $10,000. The Architectural and Transportation Barrier Tax Credit will be increased from $15,000 to $30,000.

Financial Independence

HEADs UP Act

On July 26, Representatives Seth Moulton (D-MA) and Gregg Harper (R-MS) introduced the Healthcare Extension and Accessibility for Developmentally Disabled and Underserved Population (HEADs UP) Act of 2018. This bill would declare people with DD a medically underserved population (MUP). As we know through our IDD Medical Health Home Initiative, individuals with DD face a number of documented barriers to health and health care: a shortage of primary care providers, lack of continuity of care, higher infant mortality rates, higher poverty rates, and shorter life expectancy than typical populations. A MUP designation provides increased access to resources from 25 different government programs including Federally Qualified Health Centers, Community Health Centers, loan repayment and training programs under Health Resources and Services Administration Workforce Development and Training Programs, and preference in research within agencies such as the National Institutes of Health. For more information on the bill, click here. To read the entire bill, click here.
Celebrating the ADA's 28th Anniversary!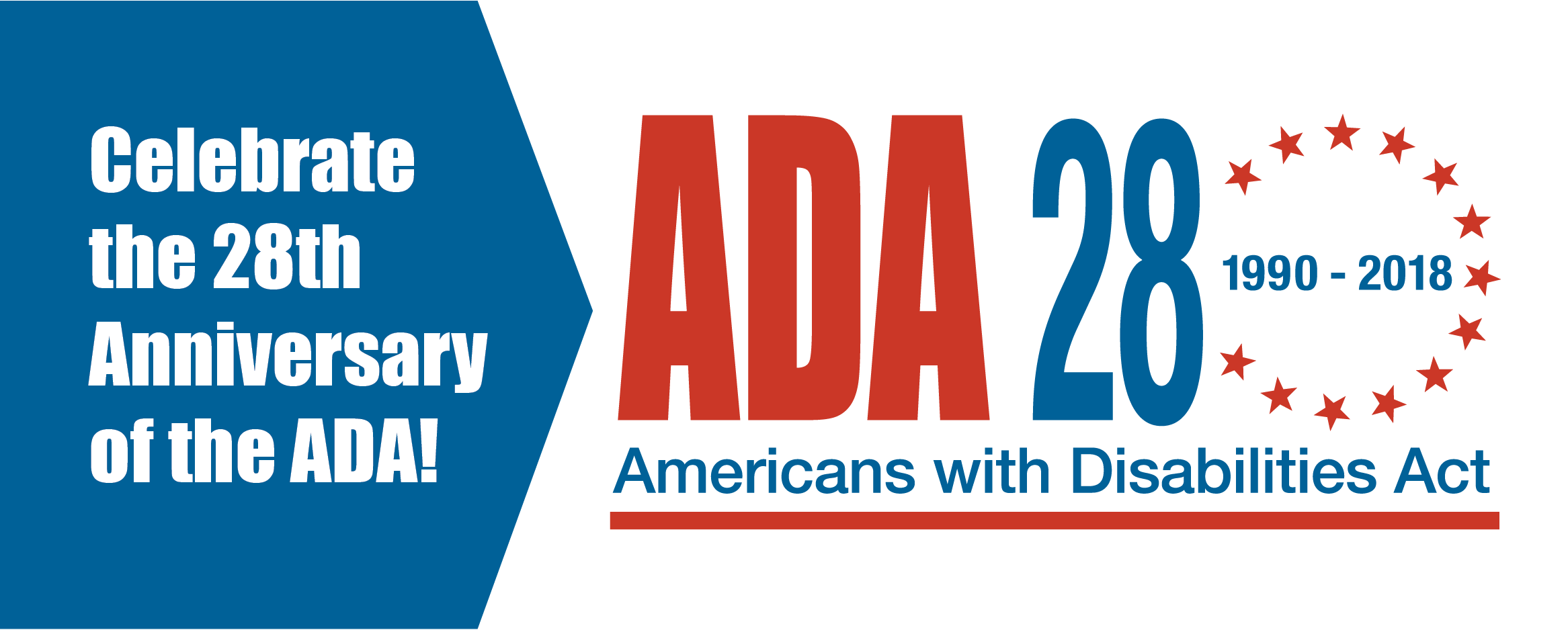 All July, we celebrated the passage of the Americans with Disabilities Act. North Carolina Council on Developmental Disabilities (NCCDD) took it upon itself to educate, advocate and celebrate the importance of the ADA and what this does (and should) mean for millions of Americans, all year long. To celebrate, we began a very intentional month-long effort with an Celebrate ADA's 28th Blog Series and we collected and shared a blog about the ADA each day since. A big thanks to everyone who has contributed throughout the month! You can catch up on the blogs, and find information about ADA celebrations throughout the state here.
We were also excited to share that Governor Roy Cooper declared July 26th as "Americans with Disabilities Act Day in North Carolina, and commends its observance to all citizens." You can read the full proclamation on the Celebrate ADA's 28th webpage. The proclamation is also available in Spanish.
Nominations now open for 2018 Advocacy and Leadership Awards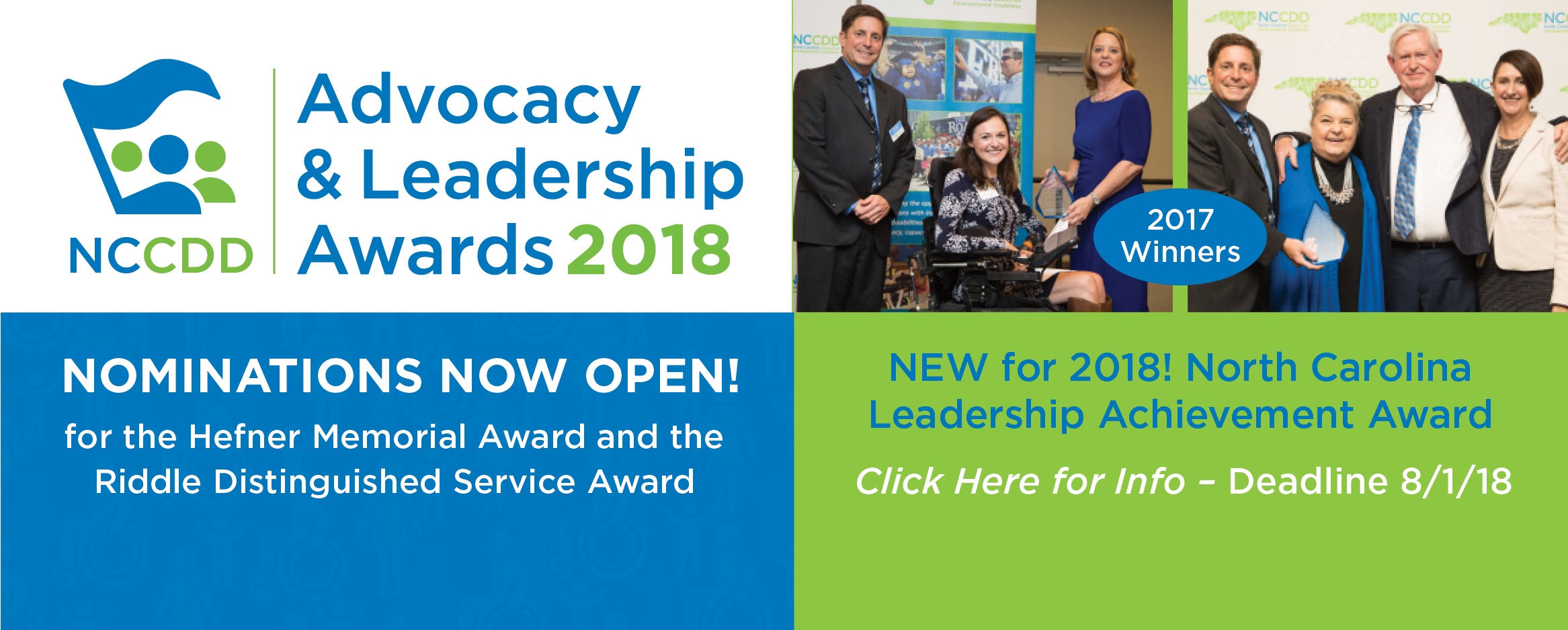 The Council is seeking nominees from across the State for the 2018 Advocacy and Leadership Awards! Hosted by the North Carolina Council on Developmental Disabilities (NCCDD), the awards include the Jack B. Hefner Memorial Award and the Helen C. "Holly" Riddle Distinguished Service Award.

This year, the Council has added a new award to recognize self-advocates across the State: The North Carolina Leadership Achievement Award. This award aims to recognize an outstanding North Carolina self-advocate whose work has improved the quality of life for people with I/DD.

The Jack B. Hefner Memorial Award recognizes individuals, family members or volunteers who are advocating and building a better North Carolina for people with intellectual and/or other developmental disabilities (I/DD). The Helen C. "Holly" Riddle Distinguished Service Award recognizes professionals who have made lasting contributions towards improving opportunities, breaking down barriers and promoting increased quality of life for people with I/DD.

The deadline to apply is tomorrow, August 1, 2018. The recipients will be announced on November 7, 2018 at the NCCDD Quarterly Meeting in Cary, NC. All nominations received after August 1, 2018 will be considered for our 2019 annual meeting honors and awards event(s).

To learn more and apply, visit https://nccdd.org/the-council/advocacy-and-leadership-awards.html
Meet and Mingle with NCCDD in Asheville!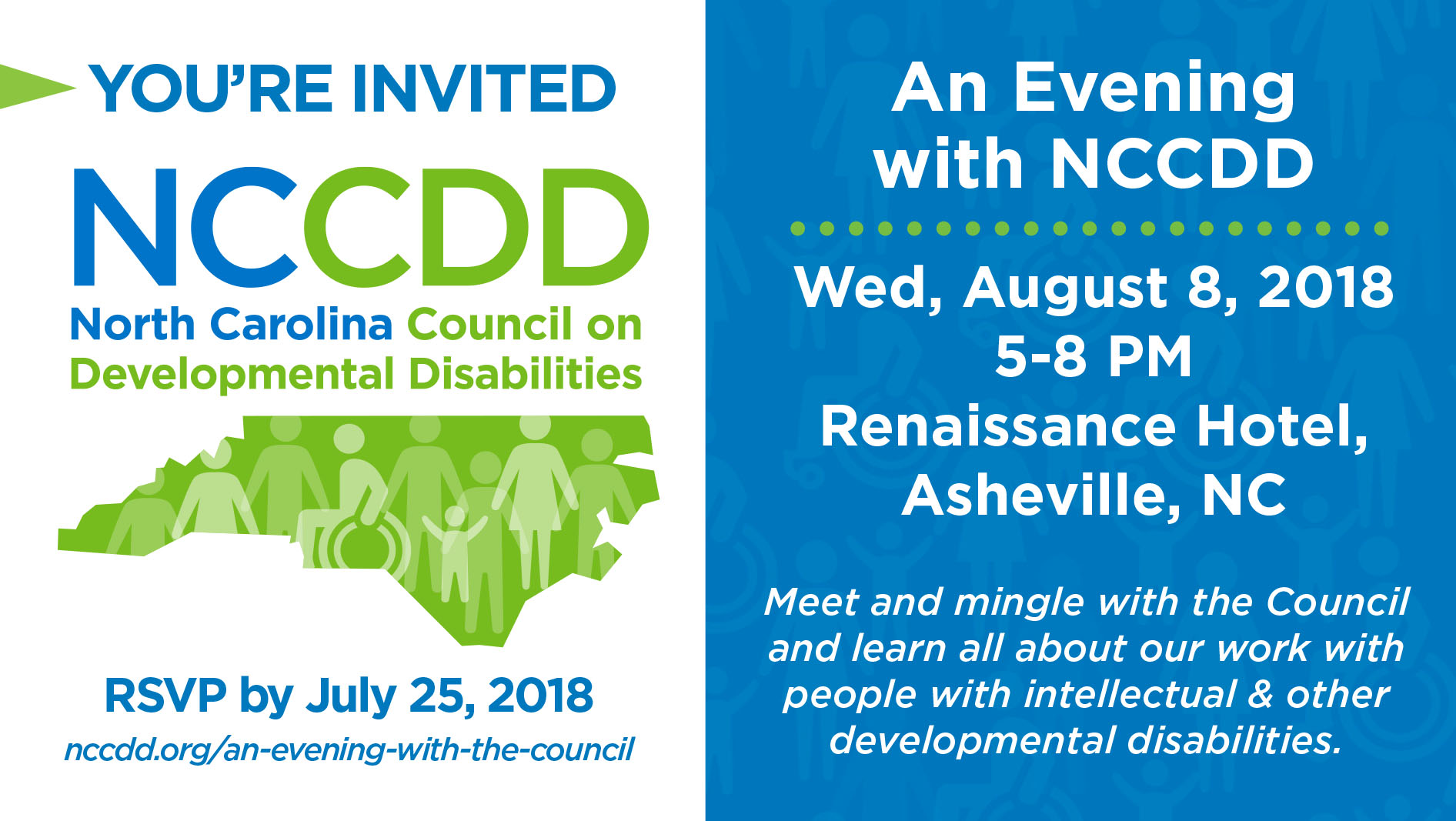 If you were able to be among the 200 individuals who registered, we are excited for you to meet and mingle with the members of the North Carolina Council on Developmental Disabilities! This reception is our way to meet and connect with the local communities and also provide a way for the residents to learn about the NCCDD and all of the ways in which we are impacting the state, including the Asheville area.
If you were unable to register in time or were unable to attend, we still wish for you to learn about the NCCDD, our impact and ways in which to get involved with us as you are able and interested. Please view information about the NCCDD and our initiatives here (NCCDD Initiatives).
Event Name: An Evening with NCCDD
Location: Renaissance Hotel, 31 Woodfin St., Asheville, NC, 28801
Time: 5:00-8:00 PM EST
Food: Heavy hors d'oeuvres will be served. For sharing dietary needs, accommodation requests or other relevant information, please click "Contact Us" on the right sidebar upon completing registration for the event.