Letter from the Executive Director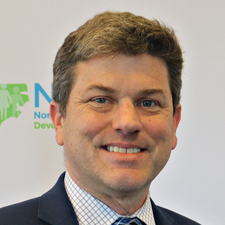 In March, members of the North Carolina Council on Developmental Disabilities (NCCDD) met with House and Senate leaders to discuss the impact of the Innovations Waiver waiting list and the Direct Support Professional (DSP) workforce shortage on their lives and families. These dual crises are the two top policy education priorities for NCCDD.
To establish this important meeting, Council members reached out to their House and Senate representatives and their legislative assistants by looking them up on the North Carolina General Assembly website. Council members asked for a meeting with legislators on the day they knew they would be visiting the General Assembly. You can schedule your own meeting via email or phone. I advise sending an email and following up with a phone call. When you do this, state the date and times you will be available, explain that you are a constituent of that legislator's district, and name the issues you would like to discuss.
For instance, one of our Council members reached out to his Senator and Representative by first stating that he had a developmental disability, then giving his address and confirming that he was a constituent, and concluding by explaining that he wanted to discuss the developmental disability waiting list and DSP workforce crisis. This Council member also connected with House Health Appropriations Committee leaders responsible for determining the state budget for health issues. I was very pleased to learn that representatives reached out to him and discussed the issues, even when they were not the representatives of his specific district.
On the day of our legislative visit, we met with leaders of both the House and Senate Health Appropriations Committees. Family members of individuals with developmental disabilities talked about their deep fears of what will happen to their children when they are not around if that family member does not have Medicaid waiver services. Two of our Council members talked about their fears of going into a nursing facility if they do not have the care they need.
Most of the decisions of the General Assembly on Medicaid Waivers and DSP rates will be made by May 2023. Now is a critical time to reach out to your legislative members. Even if you can't meet with them right away, we encourage you to find a time to address the critical issues impacting our community. When the General Assembly is not in session, you can contact your legislative members to meet with them in your area. Often, they prefer meeting in their home district. Make it a priority to get to know your legislators!
Talley Wells, Executive Director
Public Policy (as of April 10, 2023)



State
Legislative
Medicaid Expansion
HB 76 Access to Healthcare Options: This Medicaid expansion bill extends Medicaid benefits to people with a healthcare coverage gap. The coverage will spread to people under 133% of the federal poverty level who have not previously been eligible. This bill passed the General Assembly on March 23 and was signed by the Governor on March 27.
This law will go into effect when the 2023-2024 state budget is passed. The goal is to pass the state budget by the end of June.
Budget
HB 259 – 2023 Appropriations Act: As one of the first steps in the process of passing a two-year state budget, the House introduced a budget bill that was passed by the House on April 6. It was sent to the Senate where changes to the bill will occur before a Conference Committee works out the differences between the House version and Senate version.
The House budget includes:
250 Innovations Waiver slots
Funding for DSP wage increases in Innovations Waiver and ICF services
Funding for the Medicaid "rebase" (the updated requirement to adapt appropriations based on inflation), and ongoing Medicaid Transformation (Tailored Care Management and 1915i services)
Increases for teacher/school staff salaries
Funding for new I/DD programs at state universities
NCCDD and other I/DD stakeholders were hoping to see more Innovations Waiver slots to address the 16,000-person waitlist.
Plain Language: The NC Legislature has passed an important bill that will provide health coverage to more people. This is commonly known as "medicaid expansion." The House passed a budget bill that included some of the things that advocates have asked for (like higher DSP wages), but only 250 Innovations slots were approved when most people were hoping for 1,000 slots. The Senate will now work on their budget.
Other Bills
Standards of Student Conduct (H188): This bill removes existing language that prevents schools from labeling behaviors such as dress code violations, non-compliance with staff directives, disrespectful language, and altercations that do not involve injury as serious violations. While these categories are currently considered minor violations, this bill would allow schools to deem them as serious, which could result in expulsion, removal or legal involvement. Such infractions tend to disproportionately affect students of color and/or students with disabilities.
This bill has not passed the House and has been referred to the Rules Committee.
Driver's License Designation/Autism (H77): This bill directs the Division of Motor Vehicles to develop a designation for driver's licenses that, upon request, may be granted to a person with autism spectrum disorder. This type of bill has been proposed before. Some I/DD advocates remain concerned about some aspects of this bill, including how the database will be maintained and who has access to it.
This bill passed the House and has been referred to the Rules Committee in the Senate.
Schools for Deaf and Blind (H11): This bill proposes creating independent boards for the Eastern NC School for the Deaf, NC School for the Deaf, and Governor Morehead School for the Blind. With the proposed admissions process falling under the independent boards, there are concerns about the potential impact for students with co-occurring disabilities and/or behavioral health needs being denied admission.
This bill was passed by the General Assembly and became law without the Governor's signature.
Guardianship Rights (SB308): This bill promotes the rights and independence of persons subject to guardianship and seeks to prevent abuse or misuse of authority by increasing the oversight of guardians. This bill has been a collaborative effort and included multiple stakeholders.
This bill is still in the Senate.
Retain Adult Devel. Voc. Rehab Programs (HB323): This bill prohibits the Department of Health and Human Services (DHHS) from making policies to reduce or eliminate services provided at Adult Developmental and Vocational Programs (ADVP) or Community Rehabilitation Programs (CRP) without funding a robust array of alternative services that reflect choice. It also would not permit a reduction in admission to ADVPs and CRPs until "current services are appropriately reviewed and any new services are approved through statutory or regulatory processes." This bill could possibly affect the move toward competitive integrated employment and there will need to be more discussion about the implications.
This bill passed the House and is now in the Senate.
Support Students with Disabilities (H478): This bill provides funds for school systems to cover the extraordinary costs of supporting some children with disabilities. It can be used to cover private schools, which will provide education in accordance with a students individualized education plan (IEP). This funding should reduce the use of modified day, homebound and hospitalized placements.
This bill is in the House and not yet passed.
Direct Care Work Wage Increases/Innovations Waiver (SB 488): This bill provides funding to increase Medicaid rates in order to raise salaries for direct care workers who provide Innovations Waiver services. It requires that at least 75% of the increase goes to the worker.
This bill is in the Senate.
Plain Language: Legislators are writing bills that could affect people with disabilities. One bill will protect the rights of people who may have guardians and another bill provides more funding to schools to support students with disabilities. Other bills are still being considered.
Medicaid Recertification
Since March 2020, states were required under the federal COVID-19 Public Health Emergency to maintain enrollment for nearly all Medicaid beneficiaries and their level of coverage, regardless of eligibility status. This helped ensure that they continued to have healthcare coverage during the pandemic. The 2023 Consolidated Appropriations Act set a timeframe to resume Medicaid beneficiary eligibility recertifications. NC Medicaid has begun this process.
Recertifications will take place over the next 12 months and will be conducted based on a beneficiary's recertification date. Medicaid terminations or reductions could begin as early as July 1, 2023, although some could lose coverage as early as May 1, 2023.
Plain Language: During the pandemic, people could stay on Medicaid without showing they were still eligible. Now the federal government said the health emergency is over. NC has to check and see who is still eligible. Some people who had Medicaid health coverage through the pandemic may lose it.
Federal
The House of Representatives and Senate are on recess until April 17.
Budget
On March 9, President Biden released his budget for FY 2024. The budget contains many proposals for key investments to improve services and supports for people with disabilities. For example, the proposal includes increased funding for home and community-based services by $150 billion dollars (see page 31) and increased funding for special education and early intervention by $16.8 billion dollars for Part B and $932 million dollars in Part C grants.
Senator Chris Murphy (D-CT) circulated a "Dear Colleague" letter in support of increased funding for the University Centers for Excellence in Developmental Disabilities Education, Research, and Service (UCEDD) and other programs in the Developmental Disabilities and Bill of Rights Assistance Act in fiscal year 2024. This includes the Protection and Advocacy Program for Developmental Disabilities, State Councils on Developmental Disabilities and Projects of National Significance. The letter closed on April 12 and the deadline for submitting requests was the end of April. The House of Representatives has already closed their process for representatives to make requests. This is part of the ongoing budget process of Congress.
Plain Language: The President has released the 2024 fiscal budget, which outlines how to fund federal government programs. Now, Congress is deciding how much money various federal programs will receive in 2024, such as the Association of University Centers on Disabilities (AUCD) programs.
Guardianship Bill of Rights Act
On March 30, Senator Bob Casey (D-PA) introduced the Guardianship Bill of Rights Act (S. 1148). Guardianships are intended to be legal relationships established to protect people with disabilities and older adults, but often lead to loss of rights, abuse, fraud, and exploitation. This bill would establish a Guardianship and Other Protective Arrangements and Supported Decision Making Council that would be responsible for promoting less restrictive arrangements for people living under or being considered for guardianships. The bill would also create a protection and advocacy agency focused on people's rights who are currently living under or being considered for guardianship. The bill is co-sponsored by Senator John Fetterman (D-PA), Senator Elizabeth Warren (D-WA) and Senator Bernie Sanders (I-VT).
Plain Language: Some senators wrote a bill about guardianship. Guardianships are set up to protect people with disabilities and older adults, but frequently cause people to lose some of their rights to make decisions for themselves. This bill would create a council, or a group of experts, to look for better alternatives to guardianships and create a state program to protect the rights of people with disabilities.
RISE Act
The Response, Innovate, Succeed, and Empower (RISE) Act (S.1071 / H.R. 2401) was introduced by Senator Bob Casey (D-PA) and Representative Suzanne Bonamici (D-OR-1). The RISE Act requires institutions of higher education to accept a student's individualized education program (IEP), accommodation plan, or other prior evaluation as sufficient proof of disability when a student requests reasonable accommodations from a college or university. This will ensure that they do not have to pay for additional evaluations to document a disability to receive reasonable accommodations. The bill also provides funding for technical assistance centers to train faculty on how to support students with disabilities and provides resources to students with disabilities and their families. AUCD supports the bill.
Plain Language: Senator Casey and Representative Bonamici introduced a bill called the RISE Act. This bill would make it easier for students with disabilities to get accommodations in college.
Council Members Address NC's Dual Disability Crises with State Legislators
On March 28, members and staff of NCCDD met with North Carolina General Assembly legislators to educate them about issues that are important to the I/DD community.
The issues included the dual crises — the DSP shortage and the Medicaid Innovations Waiver waiting list length.
The average pay rate for a DSP in North Carolina is just $13 per hour. That low pay and high need has created a DSP crisis in this state. In addition, over 16,000 individuals with I/DD in North Carolina are on the Medicaid Innovations Waiver waiting list, hoping to receive services to help them live in the community instead of care facilities. The wait on this list for assistance is often more than 10 years.
The NCCDD group attended the House Committee on Health hearing and then met with Senate Health Appropriations and Senate Appropriations members including Senators Michael Lee, Jim Burgin, Joyce Krawiec, Kevin Corbin, Mike Woodard, Sydney Batch as well as Representatives Zack Hawkins and John Bradford.
Bryan Dooley, chair of NCCDD, said, "We tried to raise the profile of the Council in all areas including employment, the DSP crisis and the waiting list. I don't think we had any breakthroughs, but it was a productive meeting. Hopefully there will be a follow-up."
Additional time was given for the NCCDD attendees to meet individually or in small groups with other legislators. The NCCDD group displayed still photos from their film "UNMET" in a meeting room on the fourth floor for legislators and visitors to view.
UNMET Movie Debuts Across the State - Next up: Greenville, NC
"Unmet: North Carolina's Disability Crisis" is coming to Greenville, NC on May 10, 2023 at the Hilton Greenville. The 25-minute movie, commissioned by NCCDD, focuses on real-life situations of individuals with developmental disabilities and what it looks like when their needs are unmet.
The event starts at 5:45 pm with networking and will be followed by the screening and discussion on what we can do to educate and inform our legislators about these dual crises impacting the I/DD community.
Registration is now open and seating is limited. Accommodation requests should be made by May 1, 2023. Register for the event here.
May's Self-Advocate Discussion Series Features Special Session on Personal Relationships
On May 30th, NCCDD will host a special edition of the Self-Advocate Discussion Series that will focus on personal relationships. Katherine McLaughlin of Elevatus Training will lead a discussion about the importance of knowing different types of safe and meaningful relationships, developing relationships with decision-makers and peers, and transitioning a friend into a partner.
The session will occur on Tuesday, May 30 from 6:00 to 7:30 p.m. This session offers information to demonstrate that people with I/DD can have, and need, every type of relationship. Register here for this very special one-time event as spots are limited.