Letter from the Executive Director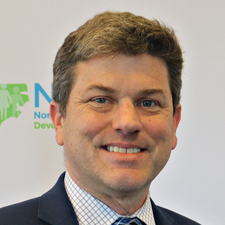 People with intellectual and other developmental disabilities (I/DD) being released from North Carolina's prison system are receiving support through the Justice: Release, Reentry, and Reintegration initiative. Led by the Alliance for Disability Advocates (ADA) and funded by the North Carolina Council on Developmental Disabilities (NCCDD), the initiative has already shown great success as it enters its third year of a three-year plan.
Since its inception, 86% of program participants who received ADA support have not returned to jail or prison. A team of three reentry specialists work with each participant while they are still inside prison to develop an Individualized Reentry Plan (IRP). The IRPs help individuals establish housing, employment assistance, health services, and other vital supports upon their release. To date, ADA has developed 142 IRPs with individuals.
What makes this initiative unique and effective is that it has the full support of prison behavioral health social workers. The jail or prison's social workers identify individuals with I/DD preparing for release and connect them with the ADA reentry specialists. Jamila Little, Director of Social Work Programs for Behavioral Health Services within the North Carolina prison system and NCCDD alternate Council member, has been a tremendous partner and support to make the initiative a success.
"KS" is a program participant with I/DD who was able to obtain transitional housing and a job through the initiative. It also helped him learn how to catch the bus on his own. He said he has never felt more independent in his life.
Program Manager, Sharif Brown, said, "Through this initiative I have seen life-changing results and the spark of hope… for successful reentry within all the participants."
The initiative's staff and collaborators will have the opportunity to present to the North Carolina State Reentry Council Collaborative on November 8, 2022.
During the initiative's third year, the ADA and NCCDD are working to raise awareness and attract additional funding to continue the initiative's positive impact. If you are interested in learning more about the initiative, you can reach out to Sharif Brown at sharif@adanc.org. You can read more about the initiative in a recent article from North Carolina Health News.
Talley Wells, Executive Director
Public Policy (as of October 10, 2022)

STATE
Legislature
The state legislature will return for the long session in January.


Tailored Plan
The Medicaid Managed Care launch of the Tailored Plan (TP), which was scheduled to begin on December 1, 2022, has been delayed until April 1, 2023. Local Management Entities-Managed Care Organizations (LME-MCOs) that manage the program recognized the community's concerns regarding access to primary care physicians and other health providers. The delay will provide more time for the LME-MCOs to enroll additional providers into their networks so people will have choice in their care. For additional information visit NCDHHS's website.
While the TP will be delayed, the Tailored Care Management (TCM) will still begin on December 1, 2022. People who are eligible for the TP and the 1915(i) services can receive TCM beginning Dec 1 of this year. The TCM services will be provided by the LME-MCO, Care Management Agencies (CMA) or Advanced Medical Homes (AMH). Eligible participants can choose their care manager, or one will be assigned to them. The care manager assists with the coordination of physical, long-term services and supports, and behavioral health services. For more information on Care Management click here.
The 1915(i) services will begin on December 1, 2022 or when Centers for Medicare or Medicaid Services (CMS) approves North Carolina's request. Eventually, these services will replace the(b)(3) services that some people are currently receiving and will also open up services to many people who are waiting. People with I/DD who are Medicaid-eligible and meet the assessment criteria will be able to access these supports. Depending on when the CMS approval comes, there will be a period of time when (b)(3) services and 1915(i) services will both be available. During that time, people who are not currently receiving supports will have priority for the 1915(i). Those with (b)(3) services will continue to receive their current services until the launch of the TP in April 2023. Additional information on the services transition can be found here.
Plain Language – The start of the Tailored Plan (TP) has been moved to April 1, 2023. Many people with intellectual and other developmental disabilities (I/DD) will have their supports managed through the TP when it becomes available. Some other new services for people with disabilities, including Tailored Care Management (TCM) and 1915(i) services, will begin on December 1, 2022.
FEDERAL
Congress Passes Continuing Resolution With Extra Funds for Social Security Administration
On September 30, Congress passed a Continuing Resolution bill, which will fund the government through December 16, 2022. This is necessary since Congress has not agreed on a final budget for the coming year. The Social Security Administration (SSA) is set to receive additional funds as part of this Continuing Resolution. The 10-week spending bill includes a $400 million "anomaly" for SSA. This means the agency will receive additional funds as if their overall budget for the year was $400 million higher than the previous appropriations bill.
Plain Language – Congress is still working on a budget for the coming year. They passed a law that will keep providing money for most services to continue through mid-December. The Social Security Administration received some extra money, which may help people with disabilities.

Congress Fails to Block Use of Shock on Residents With Disabilities at Judge Rotenberg Center
Congressional leaders passed a bill to fund the Food and Drug Administration for another five years. Unfortunately, this bill did not include the ban on the use of electric shock devices for behavior modification on people with disabilities. The brutal treatment is widely recognized as cruel, harmful and ineffective. Yet, the Judge Rotenberg Center (JRC), an institution in Massachusetts for people with intellectual and other developmental disabilities, still subjects its residents to this extreme practice. Advocates will continue to fight to include the ban in the year-end funding package.
Plain Language – The Judge Rotenberg Center in Massachusetts still uses electric shock on people with disabilities. Advocates are trying to get Congress to pass a law to eliminate this harmful and ineffective practice.
House Passes Bill to Eliminate Barriers for Students With Disabilities in Higher Education
On September 29, the House of Representatives passed the Respond, Innovate, Succeed, and Empower (RISE) Act [H.R. 4786] led by Representative Suzanne Bonamici (D-OR). This is part of the larger Mental Health Matters Act [H.R.7780], which is led by Representative Mark DeSaulnier (D-CA). The RISE Act would eliminate barriers that students with disabilities face when accessing accommodations in higher education. This bill will also have to be passed by the Senate to become law. You can read more here.
Plain Language – Some Representatives in Congress are working on a bill to help people with disabilities get the supports they need for higher education.
Bill Introduced to Remove the R-Word From Federal Law
On September 15, Representative Mark Pocan [D-WI-2] introduced the "Words Matter Act of 2022" [H.R.8863]. Although the R-word was stripped from most federal statutes more than a decade ago, there are more than two dozen instances where the term still appears in U.S. code. This bipartisan bill would update these laws with the term "intellectual disability." Advocates will continue to push for this legislation to be passed.
Plain Language – Advocates continue to work with Congress to remove the "R-word from all legal language.
Meet the Need NC Holds First Sessions in Boone and Greenville
The North Carolina Council on Developmental Disabilities' (NCCDD) Meet the Need NC initiative was introduced to Boone and Greenville through the "Hear. Share. Act." gatherings in September. The initiative's aims to hear, advocate for and impact the intellectual and developmental disabilities (I/DD) community's services and needs in North Carolina. Talley Wells, Executive Director of NCCDD, and Beth Field, Program Director for Leadership Alliance for Neurodevelopmental Disabilities, facilitated the community meetings for over 200 registered attendees in Boone and Greenville. The unique meeting format highlighted and taught the impact of storytelling for advocacy and change-making. Participants took part in a formal storytelling session as well as a "How to Talk to a Policymaker" session to hone in on communicating their unmet needs.
During the sessions, individuals also discussed their key issues, including the difficulty in finding service providers in rural areas of NC. This was expressed by a significant number of attendees including groups who are currently on the Innovations Waiver, those who are on the waitlist (Registry of Unmet Needs), as well as those who are on and off Medicaid. In addition, the sessions uncovered another common theme - lack of clarity on critical and current issues including the Medicaid transformation/Tailored Plan (TP), 1915(i), the Innovations Waiver waitlist, and the Direct Support Professional (DSP) crisis. After the session, Field noted:
"The events in Boone and Greenville provided us with rich information about the current needs of I/DD communities. They also reminded us how awesome it is to see a parent feel like they have hope when told about a resource they did not know was available – or sit in a group where others understood their needs."
The preliminary grassroots initiative provided NCCDD with new learnings, especially in regards to feedback and need in rural areas of NC. In response to these learnings, Meet the Need NC has several upcoming action items including:
"Lunch and Learn" Statewide Meet the Need NC ACTion Network monthly series. Dates to be released soon.
Development of a smaller Steering Committee.
Formation of the Statewide Meet the Need NC ACTion Network, open to anyone in the I/DD community.
To read more about this NCCDD initiative and its work, please visit the Meet the Need NC website.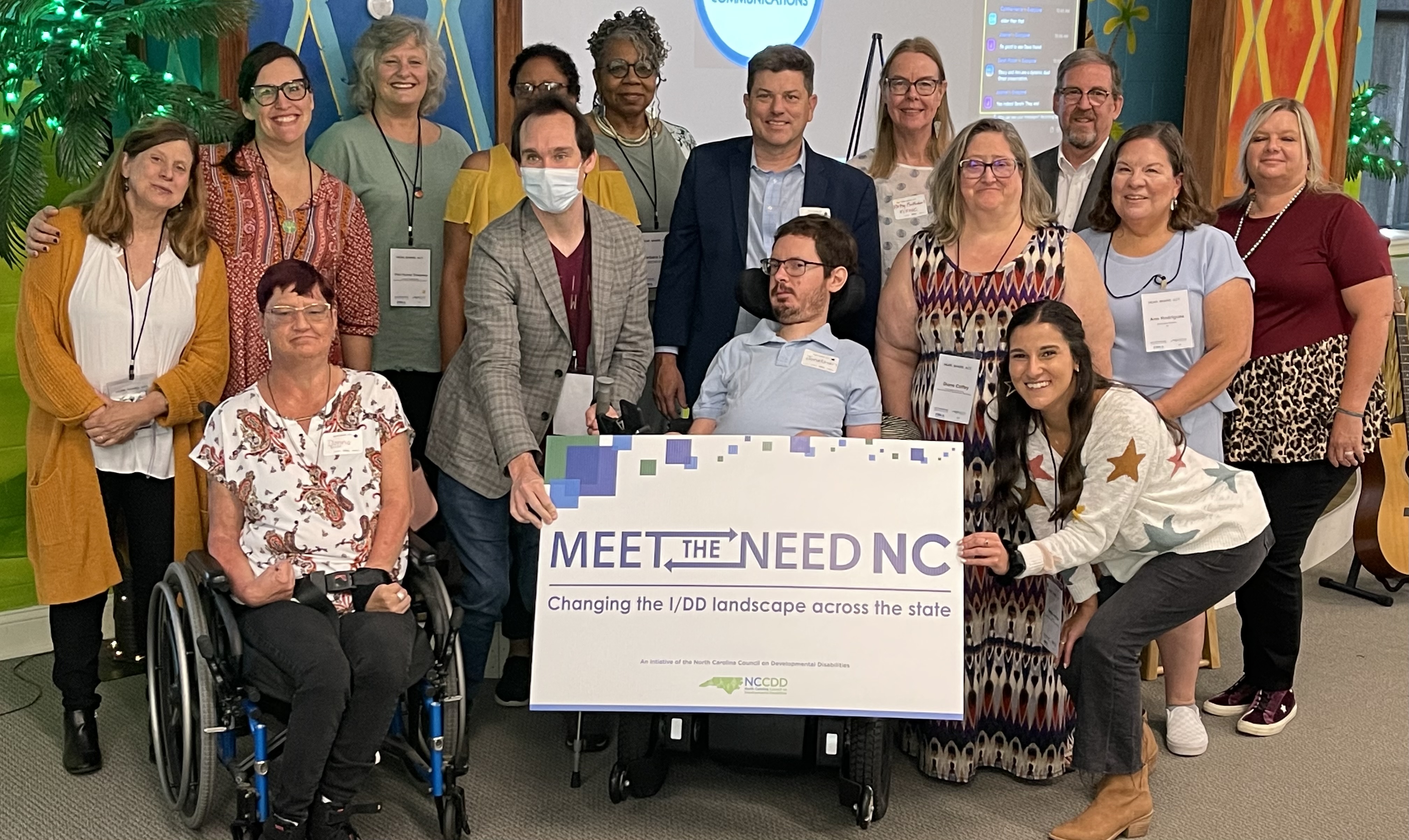 New Podcast Brings Attention to Unmet Needs Crisis for North Carolina's Disability Community
"The Waiting Room" is a new podcast launched by Meet The Need NC. This initiative is changing the intellectual and other developmental disabilities (I/DD) landscape across the state as well as recognizing systemic change for I/DD community services and supports.
The podcast shines a light on the ever growing Medicaid waitlist and unmet needs of people with I/DD in North Carolina. Currently, there are approximately 15,000 people on the Registry of Unmet Needs in this state. People on waitlists for Medicaid Waivers in other states in the U.S. have an average wait time of over two years. In North Carolina, the wait can be up to 12 years or more.
The podcast launched its first episode on September 8 with guests Talley Wells, Executive Director of The North Carolina Council on Developmental Disabilities (NCCDD), and Beth Field, Program Director for Meet The Need NC.
The podcast host is Kenneth Kelty, an award winning motivational speaker, author and disability activist. "The Waiting Room" will have new episodes twice a month. Check out the full list, including Kelty's personal story from September 22 on Meet The Need NC website, Spotify, or YouTube.
Meet the Need NC is driven by the Leadership Alliance for Neurodevelopmental Disabilities (LAND), a program of the 501c3 nonprofit, Mental Health Transformation Alliance (MHTA). LAND is an advocacy organization made up of family members with I/DD lived experience" and other professionals dedicated to improving the lives of those with I/DD and their families. The goals of the grant are not only to increase the number of waiver slots to assist more people with I/DD, but to also advocate for other ways the state can address the unmet needs of people who are on the Registry of Unmet Needs.
Self-Advocate Discussion Series: Recapping "Let's Get to Work"
Fifty attendees joined September's self-advocate discussion series "Let's Get to Work," facilitated by Chris Hendricks, North Carolina Council on Developmental Disabilities (NCCDD) Policy Education Coordinator, and NCCDD Vice-Chair and self-advocate, Cheryl Powell. The panelist's stories revealed the power of self-worth and advocacy. Hendricks stated, "This was truly felt with each word expressed. All of us were lifted by everyone in the room. Each story had gold to hold onto." Some of the key topics included:
The positive impact employment creates for the intellectual and other developmental disabilities (I/DD) community.
How individuals can advocate for themselves during interviews as well as in various job settings.
The value people with I/DD bring to employers.
Stories of self-discovery among individuals with I/DD through meaningful employment.
How employers can think outside the box to better support job candidates or employees with I/DD.
How to approach an interview with confidence as a person with I/DD.
How people with I/DD can ask for what they need from an employer.
The November self-advocate discussion series topic is "Being Thankful as a Self-Advocate." It will be held on November 16 at 1:00 p.m. Individuals may register here.
According to researchers at Rutgers University, 17.7 million Americans with disabilities voted in the 2020 Elections. However, there was a 5.7-point voting gap between people with disabilities and people without disabilities.
In addition, Disability Rights NC says one in four people who are eligible to vote have a disability, and if those with disabilities voted, there would be an additional 2.35 million votes! To help everyone with their voting plans, Disability Rights NC has prepared several resources along with voting guides and information, which you can find here.
The American Association of People with Disabilities (AAPD) also has a variety of resources explaining the importance of voting, how to register to vote and other FAQs.
Issues will impact the diverse community of individuals with disabilities differently. Be sure to have your voice heard by voting during the general election on November 8, 2022.
Summer Mini-Grants Assist 13 Organizations
Through its in-house initiative, NCCDD awarded 13 mini grants to North Carolina agencies and organizations serving people with intellectual or other developmental disabilities (I/DD) to help with needed services, supports and supplies. The mini-grants ranged from $4,000 to $9,000 and required a minimum of 25% matching funds from the awarded organizations. The grants funded projects from June 1 to September 30, 2022.
The 13 organizations that received mini-grants were:


Arc of Davidson County, Lexington, NC

Arc of North Carolina, Raleigh, NC

Autism Grown Up, Inc., NC

Bloom Fitness Corporation, Asheville, NC

Exceptional Children's Assistance Center, Inc., Davidson, NC

Extraordinary Ventures, Chapel Hill, NC

Favor Foundation, Charlotte, NC

Gabi's Grounds, Raleigh, NC

L'Arche North Carolina, Durham, NC

Moji Coffee + More, Winston-Salem, NC

National Inclusion Project, NC

NC FASD Informed, Inc., Chapel Hill, NC

Stevens Center, Sanford, NC