Letter from the Executive Director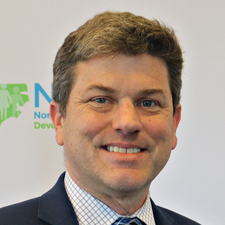 Now is the time to share your story with your North Carolina Representative and Senator. Now is the time to meet the candidates running for those seats.
I have heard from too many people with intellectual and other developmental disabilities (I/DD) and their families that they do not have a Direct Support Professional (DSP) to provide medical, social and daily living supports. Lives are at risk.
I have heard from too many parents worried about their son or daughter who graduated from high school without the Innovations Waiver. They say it is like falling off a cliff. It is worse than the isolation of Covid for their child.
I know these stories. Unfortunately, too many of our legislative leaders and policymakers do not know the depth of the I/DD support crisis.
I was shocked twice recently. I was in a gathering of providers who were struggling because they did not have enough staff to provide services for people with I/DD. Facilitators asked the providers how many of them knew their state and local representatives or senators. Only a few hands went up. More than 90% of the providers in the room who were struggling with too few DSPs did not know their legislators.
Later, I was in a separate gathering of individuals with I/DD and their family members and the group was asked the same question. Only two hands went up.
We are in crisis, yet we are not meeting and communicating with our own local representatives and senators so they know what is happening. Many who need to tell their stories are overwhelmed with what they have to get done. Still, it is imperative that our political leaders know about our community's challenges and needs.
Meet the Need NC and the NC Waiver Action Team recently held two events in Boone, NC and Greenville, NC to teach individuals with I/DD and family members how to share their stories with decision makers and legislators. They were great events, but you don't need to be taught. You know your story. Give your local leader a call or send an email. Meet them. Share your story. It matters.
Here is the website to find your current representative or senator. Simply type in your address and press "enter" to find your local legislators. Here is where you can find the phone and email for each of the candidates running in the November 8th, 2022 General Election.
Talley Wells, Executive Director
Public Policy (as of September 13, 2022)
STATE
Legislature
As reported in the last Highlights and Hot Topics, the legislature passed a budget adjustment act during the short session. Though there was hope that the adjustment would include Medicaid expansion, it did not come to fruition. However, the Senate passed Expanding Access to Healthcare and the House passed the Rural Health Care and Savings Act. While both proposed to give healthcare coverage to more people in North Carolina who do not qualify for coverage on the healthcare marketplace, there were other differences that could not be resolved between the Senate and House during the short session. Despite the lack of resolve, it appears that both entities agreed that the state needs to expand healthcare coverage. Discussion is expected to continue and the legislature could be called back into session after the fall elections to resume the healthcare dialogue.
The NC legislature will return for the long session in January 2023.
Plain Language- The legislature met and made some changes to the state budget. Advocates hoped the House and Senate would make healthcare more available in NC. The legislature may come back together later in the fall to continue talking about healthcare expansion
Transition at Division of Mental Health, Developmental Disability, and Substance Abuse Services (DMHDDSA)
Following the departure of Deepa Avula, former Director of DMHDDSA, Dave Richard has been covering the division with the help of Mark Benton. Richard and Benton are also leading the effort to recruit a new division director as well as a deputy director. They are recruiting these positions simultaneously to ensure a compatible relationship between the selected candidates. With interviews underway, Richard and Benton are aiming to identify the new leadership within the next couple of months.
Plain Language – North Carolina is looking for a new director and deputy director of DMHDDSA. Interviews are happening and they hope to hire soon.
Tailored Plan
The Tailored Plan (TP) is expected to begin on December 1, 2022. A key element of this transition is the 1915(i) services which will replace the B(3) services that are currently being utilized by many people with I/DD. The 1915(i) will be submitted to centers for Medicare and Medicaid services after a 10-day comment period. The state's goal is to have this submitted by the end of September. The public comment period is expected soon.
Another key component of the TP is the Tailored Plan Care Management (TCM). Notices about the TP and the TCM have been sent out to people with I/DD who are expected to move into the TP.
The TP Choice Period is August 15, 2022 through October 14, 2022. During the Choice Period, beneficiaries who qualify for the TP will be able to choose their primary care provider (PCP) and TCM provider.
TP members can choose a PCP or TCM provider by calling the Tailored Plan's phone number listed in their notice. Members can search and find providers on the NC Medicaid Enrollment Broker's website.
For questions about this process, contact the enrollment broker.
Members who do not choose a PCP or TCM provider will be assigned to one by their TP.
The Council has received feedback from some individuals and families that the website is difficult to navigate. There are also concerns about whether the network of medical providers and other services, such as physical therapy, is adequate. Some individuals/families are not finding their current doctors or other specialists on the website. The Council has shared these concerns with the state.
Plain Language – Many people with I/DD will have their supports managed through the Tailored Plan (TP) starting on Dec 1, 2022. People will get a letter in the mail about choosing a doctor and choosing a care manager.
FEDERAL
Budget
The Senate Appropriations Committee released drafts of 12 appropriations bills. The Labor, Health and Human Services, Education and Related Agencies (L-HHS-ED) bill included a 20% increase for a total of $216.1 billion. The bill is generally less generous than the House bill in funding some programs related to I/DD. The most significant percentage increases were Lifespan Respite Care Act (73%), State Grants to Remove Barriers to Voting (47%), Individuals with Disabilities Education Act (IDEA), Personnel Preparation (100%), and Parent Information Centers (50%).
Congress had a break during the month of August and will now begin to work out differences between the House and Senate appropriations packages. The federal fiscal year begins October 1, 2022 and it is unlikely that a budget will be agreed upon by then. Expect to see some stop-gap funding bills to keep funding in place while a budget is worked out.
Plain Language – Congress is working on a budget for next year. Some of the funding will provide supports and services for people with disabilities.
Centers for Medicare and Medicaid Services (CMS)
CMS is proposing a new rule designed to simplify the application and verification processes for people seeking coverage through Medicaid and the Children's Health Insurance Program known as CHIP. The regulation being published this week would standardize eligibility and enrollment for the programs. The rule would generally limit renewals to once a year, ensure that applicants have 30 days to respond to requests, create consistency in the renewal process across states and mandate that renewal forms be pre-populated. The regulation would eliminate requirements for in-person interviews and impose a 90-day reconsideration period in cases where coverage is terminated because beneficiaries fail to return information needed to determine re-eligibility.
Plain Language – There are some new rules that will make it easier to get approved for Medicaid. This should help people with disabilities.
October's Self-Advocate Series: My Vote Matters
My Vote Matters is the North Carolina Council on Developmental Disabilities (NCCDD) Self-Advocate Discussion Series' October topic. This particular session will focus on the value of the vote in the I/DD community. The focus will be on the voting process, voter registration, voting rights, how to request an absentee ballot and more. Chris Hendricks, NCCDD Policy Education Coordinator, and Cheryl Powell, NCCDD Vice-Chair and self-advocate, will facilitate the session on October 19 at 1:00 p.m.
To register, please visit NCCDD's website.
Success for the Justice: Release, Reentry, and Reintegration Initiative
Last May, we introduced you to the North Carolina Council on Developmental Disabilities (NCCDD) funded initiative called Justice: Release, Reentry, and Reintegration. The purpose of this initiative is to improve transition outcomes after incarceration for individuals with intellectual and other developmental disabilities (I/DD). We are excited to share the initiative's accomplishments.
There are approximately 2.2 million adults in the U.S. prison system. An estimated 750,000 of those incarcerated adults are individuals with diagnosed disabilities. People with disabilities face a higher risk of entering the justice system than people without disabilities.
This initiative provides Individualized Reentry Plans (IRPs) and targeted resources for those offenders who are at higher risk of reoffending. The programs and strategies focus on individualized services to address barriers that each consumer may be expecting or experiencing.
The IRP model was first tested at Butner Federal Correctional Institution (FCI) in Butner, NC. The North Carolina Council on Developmental Disabilities awarded Alliance of Disability Advocates (ADA) a three-year grant to perform this model in 13 state prisons in North Carolina in 2020.
Under this current initiative, the ADA has:
Received 120 referrals for pre-release individuals and completed 112 IRPs. The remaining referrals have future release dates.
Even with an active pandemic and inability to see/contact our consumers directly until April 2022, the success rate for this initiative is 86%.
Many pre-release consumers are now actively receiving post-release wrap-around services and have obtained housing, sustainable employment, state benefits, and, most importantly, have not reoffended.
To read more about the initiative's successes and a personal story, please check out this recent news article.
National Disability Employment Awareness Month is "Disability: Part of the Equity Equation"
Recognizing the vital role people with disabilities play in making the nation's workforce diverse and inclusive, the theme for National Disability Employment Awareness Month (NDEAM) 2022 is "Disability: Part of the Equity Equation."
During the entire month of October, NDEAM's annual observance acknowledges current and former workers with disabilities and their contributions to the nation's economy. The commemoration also showcases supportive and inclusive policies and practices benefiting workers and employers.
Throughout the month, check out NDEAM updates on NCCDD's social media pages. Share your own employment information and show your support by mentioning us @NCCDD in your post and tagging us at #NDEAM. for more please check U.S. Department of Labor website