Letter from the Executive Director


Change is Happening
I sat down to write this article feeling Zoomed out and exhausted by this quarantine. So, I got up and went outside for some exercise. It is a beautiful, sunny day.
On my way outside, I picked up the newspaper. It announced that new daily COVID-19 infections are down below 1,000 in North Carolina for the first time since September.
The good news is change is happening. My children have not had a day in school to meet their fellow students in North Carolina since we moved here in May 2020. They start in-person classes in two weeks.
I received an article today that people with developmental disabilities are six times more likely to die of COVID-19 than average, and they are more likely to die than almost anyone else. Earlier this month, the Governor announced most people with developmental disabilities can start getting the vaccine immediately. All other individuals with intellectual and developmental disabilities (I/DD) can start receiving the vaccine on March 17. These changes were the direct result of advocacy by hundreds of individuals and families with I/DD.
As we move beyond the pandemic, we confront an Innovations Waiver waiting list of over 15,000 people. There are not enough direct support professionals and nurses. Hourly wages for these vital frontline workers are too low. The advocacy for the vaccine shows, though, that the developmental disability community is ready to advocate for change.
This pandemic has shown dramatically that every person with a developmental disability needs the supports necessary to live full and meaningful lives in the community.
During this Developmental Disabilities Awareness Month, let us move toward reconnecting, advocating, and improving our I/DD community. We want to hear your stories of your year navigating COVID-19.
It is time to once again work together to make that happen.
Talley Wells, Executive Director
---
Public Policy Update as of March 10

FEDERAL

Stimulus Package
The House gave final congressional approval to the American Rescue Plan Act, the third COVID-19 stimulus package, on March 10. President Biden is expected to sign the bill on Friday, March 12. The bill includes funding for $1,400 direct payments to many Americans (including dependents and individuals with disabilities), extension of unemployment benefits, assistance for businesses, state and local governments (including schools and IDEA), expansion of the child tax credit, and funding for vaccines and testing, among other provisions. Also included in the bill is funding for Home and Community Based Services (HCBS) – something that had been hoped for in previous relief packages – which allows states to receive 10% in their federal Medicaid match starting April 1 for one year. These additional funds are required to be used for specific purposes including reducing waiting lists, increasing rates, and addressing provider's increased costs related to COVID-19. This type of funding is desperately needed in NC to address our waiting list and to keep people in community settings.
Voting Rights
Last week, the House of Representatives passed the For the People Act (H.R.1) entirely along party lines (220-210). The sweeping measure would require all states to offer mail-in voting and early voting, institute nationwide automatic voter registration, curtail voter ID laws, limit partisan gerrymandering, and overhaul campaign finance laws. The majority of the provisions included in H.R. 1 will positively impact all voters in America, including voters with disabilities. However, the paper ballot mandate included in the bill is of concern to voters with disabilities. The ability to mark, verify, and cast a paper ballot privately and independently is currently not an accessible option for all voters. The bill now heads to the Senate, where it is expected to face opposition. The Senate Rules and Administration Committee will hold a hearing on the For the People Act on Wednesday, March 24, 2021. There can be many barriers to voting for people with disabilities. It is important that any changes to how voting works make it easier, not harder, for people with disabilities to vote.
State Update
General Assembly
The General Assembly is holding committee meetings and we are beginning to see some bills emerge.
2020 COVID Relief Bill Modifications – This bill modifies some of the reporting requirements and timelines for several agencies for use of previously allocated funds. For example, it extends the deadline for DPI to use COVID funds for several purposes including emergency nutrition services, mental health services, and student support service programs for at-risk students whose learning has been negatively affected by COVID-19 impacts. This bill passed the Senate, House, and was signed into law by the Governor.
Reduce Regulations To Help Children With Autism (SB103 and HB91). These two bills, one in each chamber, are identical and indicate an intent to pass this legislation. This bill would establish the NC Behavior Analysis Board to oversee the licensure for behavior analysts in NC so they could provide ABA treatment to children with autism under their own license. (Currently they practice under a licensed psychologist). The goal of this legislation is to increase access to autism treatment.
The committees are hearing updates from staff and state agencies over the next few weeks as they prepare to work on budget priorities. The Governor's budget is expected to be released soon which signals the official start of the budget process for this long session of the legislature. After the General Assembly receives the Governor's budget, the Senate will begin the legislative budget process (although there are already some behind the scenes budget conversations in the Senate leadership). The Senate will approve a two-year appropriations bill and pass it over to the House where their budget will be approved. A conference committee will be appointed to work out differences.
One of the education priorities of the NCCDD is to reduce the Innovations Waiver waiting list and there is discussion and interest among legislators about funding additional slots. We will be following this closely and working with our community partners on this issue.
Medicaid Transformation
Medicaid Transformation continues to move forward. The Standard Plan is scheduled to launch on July 1, 2021. Letters have been sent to beneficiaries who need to enroll in a plan. These integrated managed care products called Standard Plans will cover physical health, behavioral health and pharmacy services to many North Carolinians who receive their healthcare through Medicaid. The open enrollment is scheduled to run through May 15, 2021.
People who are currently receiving services through the LME/MCOs or are on the waitlist should not have received a letter.
People who currently receive services through the Innovations Waiver, the TBI waiver, or non-Medicaid state funds will continue to receive their services and supports through the current system. They should not enroll in the Standard Plan as none of these services will be provided through the Standard Plan.
People who are on the waitlist will not be assigned to the Standard Plan, but may choose to enroll in the Standard Plan if they feel some of the offered benefits may be helpful. They will not lose their place on the waitlist and can come back to the Tailored Plan. Again, if they are receiving any services through the LME/MCO, these will not be available in the Standard Plan.
Behavioral Health I/DD Tailored Plans are specialized managed care focusing on the needs of individuals with significant behavioral health disorders, intellectual and other developmental disabilities (I/DD), and traumatic brain injuries (TBI). These plans are scheduled to begin in July 2022 and will cover a more robust package of Behavioral Health, I/DD and TBI services compared to Standard Plans. The LME/MCOs submitted applications to provide these plans and the Department of Health and Human Services is currently reviewing these applications.
---
Your Voice Counts: Five-Year Plan Public Comment
The North Carolina Council on Developmental Disabilities (NCCDD) is working on its new Five-Year Plan and seeks public comment on its proposed goals and objectives.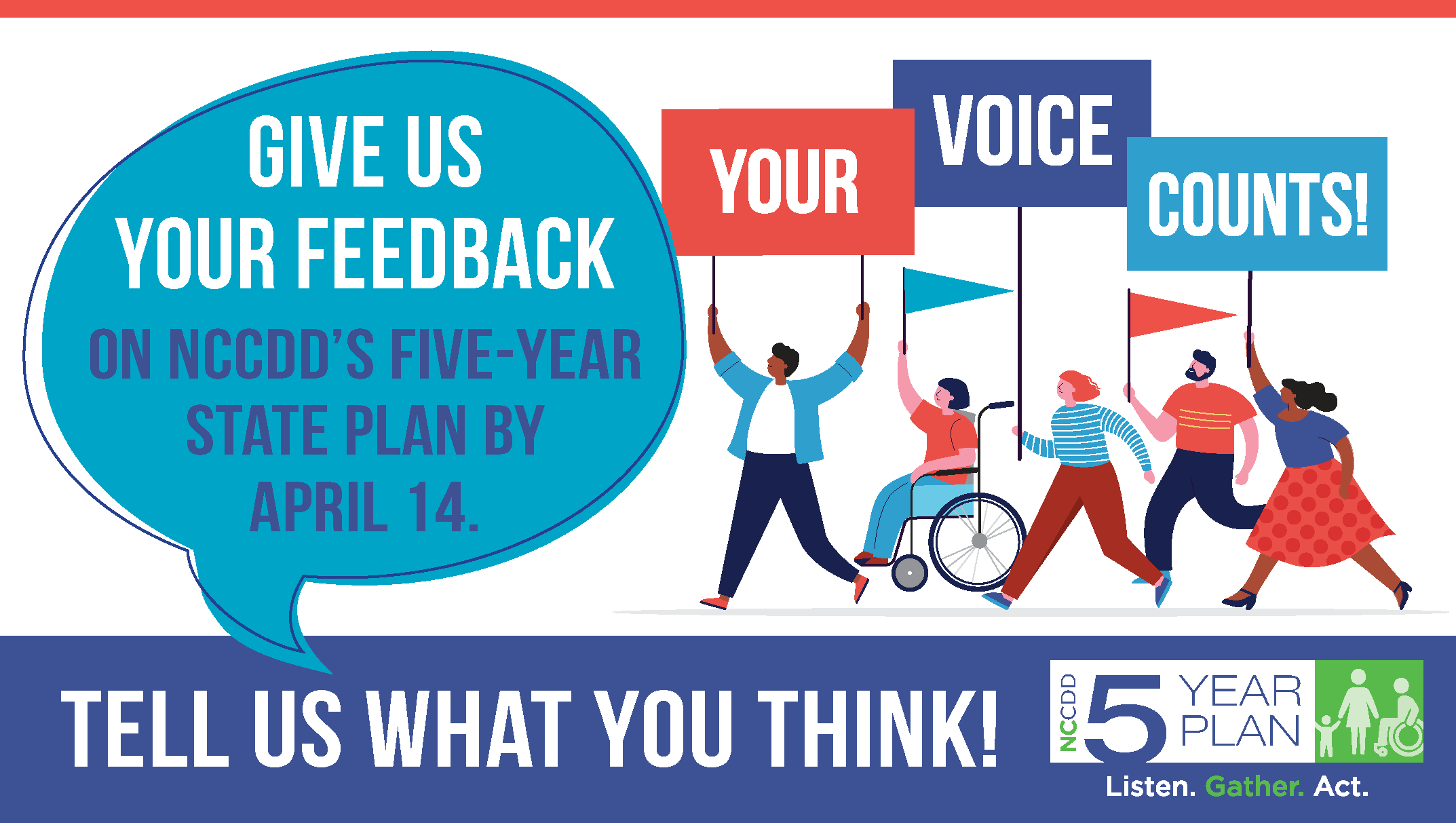 The Council now seeks input on the written plan, via public comment, from people with disabilities, their families, professional caregivers and the public at large beginning March 1 through April 24. The plan will be effective 2022-2026 and has three major goals to accomplish by 2026:
Goal 1: Increase financial security through asset development
Goal 2: Increase community living
Goal 3: Increase advocacy
To provide input, please go here and complete the information online. Your voice counts and your ideas are vital to the work of NCCDD. This plan will guide the Council as to how staff and fiscal resources are allocated and is developed in accordance with the Developmental Disabilities Assistance and Bill of Rights Act of 2000 (DD Act).
---
RUN: An Education on NC's Medicaid Waiting List
The Registry of Unmet Needs (RUN) is the Innovations Waiver waiting list in the state of North Carolina. NCCDD is launching a series on RUN to educate and inform about what it is, where it stands today, and what you can do to impact its effectiveness and growth in the future.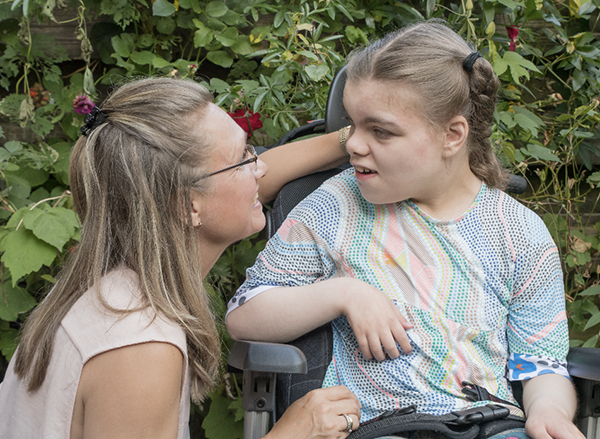 The Registry of Unmet Needs (RUN) currently has 15,000 North Carolinians with intellectual and other developmental disabilities (I/DD) on it, each waiting to be next to receive up to $135,000 in funds to pay for supports and services that will allow them to live as independently as possible in the community of their choice.
RUN came about as part of the 1999 US Supreme Court Olmstead v. L.C. decision that ruled it was unlawful discrimination to segregate people with disabilities and that individuals with I/DD must be provided with services in their own communities. Originally called the CAP Program, funds were provided on need-based priorities. In 2013, the name was changed to the Registry of Unmet Needs and switched to a first-come, first served basis.
RUN is managed by Local Management Entities – Managed Care Organizations (LME-MCOs). Regionally based, LME-MCOs serve all 100 counties. These organizations provide service plans under the NC 1915(b)(c) Waiver for people in need of mental health, developmental disability, or substance use services. To see which one of the seven LME-MCOs serves your county, click here.
Funds for waivers for those on RUN come from North Carolina's state budget. The formula used by legislators to determine the amount of budget money to put towards waivers is based on the county's population and the number of people with I/DD on the RUN list for each county. The funds are given to the NC Department of Health and Human Services which looks at the per capita of LME-MCOs and then allocates a certain number of waiver funds to each. In 2020, the NC legislature did not add any additional funds for more waivers.
Understanding how many individuals need services and support is important to understand the current and future impact of RUN. If you or your family member would like to be placed on RUN, you will need to provide documentation that your disability began before the age of 21. Once you have that information, you can call 1-800-958-5596 or contact the LME-MCO that works with your county by checking the map and directory here.
As this series unfolds, we will address why the waiting time on the RUN list is lengthy, what individuals and families can do during their wait, the importance of legislative advocacy, and more.
---
New Council Member: Carla West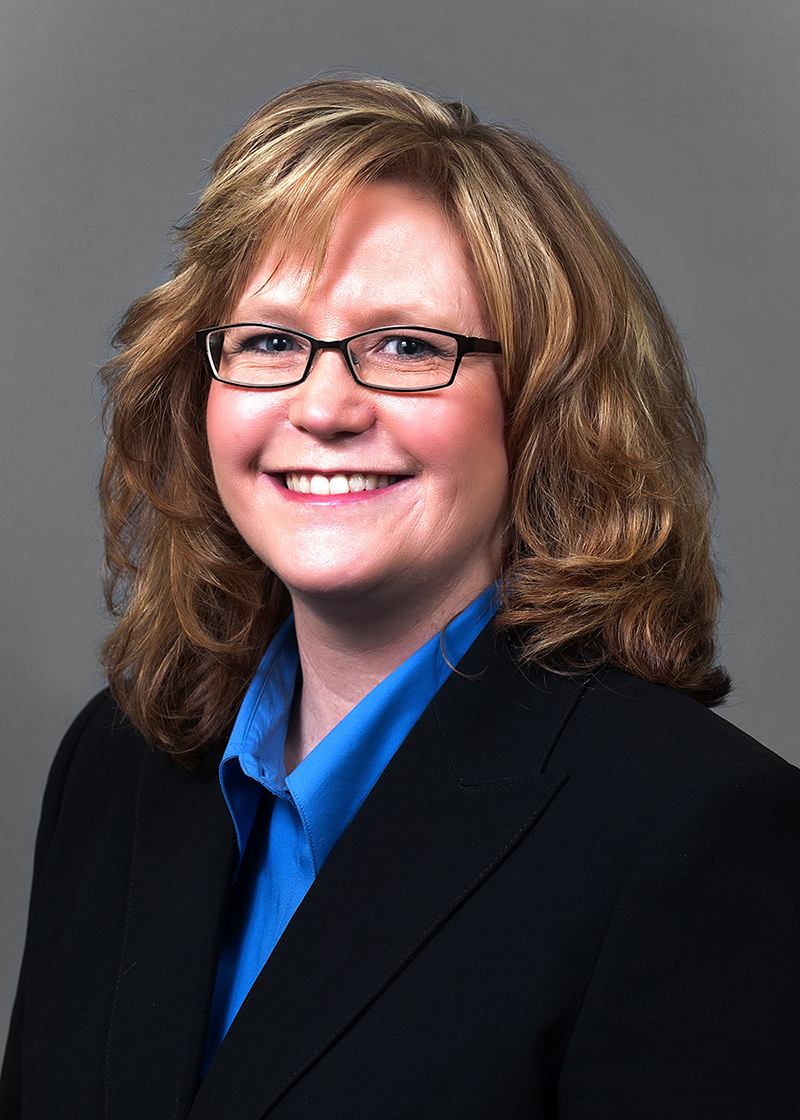 Carla West is the newest Council member of NCCDD, recently appointed by Governor Roy Cooper. West will represent the State Developmental Disabilities Authority (DHHS/DSS) on the Council.
A resident of Clayton, NC, West is the Senior Director for Economic Security for the North Carolina Department of Health and Human Services, Division of Social Services, Economic & Family Services, Child Support Services. She oversees several programs within the Division of Social Services including Child Support, Work First, Food and Nutrition Services, Office of Refugee, Energy, and Employment & Training.
West serves on the Board of Directors for the National Child Support Enforcement Association (NCSEA), the Honorary Board and Past President of the Eastern Regional Interstate Child Support Association (ERICSA), and a Board Member of the North Carolina Child Support Council (NCCSC). West is a graduate of Bellevue University in Bellevue, Nebraska and has a Bachelor of Science (BS) in Business Management and a Master's in Business Administration (MBA).
West said, "I look forward to becoming an advocate for those with disabilities. I believe that every person has a right to be treated with respect and dignity. I also believe that they should have access to any and all services available." Her favorite motto is, "Don't be afraid to fail." "I believe that we must be willing to take chances, and proceed without fear that our outcomes will not lead to success – if we never try, we will never grow," West added.
---

---