Letter from the Executive Director


This will be an unusual Thanksgiving. It is 2020, so we should not be surprised. It will be hard to celebrate with our families and friends safely. My parents are in their 80s and live in Florida. We have had to make hard decisions about how we will be together and how we will stay distant in order to keep them safe and all of us safe. We are not alone. All of us are trying to figure out how to have Thanksgiving safely during COVID-19. But even though Thanksgiving will be different, we still have much for which to be thankful.
Personally, I am thankful to be part of the North Carolina Council on Developmental Disabilities. It is an extraordinary group of people whose mission is to come together to improve systems across our state for people with intellectual and other developmental disabilities (I/DD). What I love about the Council is that we have individuals with I/DD, family members, stakeholders, and agency leaders all working together to understand the systems impacting the I/DD community and developing initiatives and long-term plans to make concrete changes. These are the necessary ingredients for significant sustainable impact.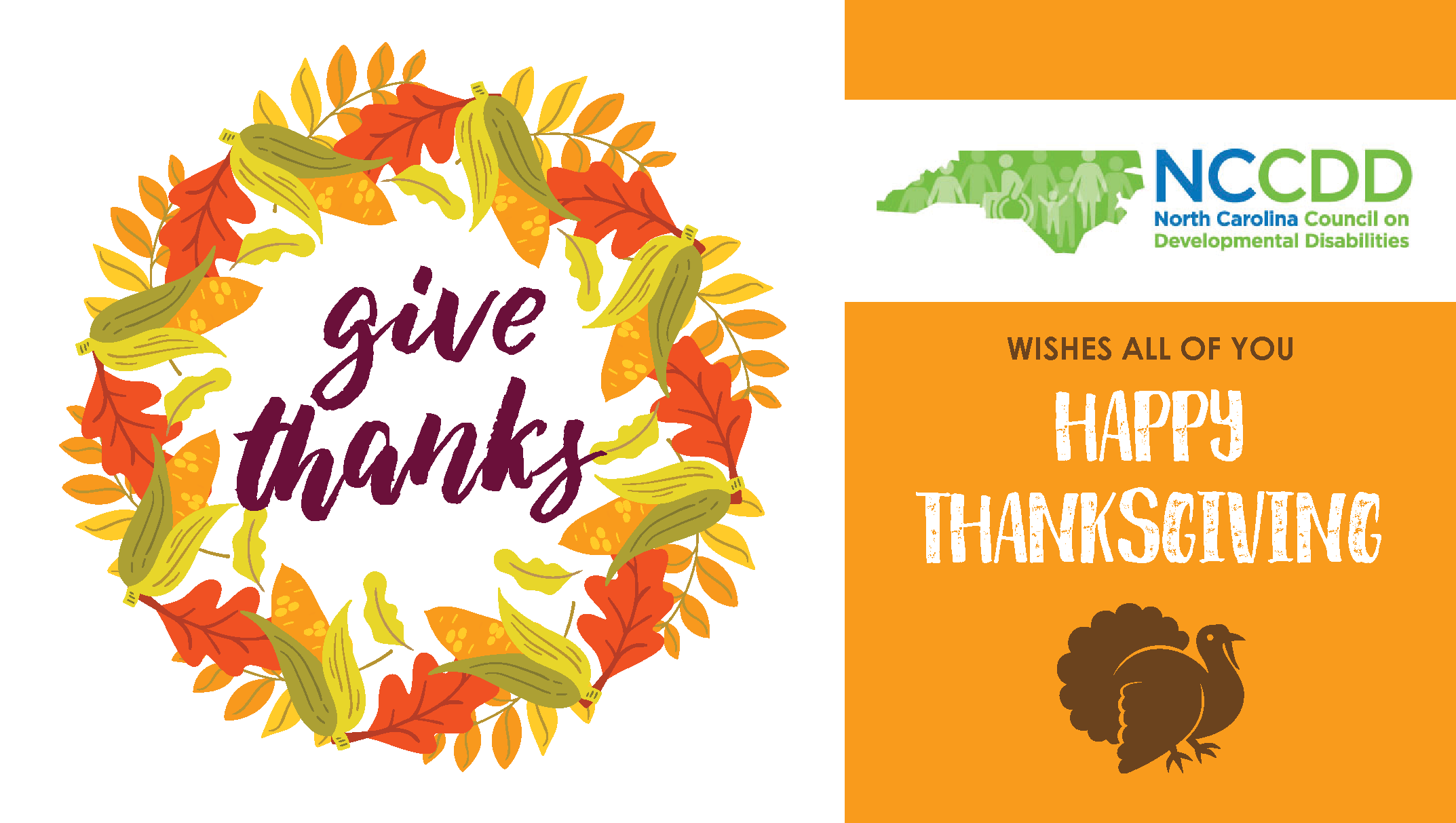 I am also thankful to have an extraordinary staff. Our team of systems change managers and operations staff have risen to the added challenges that COVID-19 caused. They moved quickly to get financial support out to groups supporting people with I/DD. They collected, created and shared critical resources related to the pandemic. And, they did all of this while continuing to do their critical work.
Finally, I am thankful to be part of North Carolina. Our state is primed for significant growth in the way it supports, enables, and empowers people with I/DD to live full and meaningful lives in the community. In the coming year, NCCDD will be part of critical conversations and initiatives with state leaders and local communities to impact the Registry of Unmet Needs, increase pay for direct support professionals, improve employment and housing opportunities for individuals with I/DD, ensure successful Medicaid Transformation, and develop the leadership capacity of self-advocates, family members, and I/DD stakeholders.
This has been a difficult year, but that has only made me more grateful for where we are and where we are heading.
Talley Wells, Executive Director
---
Public Policy Update as of November 12

STATE UPDATE

Election Results
US Senate Seats: Thom Tillis retained his seat. NC's two Senators continue to be Sen.Thom Tillis and Sen. Richard Burr.
US Representatives: NC has 13 seats. Prior to the election, there were nine republicans and three democrats representing NC (there was one vacant seat). Post-election, there are eight republicans and five democrats with three newly elected officials joining NC's representatives.
At the Congressional level, Democrats retain control of the House. The Senate, which has been under Republican control, is unsure as Georgia has two Senate seats that are headed to a run-off election in January.
There was very little change in the makeup of the NC General Assembly. Senate Leader Phil Berger and House Speaker Tim Moore both were re-elected so there will be no change in the leadership. . In the Senate, the Democrats appear to have a gain of one seat leaving the balance of 28 Republicans and 22 Democrats; but the Senate race in New Hanover has not been called yet. In the House, the Republicans appear to have added four seats leaving the balance of 69 Republicans and 51 Democrats; but there are three races that have yet to be called. Regardless of the outcome of these races, the Republicans will retain the majority in both the House and Senate, but do not have a supermajority. Without a supermajority, the legislature is not able to override any Governor vetoes. With the re-election of Governor Roy Cooper, NC continues to have a divided state government.
Congress
The wait for an additional federal relief package to address the pandemic continues. The Senate is back in session, talks about another relief package have re-started with a goal of passing a bill by the end of the year. However, the same barrier remains – how much to spend. There has been disagreement between the Senate and House on the amount of the package which is likely to remain a roadblock.
In regards to the federal budget, the Senate released appropriations bills on Nov. 10 in preparation for negotiations with the House. Congress must enact another spending measure before the current continuing resolution expires on Dec. 11, 2020. (A continuing resolution continues the pre-existing appropriations at the same levels as the previous fiscal year). By Dec. 11, they will either pass an omnibus spending bill or another continuing resolution.
State Legislature
The General Assembly will be back in session on January 13, 2020. This is a long session to develop a two-year budget. The decrease in revenue due to the pandemic will obviously be a factor in the budget process. Without additional federal stimulus funds, NC and other states will be dealing with significant shortfalls in their budgets.
While there are unknowns about the budget, the Council will continue to educate about the need to address the Registry of Unmet Needs (RUN), to restore transportation funds that were cut last year, and to address Direct Support Professionals' pay and workforce issues.
Medicaid Transformation
The state is actively moving forward with Medicaid Transformation and the Standard Plans are anticipated to go live on July 1, 2021. The Department of Health and Human Services has re-engaged with the Prepaid Health Plans (PHPs) to move the process forward. The Tailored Plan, which will serve people with intellectual and other developmental disabilities (I/DD) who are receiving Innovations, b(3) services, state-funded services, or are on the Registry of Unmet Needs, is scheduled to launch July 1, 2022. The RFA from the state is planned to be released this month. As a reminder, the only entities that are able to bid on the Tailored Plan are the current LME/MCOs.
Letters should go out soon to Medicaid beneficiaries across the state. There are two types of letters that will be sent. One letter will instruct someone to enroll in a Standard Plan which will provide integrated physical health and behavioral health. If the beneficiary believes they should be in the Tailored Plan due to significant mental health needs, severe substance use disorder, or needs related to I/DD, they can request to be in the Tailored Plan.
A second letter will state that the beneficiary will stay in Medicaid Direct (the current fee-for-service structure) for physical health and continue to receive supports through the LME/MCO until the Tailored Plans launch in 2022. The beneficiary may opt to enroll in the Standard Plan, but it is important to know that Innovations and other state funded services cannot be provided in the Standard Plan. If the beneficiary is on the Registry of Unmet Needs and opts to go to the Standard Plan, they will not 'lose their place' on the list. If they are offered a waiver slot or other services, they would have to come back to the Tailored Plan to receive those services.
---
Statewide Disability Council Honors Four with 2020 Advocacy and Leadership Awards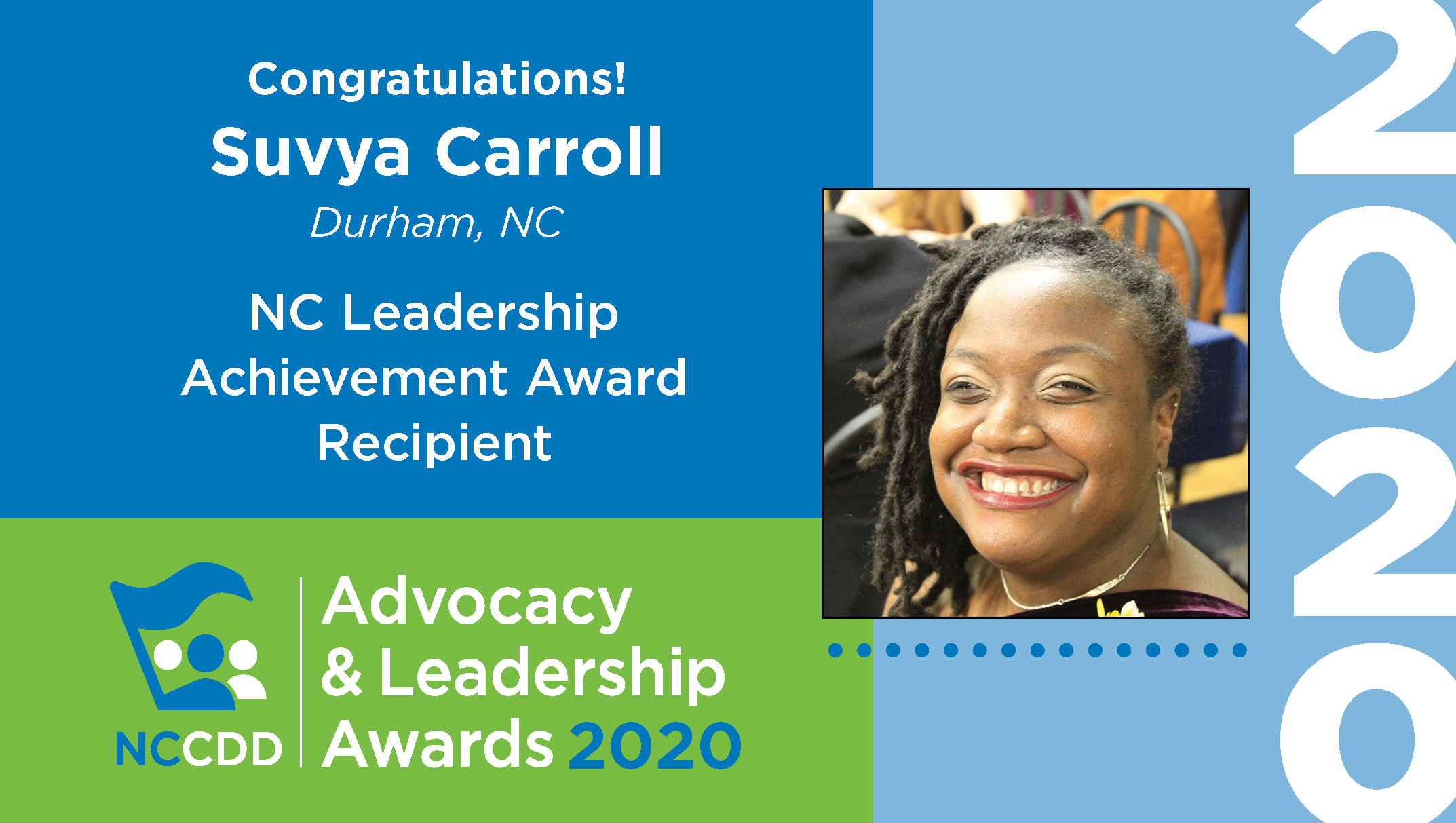 Four North Carolina leaders in disability advocacy were honored at the annual Advocacy and Leadership Awards presentation during the November meeting of the North Carolina Council on Developmental Disabilities (NCCDD).
The North Carolina Leadership Achievement Award, which recognizes an outstanding North Carolina self-advocate whose work has improved the quality of life for people with intellectual and other developmental disabilities (I/DD), was awarded to Suvya Carroll. A self-advocate who has cerebral palsy, Carroll has served as an unofficial consultant on accessibility in Durham, NC by identifying barriers to access in local churches, non-profits, and restaurants. She is also active in her intentional community in downtown Durham, the North Street Neighborhood, a planned neighborhood ​where friends with disabilities are at the center and everyone can thrive together.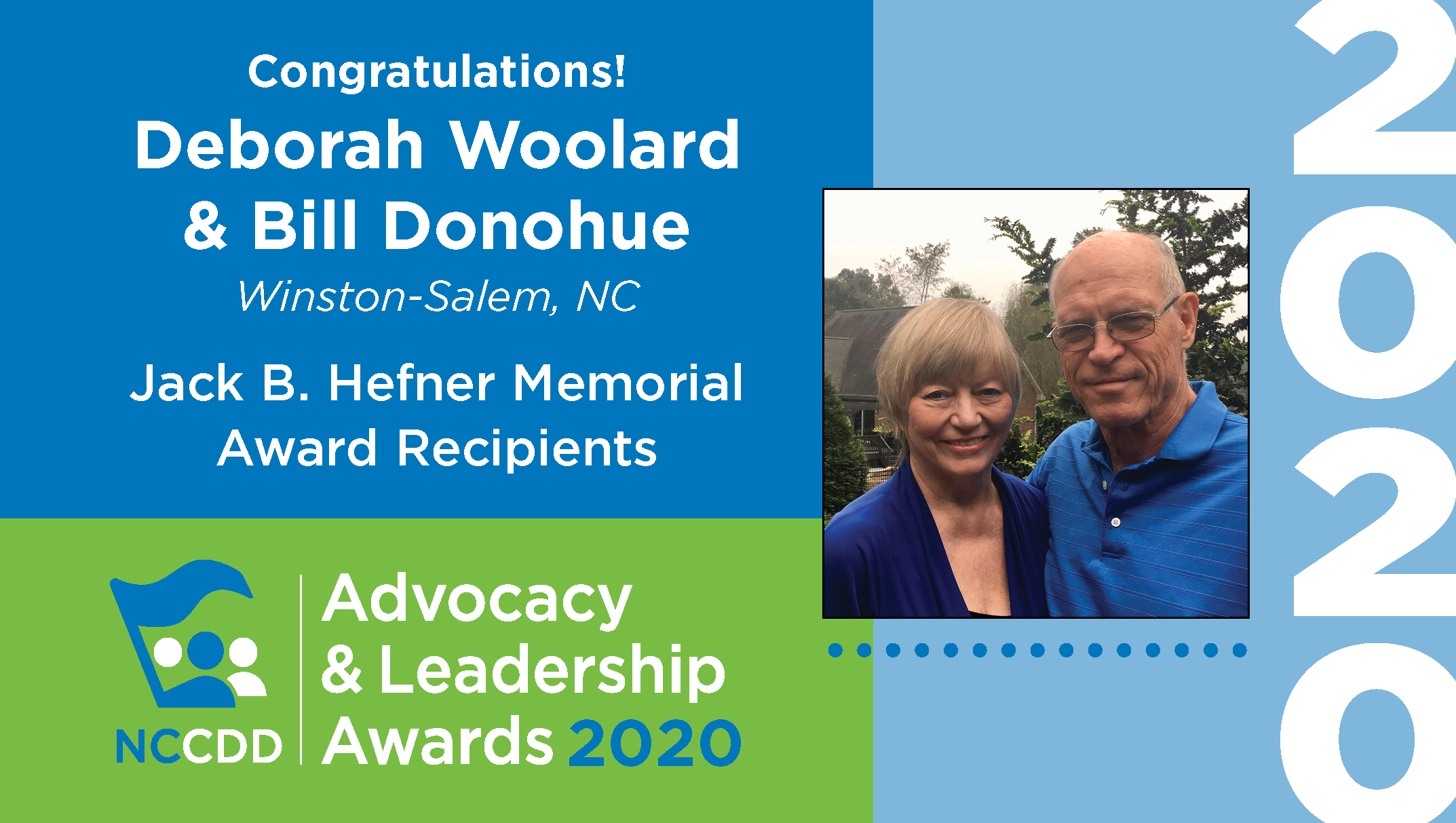 The Jack B. Hefner Memorial Award honors family members or volunteers who are advocating and building a better North Carolina for people with I/DD. This award was presented to Deborah Woolard and Bill Donohue of Winston-Salem, who have served on the boards for Disability Rights NC, the Arc (both state and local chapters), and the Piedmont Down Syndrome Support Network. For years they have been involved with planning Forsyth County's Buddy Walk supporting the Down Syndrome Society. The two started and remain active in the North Carolina Innovations Waiver Action Committee.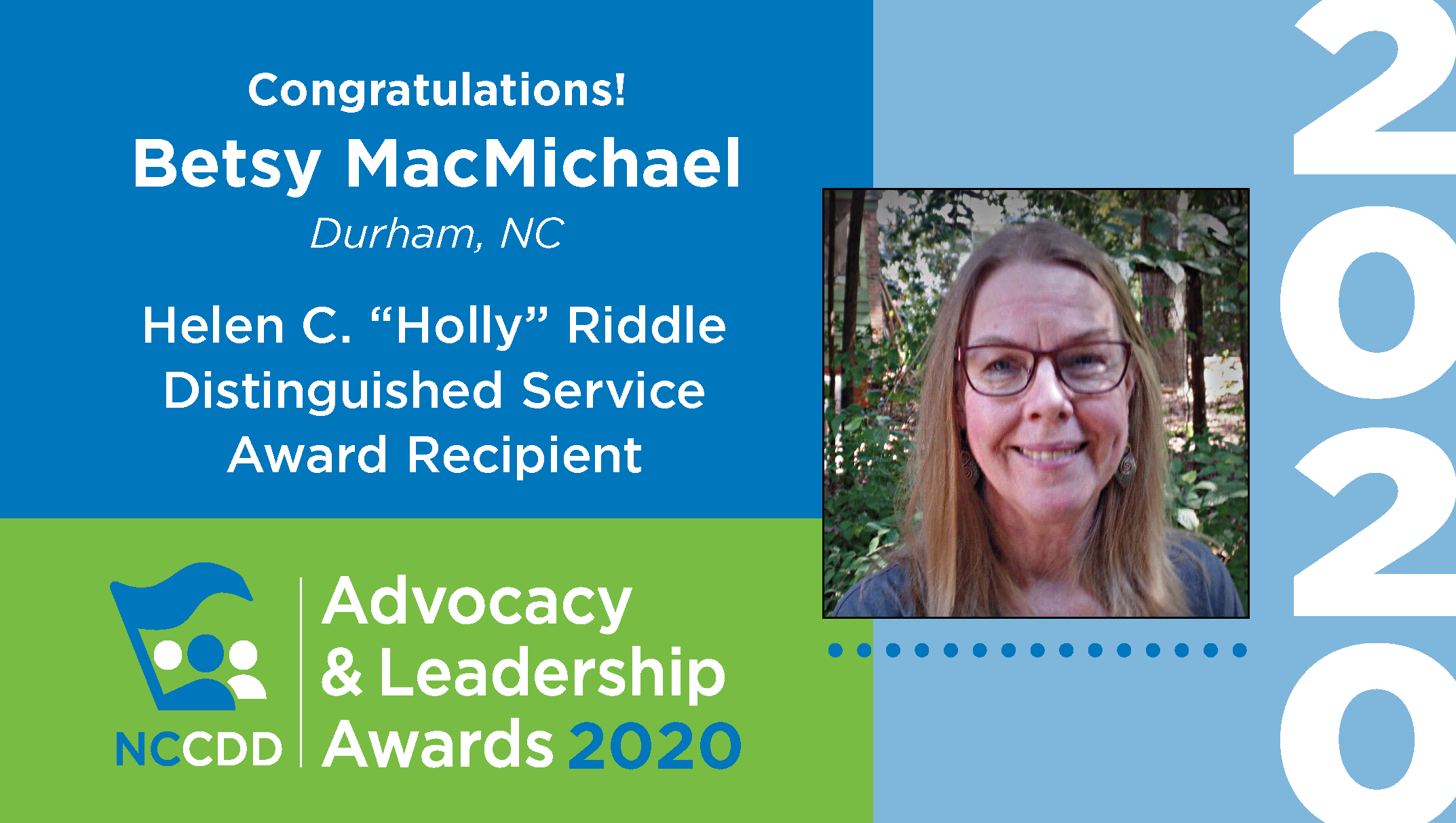 The Helen C. "Holly" Riddle Distinguished Service Award recognizes professionals who have made lasting contributions towards improving opportunities, breaking down barriers and promoting increased quality of life for people with I/DD in North Carolina. Receiving this award is Betsy MacMichael, the Executive Director for First In Families of NC (FIFNC), who notes the state of North Carolina that is "First in Flight" and "First in Freedom" could certainly be "First in Families." MacMichael began to find ways to break down barriers for individuals with intellectual and other developmental disabilities (I/DD) and has guided FIFNC over the years to where it now supports over 2,500 families impacted by I/DD.
---
New Member Spotlight: Ronnie Marshall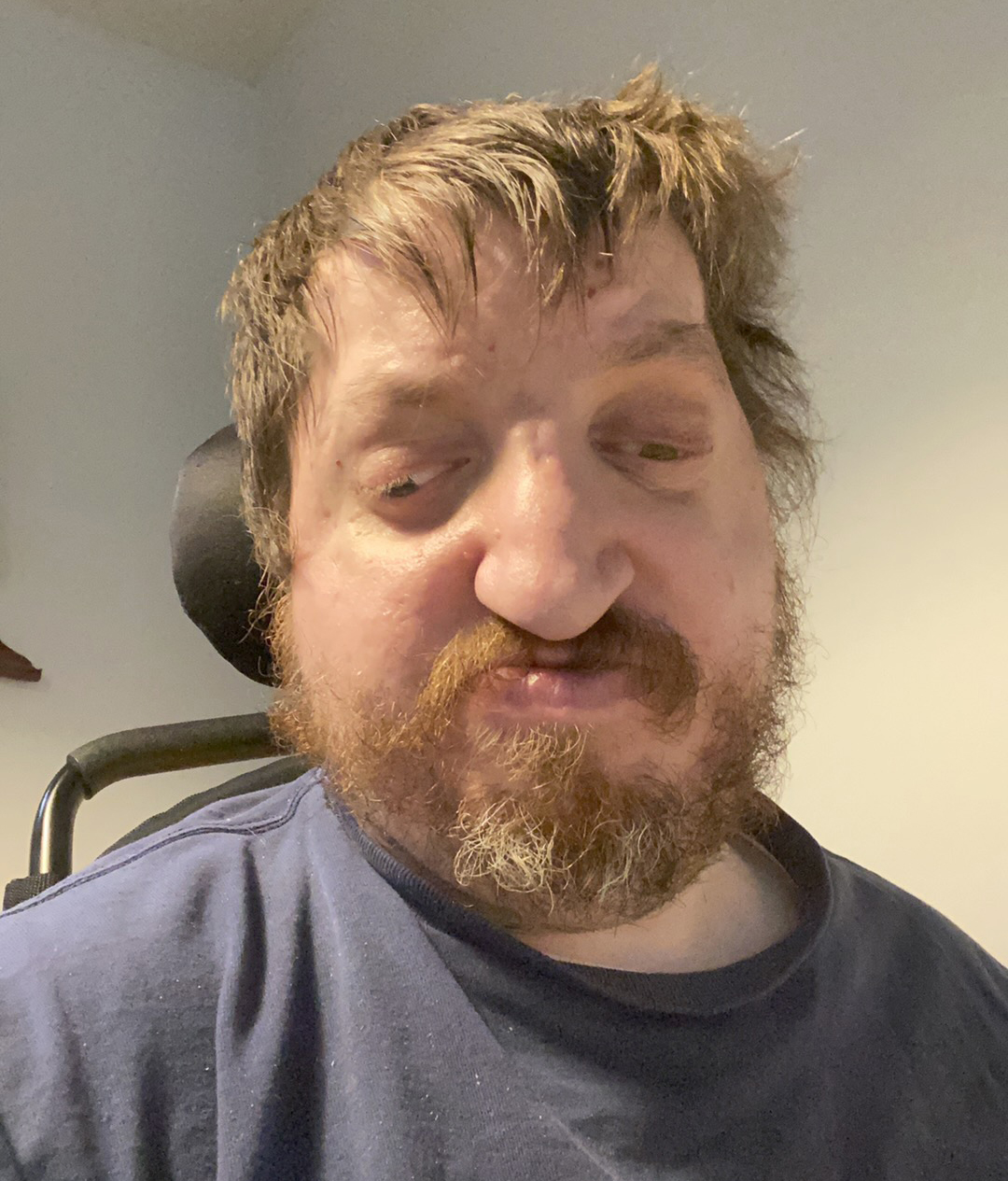 Ronnie Marshall of Raleigh, NC, is one of the newest appointees to the North Carolina Council on Developmental Disabilities (NCCDD) by Governor Roy Cooper. His appointment began September 1. Marshall will also serve on the Council's Financial Asset Development Committee.
Marshall, who has cerebral palsy, sought to join the Council, saying, "I'm not an expert but I do want to walk alongside people and tell them they are not alone, that they have the same rights and opportunities as all." An active self-advocate, Marshall serves on the board of Arts Access, is a member of the Raleigh Mayor's Committee for People with Disabilities as well as the NC Environmental Network and is the chaplain for both the North Raleigh and Capital City Civitan Clubs.
Looking at the Council's focus, Marshall believes its best work is in policy making. "That's at the top of the list for sure," Marshall said. As a new Council member, he plans to encourage the Council to work on transportation issues, healthcare access and supportive decision making.
An active member of Asbury United Methodist Church in Raleigh, Marshall keeps the Bible verse, Philippians 4:13 'I can do all this through him who gives me strength' as his motivation. However, Marshall adds, "…and through people who strengthen me also." He applauds his church leaders for listening to him, most recently about the difficulty he had in seeing the sidewalk curb cuts for accessibility. The next day the curb cuts were painted bright yellow.
Before the COVID pandemic, Marshall was busy going out to museums, shopping malls and volunteering. "Right now, though, I'm busier than ever with all the Zoom meetings I have with agencies," Marshall said. He encourages everyone that he meets, "Don't judge a book by its cover and don't look at me and assume I don't know anything or can't do much." He said people are very surprised when they see all that he does in his self-advocacy mode.
---

En Espanol - November 2020 - Coming Soon!


---