To commemorate the 25th anniversary of the Americans with Disabilities Act (ADA), the North Carolina Council on Developmental Disabilities (NCCDD) brought the celebration to the State in May and June with The ADA Legacy Tour.
Celebrations of the landmark legislation, signed by President George H.W. Bush on July 26, 1990, are taking place across the nation, and the tour engaged the community as a whole for this celebration.
"We invited the public to celebrate this significant milestone in not only America's history, but also in our country's civil rights. The Americans with Disabilities Act has opened many doors for those with disabilities. We at NCCDD are here to make sure even more doors open for people with intellectual and developmental disabilities (I/DD) throughout the State of North Carolina," said Chris Egan, NCCDD executive director.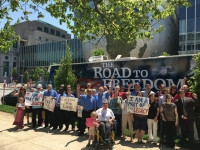 NCCDD arranged for stops in North Carolina on May 3-4 in Greensboro; May 5-6 in Downtown Raleigh; and June 7-9 in Uptown Charlotte.
Each stop included speakers in education, public policy and the private sector who are doing their part to build inclusive communities for people with I/DD in North Carolina.
In Greensboro, NCCDD partnered with UNC – Greensboro and Beyond Academics, led by Joan Johnson. It is a post-secondary education program for young adults with disabilities and a former initiative of the Council. The students surprised the crowd with a flash mob dance choreographed to the hits of 1990, the year the ADA became law.
Keynote speaker Dr. Mike Mayer gave a rousing speech to discuss the importance of advocacy and the importance of postsecondary education for young adults with disabilities. In Raleigh, the tour hosted visits from
various state agencies, community members and distinguished guests who celebrated the ADA.
Remarks and speeches were given by legislators Sen. Tommy Tucker, Rep. Verla Insko, Sen. Tamara Barringer and US Congressman David Price and more, and including a visit from Governor Pat McCrory.
In Charlotte, NCCDD welcomed the tour along with the opening of the Disability Rights Museum on Wheels. Sponsors Wells Fargo, US Business Leadership Network® and NC Business Leadership Network® kicked off the museum's national tour with NCCDD, which will end in 2016.
The anniversary celebration is themed "Disability Rights Are Civil Rights," citing the law that gave civil rights protections to individuals with disabilities similar to those provided to individuals on the basis of race, color, sex, national origin, age and religion. The ADA also assures equal opportunity for individuals with disabilities for access to businesses, employment, transportation, state and local government programs and services and telecommunications.
Read the rest of Summer 2015 Catalyst for Change here.