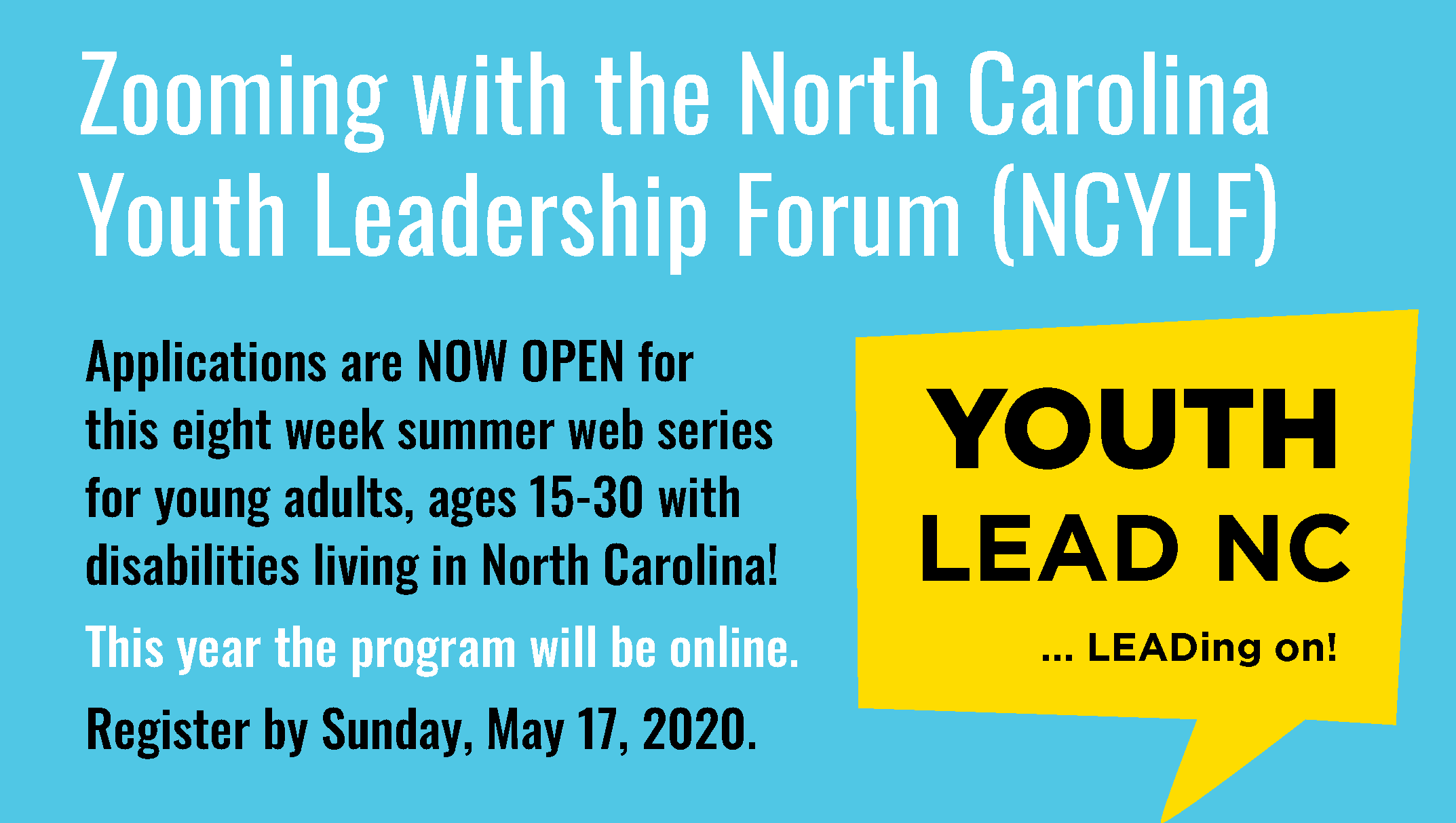 CALLING ALL YOUTH WITH DISABILITIES, Including alumni of the North Carolina Youth Leadership Forum (NCYLF)!
In lieu of an in-person event this summer, Youth LEAD NC will be holding a free eight-week web series called "Zooming with the NCYLF" that will model online college life for youth with disabilities, ages 15 to 30. Participants will be treated like college students while learning how to be rockin' disability advocates ready to change the world!
Topics for webinars will focus on advocacy, individual goals, leadership, independent living skills, and making change in the community. In addition to the eight webinar trainings, bi-weekly small group hangouts will allow participants to dive deeper into the information covered in the webinars while getting to know one another. Participants will enjoy virtual recreational activities and have the opportunity to build friendships with others who share similar interests.
Tentative weeks for the eight week web series are from June 21, 2020 to August 9, 2020. Specific dates will be finalized after participants are selected.
Interested in experiencing college life while social distancing?
Click here for the application form.
Please complete the NCYLF application by May 17, 2020. If you have any questions, please feel free to contact us with any questions or concerns at ylfnc@live.com.
Mail or email application to:
North Carolina Youth Leadership Forum
PO Box 90762
Raleigh, NC 27675
ylfnc@live.com
Zooming with the NCYLF is committed to being a program that is accessible to all. We will work with our partners to find solutions to accommodate our participants and ensure that they have access to internet.
Join us as we make history and host the first Zooming with the NCYLF!