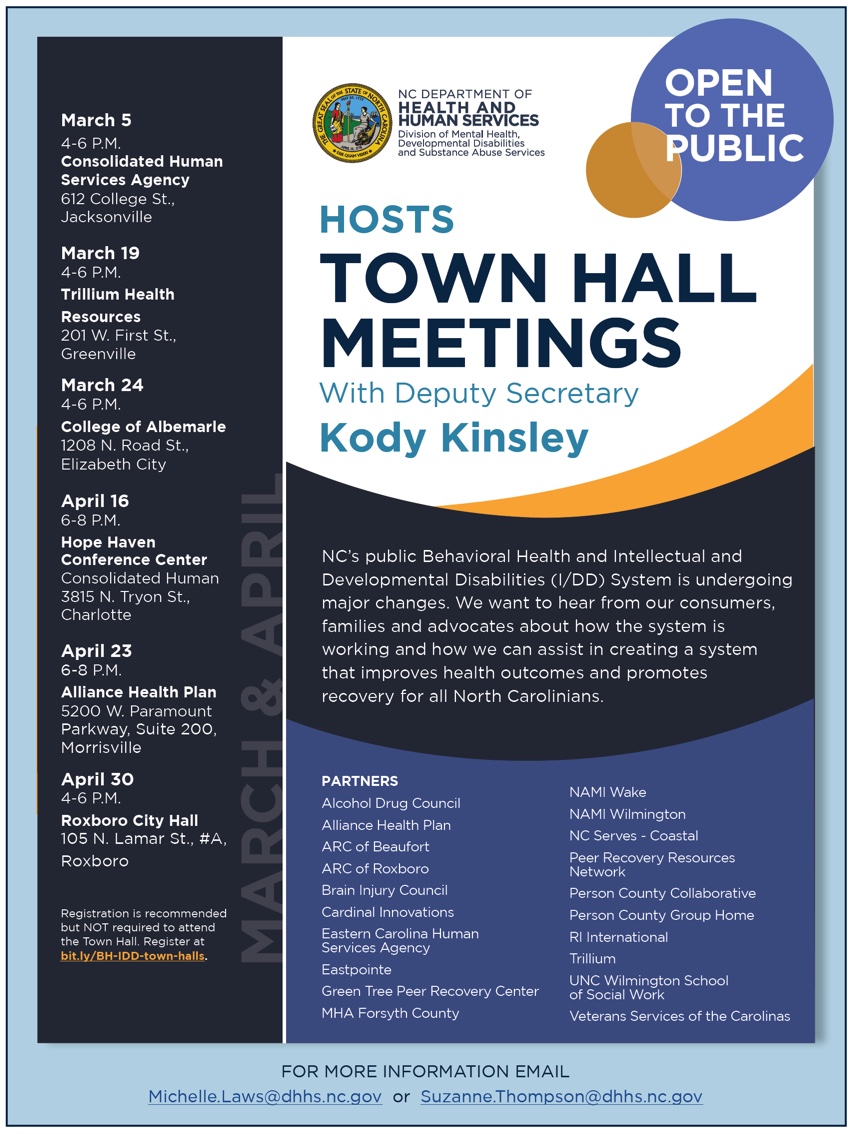 **Notice: NC DHHS will be cancelling all Town Hall Meetings with Deputy Secretary Kinsley for April based on the Executive Order from Governor Cooper prohibiting gatherings of more than 50 people. Thank you for your understanding during these difficult times. We will keep you informed of rescheduled dates.
MARCH 5, 2020
4 — 6 P.M.
Consolidated Human Services Agency
612 College St., Jacksonville, NC

MARCH 19, 2020
4 – 6 P.M.
Trillium Health Resources, 201 W. First St., Greenville, NC
MARCH 24, 2020
4 – 6 P.M.
College of Albermarle, 1208 N. Road St., Elizabeth City, NC
APRIL 16, 2020
6 – 8 P.M.
Hope Haven Conference Center, 3815 N. Tryon St., Charlotte, NC
APRIL 23, 2020
6 – 8 P.M.
Alliance Health Plan, 5200 W. Paramount Pkwy, Suite 200, Morrisville, NC
APRIL 30, 2020
4 – 6 P.M.
Roxboro City Hall, 105 N. Lamar St., #A, Roxboro, NC
NC's public Behavioral Health and Intellectual and Developmental Disabilities (I/DD) System is undergoing major changes. We want to hear from our consumers, families and advocates about how the system is working and how we can assist in creating a system that improves health outcomes and promotes recovery for all North Carolinians.
Registration is recommended but NOT required to attend the Town Hall. Register at bit.ly/BH-IDD-town-halls.
FOR MORE INFORMATION EMAIL Michelle.laws@dhhs.nc.gov or Suzanne.Thompson@dhhs.nc.gov
PARTNERS: NAMI Wilmington • Peer Recovery Resources • RI International • Trillium • Cardinal Innovations • Green Tree Peer Recovery Center • MHA of Forsyth County