July 26, 2017 commemorates the 27th anniversary of the Americans with Disabilities Act (ADA). Below are stories of self-advocates who are making a difference around the State of North Carolina.


---
Advocates provide support to businesses in Charlotte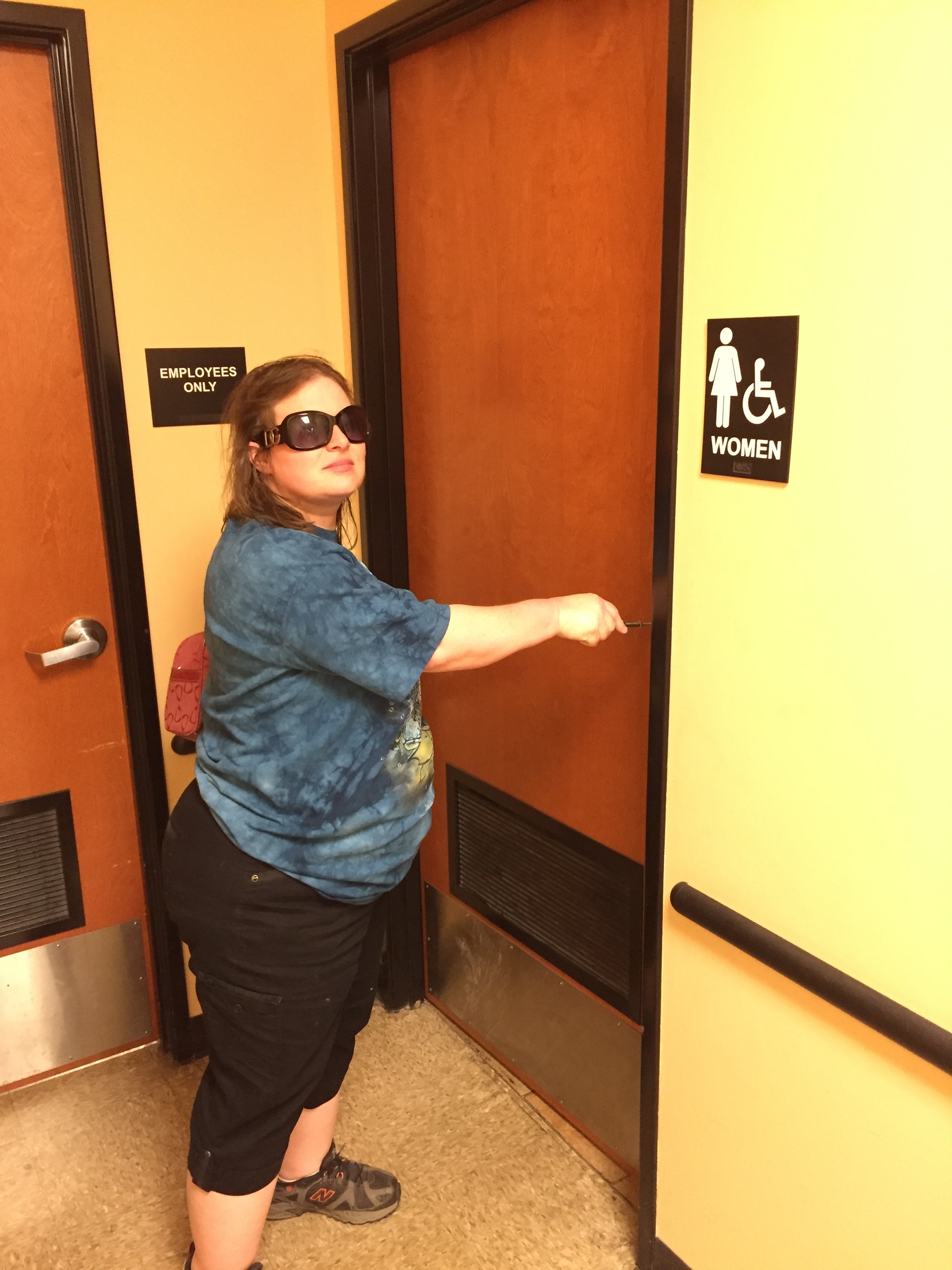 Don't be surprised when you see about 20 people hit the streets of Charlotte and begin pushing and pulling and measuring public restroom doors. They are part of Self-Advocates of Mecklenburg (SAM) who, along with members of a self-advocacy class offered by nonprofit In Reach in Charlotte, meet on a regular basis for a variety of discussions and events - one of which is measuring the force needed to open these doors.
According to the Americans with Disabilities Act (ADA), the force for pushing or pulling open an interior door or gate, other than fire doors, shall be no more than five pounds maximum (2010 ADA Standards for Accessible Design: 404.2.9 Door and Gate Opening Force.) When restroom or other inside doors are hard to open, it is difficult for people with disabilities to get inside.
SAM is helping make businesses aware of this type of obstacle and kindly leaving an "accessibility report" sheet that provides the businesses with solutions and additional information to make their companies ADA compliant.
This year, the group has visited 10 businesses including Harris Teeter, Target, Wendy's, McDonald's, World Market, Marshalls, Subway and other stores and restaurants. "At least half of the doors we checked were too heavy," said Laura Newell, the self-advocacy group's founder and leader. Reactions vary when members of SAM submit the accessibility report to the business managers or CEOs.
"Some people say thanks for bringing it to our attention. Recently not only did Harris Teeter change the heaviness of their door but they emailed our group to let us know they had made the changes," added Newell.
Newell formed SAM back in 1998. She had attended a conference on self-determination and heard about other self-advocate groups and what they were doing. She returned to Charlotte and reached out to find other like-minded individuals interested in such a group.
Today, SAM has 40 members, who get together every month to discuss topics such as voting issues, write to legislators about Medicaid impacts and hear from speakers such as Representative Alma Adams (D- District 12). Then, every so often, the group heads out to measure public door force at various businesses. They are often joined by those attending self-advocacy classes at InReach, a private nonprofit working to provide people with developmental disabilities housing and support.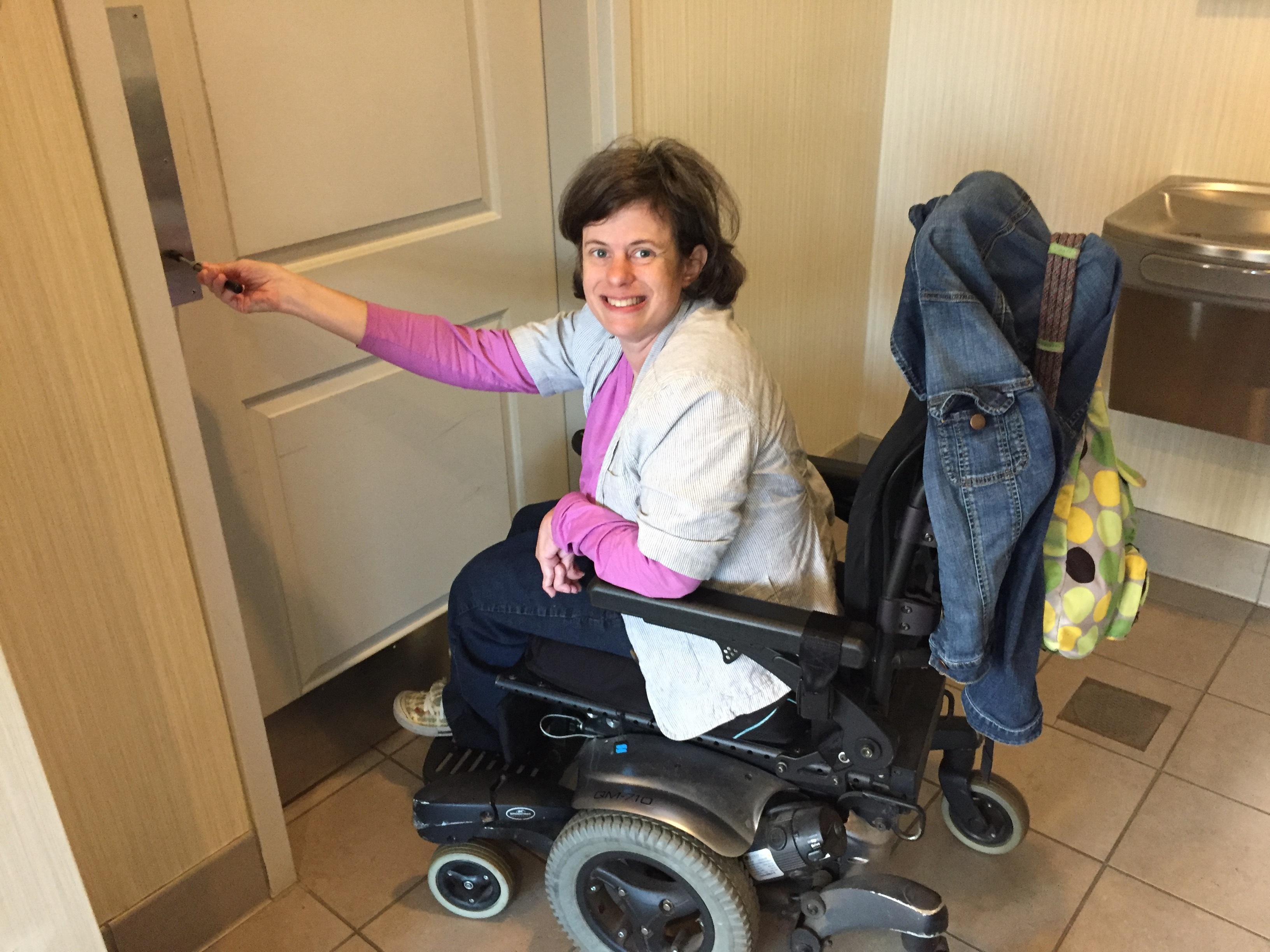 SAM members, all of whom have an intellectual or other developmental disability (I/DD), have a strong knowledge of how advocating works. They've been advocating so long they are now beginning to see successes, such as the time they met former Senator John Edwards about changing the law that penalized people with I/DD on social security and disability insurance for making too much money at their jobs. The income limit previously was $500/month and this group pushed the Senator to get the legislature to change it to $1,000/month – and succeeded!
Another win came when the Charlotte Area Transit System announced they planned to cut bus routes many people with I/DD used. The Charlotte group rallied against the cuts, plus requested the addition of Saturday bus services and, once again, succeeded!
It's not all work for SAM members, however. They love to take trips together and have done a holiday trip to see the Biltmore Estate in Asheville; enjoyed Myrtle Beach; and took in the sights in Charleston, SC. Their biggest adventures, however, are the cruises. At least 30 people from the group travel together and have visited the Cayman Islands, Cozumel, Jamaica, the Bahamas and more.
Newell is constantly on-the-go with her self-advocacy work, but also at her job with InReach. In her position, she serves as a peer mentor and helps others who are seeking jobs; teaches self-advocacy; and tutors on computer skills.
Newell looks to the future with some goals in mind:
1) Find funding that the self-advocacy group can use to further their mission.
2) Help people find affordable housing and employment.
3) Educate people with disabilities to go after their wants and needs.
4) Change people's attitudes about people with disabilities.
SAM meets one Monday evening a month at St. Gabriel Catholic Church, 3016 Providence Rd., Charlotte and the InReach self-advocacy class "Reach In 2 Reach Out" meets on Thursdays at 1:30 p.m. at 801 Baxter St., Ste. 404 in Charlotte.
---

Western NC Self-Advocates bring changes to community
The hills are alive with beauty for all to see in Western North Carolina – well, almost all. While many of the parks and campgrounds boast of being accessible to people of all abilities, the reality isn't necessarily so.
Kathy Hollingsworth, a program specialist with DisAbility Partners, a Center for Independent Living in Asheville, NC, gathers together self-advocates from her place of business to head out into the community to do an annual Americans with Disabilities Act project. This three-person self-advocate group along with Hollingsworth, whose projects are supported by the NC ADA Network project of Community Enterprises, LLC in Greensboro, NC, go out on a variety of fact-finding missions on ADA compliancy.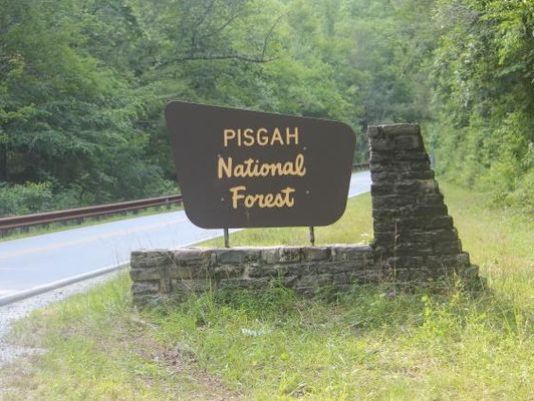 In 2016, the self-advocates chose area campgrounds as their ADA project and found some challenges that many people may not notice. Pulling into the Davidson River Campground just inside the Pisgah National Forest near Brevard, NC, the group was handed a map of campground lots and restroom locations. However, the map does not indicate which lots and which restrooms are accessible. Campers with disabilities may drive around looking at camping sites and find one which will work for them, only to unpack and head to the restroom to find that particular location does not have accessible facilities.
"It's an easy fix," explains Hollingsworth, who asks the campground managers to simply note the accessible restrooms and camping sites with a special designation on the printed maps. In addition, signs on the camping sites and bathroom buildings indicating accessibility – ones that could be seen from the park roads – would also be helpful.
Mount Pisgah is part of the Appalachian Mountain range and the campgrounds are along the Blue Ridge Parkway. The scenery is breathtaking, but an issue arises with the accessible restroom. On a recent trip, Hollingsworth opened the bathroom stall door to find the side grab bars were located on the opposite side from the toilet. Maneuvering onto the toilet would be impossible for a person using a wheelchair.
Situated in a heavily wooded area on the banks of Lake Powhatan in the Appalachian Mountains of western North Carolina are the campgrounds. The lake is a popular spot for visitors and with its accessible bath house complete with accessible restrooms - a dream for visitors of all abilities. Hollingsworth's crew was excited to visit and – were greeted with steep stairs leading down to the bathhouse. There was no way a person who has difficulty walking, balance challenges or uses a wheelchair would be able to get to the bathhouse or the lake.
One additional issue in these parks and campgrounds, Hollingsworth added, is the route between the picnic tables and accessible restrooms. Often, there is no accessible route, so the person with disability must get back in their car or van and drive themselves back and forth between the picnic grounds and the restrooms.
She notes one campground had an accessible restroom but no paved, accessible parking. The park eventually paved a couple of spots providing the accessible parking. It's a step forward.
Again, says Hollingsworth, "A lot of it is just logic. Plus, you have to be willing to make these changes." But, she adds, changes are slow to happen.
Hollingsworth's self-advocates group began doing an annual ADA project several years ago. Other ADA projects they have worked on include:
• Emergency preparation checks on accessible safe sites in case of disasters such as tornadoes, floods, fires, etc.
• Offering a service animal workshop to area businesses to help them understand the duty of these animals and the need to allow them into their stores and offices.
In 2017, they performed a secret shopper test in stores that included high-end, mid-level and low-cost shops. The three shoppers had disabilities that included blindness, deafness and a mobility disability requiring use of a wheelchair. The goal was to see how customer services accommodated people with disabilities. They found that while all stores were good at accommodating their secret shoppers, the high-end stores were the most accommodating. Hollingsworth's group followed up with the store managers on their findings, made suggestions and offered training for the stores' employees.
As part of her position with DisAbility Partners' Center for Independent Living, Hollingsworth performs accessibility surveys when businesses request them. She has done them for UNC-Asheville, for a co-housing community and for five different areas in Transylvania County Parks and Recreation.
Hollingsworth states that often times simple fixes and solutions can make a world of difference to someone with a disability.
---
NC ADA Network Host ADA Train-the-Trainer Workshops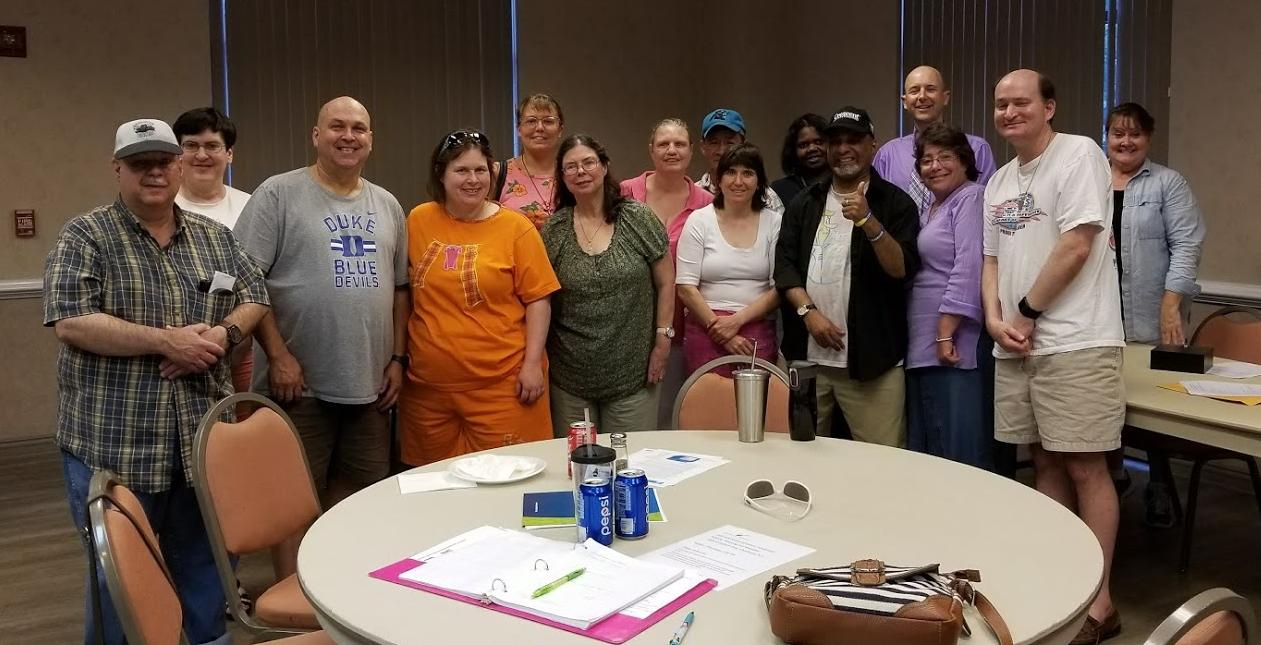 It's been 27 years since Congress passed the Americans with Disabilities Act (ADA), the first comprehensive civil rights law addressing the needs of people with disabilities in the United States. The ADA prohibits discrimination in employment, public services, public accommodations and telecommunications where people with disabilities are concerned.
While community impact because of the ADA has seen some changes, there is still a lot of work to do for full inclusion and integration for people with disabilities, here in North Carolina and around the country.
As a result, the US Department of Health and Human Services created and funded a national network of 10 ADA Centers to provide a wide offering of services including training individuals to return to their communities to train groups, organizations and other individuals on:

• Promoting voluntary compliance and effective implementation of the ADA.
• Increasing understanding and awareness of the ADA.
• Encouraging partnerships among government, business, and disability communities to facilitate effective implementation of the ADA.
In North Carolina, approximately 30 people gathered in Burlington, NC for an ADA Train-the-Trainer session led by the Southeast ADA Center, headquartered in Atlanta, GA. During the workshop, participants learned about the history and purpose of the ADA Trainer Network and its curriculum, reviewed all 60 training modules; took an in-depth look at the employment module; and discussed how to build a customized training. The group also worked together to develop a training plan.
This workshop provides attendees with a toolbox of information to take back to their communities. The training returns the power to grassroots movements throughout the State.
"When people with disabilities speak with people who have responsibility under the ADA law to make improvements, it starts a conversation and we see more positive results," explains Pam Williamson, assistant director of the Southeast ADA Center headquartered in Atlanta, GA. "We work closely with our affiliate leadership network in each state to train individuals in local communities." In North Carolina, its network partner is the North Carolina Council on Developmental Disabilities (NCCDD).
"The beauty of our training model is that anyone can use it. We set it up to be flexible for the trainers at the level they each are comfortable doing," she added.
So when 44-year-old Jonathan Ellis of Murfreesboro, NC, walked in for the training, he knew his intellectual and developmental disabilities (I/DD) would provide an added dimension to what he was about to learn.
"Although northeastern North Carolina is exposed to people with disabilities of all types, we have people in our state and nation who still believe that people with disabilities cannot be active members of society, even in 2017! We still need people like me to break down barriers one group at a time," Ellis said. He plans to take what he has learned back to the northeastern part of the state and conduct trainings in two areas: disability awareness and employment, focusing on the issues both companies and people with disabilities face.
Kim Stewart from Louisburg, NC and a disability consult for Tar River Transit also attended the training. "I have trained recipients of vocational rehabilitation services how to be better prepared as they navigate the world as a job seeker, which is the name of one of the modules I used," she said.
Additionally, Stewart will be training bus drivers and other transit staff later this year to support people with disabilities who use public transportation.
"Excellent customer service is paramount to any successful business and in the world of transit this is critical. As more people with disabilities use public transportation, the training is key to ensuring our transit staff and drivers know how to best serve transit customers with disabilities. I will also focus on Title II aspects of service animals and transportation stop announcements. As a travel trainer, these are two areas of major compliance concerns I often see that need addressing," she added.
Stewart says that even though the ADA was signed into law in 1990, the message of accessibility and equality can always use more people to spread the word.
Also in attendance at the workshop was Stephanie Johnson, a staff development vocational rehabilitation program specialist for the Division of Services for the Blind. She plans to use the workshop information primarily during her agency staff trainings, especially the employment-related modules. As a result, Johnson hopes the training will provide a heightened awareness of the ADA and provide a way her staff can instill self-advocacy skills in their clients as well as see improved communication with businesses and potential employers.
The ADA Centers in the nation are quick to explain they are not an enforcement agency. The training and materials are intended as informal guidance, not as a determination of legal responsibilities and rights regarding the legislation.
However, results are being noticed and measured. Williamson points to the curriculum being used with training law enforcement officers in various areas. Those police departments are seeing a drop in complaints when it comes to the handling of incidents concerning service animals and interpretation services.
Groups being trained through the Southeast ADA Center include youth and individuals with disabilities, Centers for Independent Living, parents and educators of students with disabilities, Chambers of Commerce, Senior Recreation Centers, Departments of Parks and Recreation and Tourism Departments.
If you are interested in more information or attending a free train-the-trainer workshop, contact the Southeast ADA Center at 1-800-949-4232 or at ADAsoutheast@law.syr.edu or visit www.ADAsoutheast.org
---
NC ADA Network Promotes Community Advocacy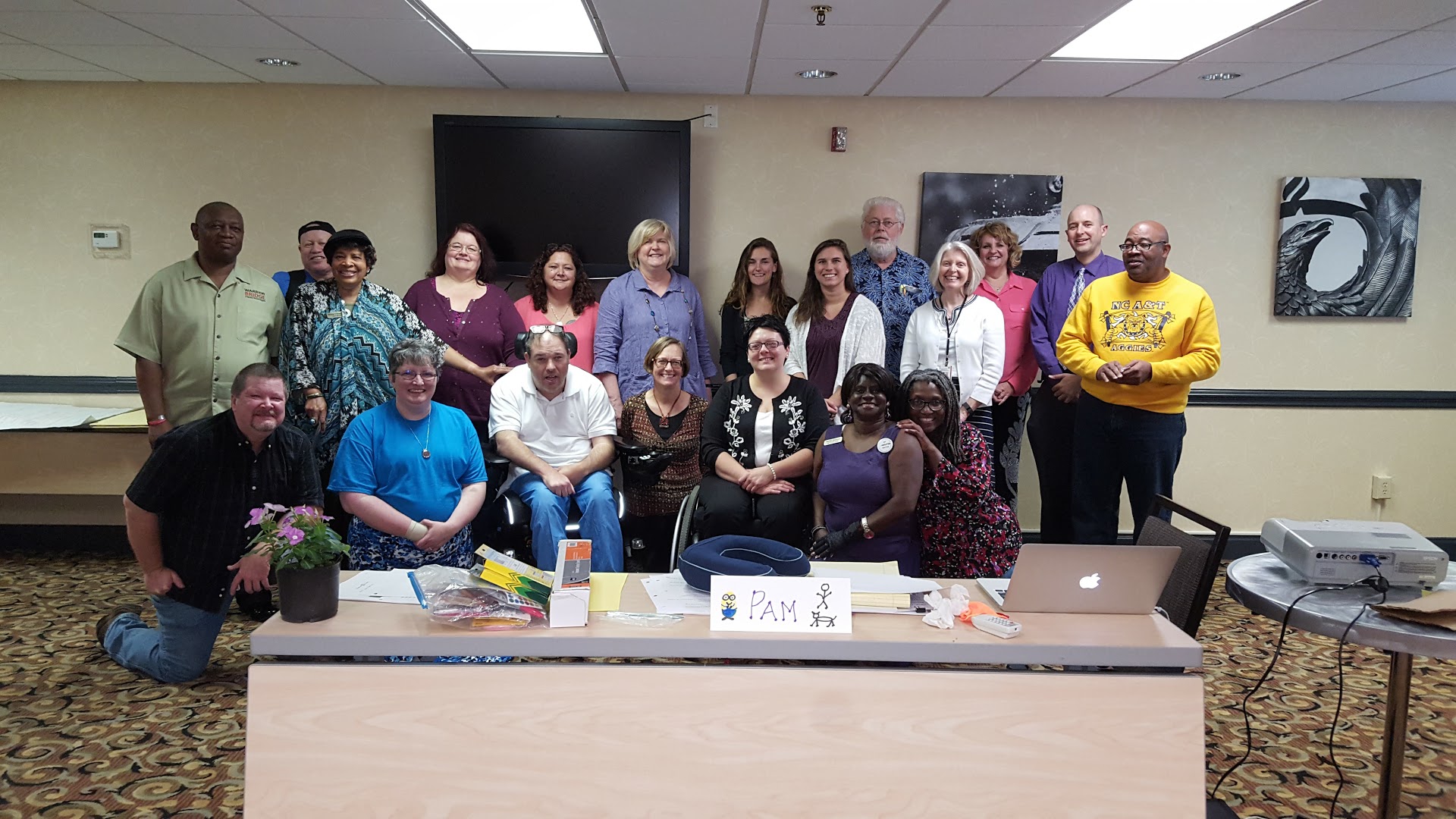 In the summer, the North Carolina Council on Developmental Disabilities (NCCDD) Systems Change Manager Philip Woodward spoke to approximately 25 members spoke to Self Advocates of Mecklenburg, or SAM. Established by Laura Newell in 1998, the group is a community of people with intellectual and other developmental disabilities (I/DD) united by their personal experiences with the goal of promoting education, self-determination and social engagement while advocating for their rights and the rights of others.

This opportunity with SAM came through NCCDD's initiative, the NC ADA Network, that works with individuals with disabilities and grassroots groups led by people with disabilities to increase voluntary compliance with the Americans with Disabilities Act (ADA) in local communities across North Carolina.

The NC ADA Network builds the capacity of self-advocates to advocates for their rights under the ADA, resulting in tangible change in their community, and works with self-advocates to conduct ADA projects and ADA activities that result in improved access for all people with disabilities across the state. The network is able to accomplish this through partnering with the Alliance of Disability Advocates Center for Independent Living, which serves as the fiscal agent/intermediary to provide individuals and groups access to the financial resources necessary to complete their project successfully.

This summer, transportation for people with disabilities was the most popular topic, with numerous members expressing their desire to see more bus stops in key areas of Charlotte. The group also provided feedback to Woodward about people with I/DD needing more choices for living in the community, building an accessible playground and obtaining resources to train a service animal.

The initiative previously supported SAM in its ADA project designed to improve restroom door accessibility at Charlotte businesses by purchasing door force gauges to measure the amount of force required to open restroom doors. The group recorded their measurements at various businesses and used the "Starting the Conversation with a Business: A Leader's Guide" tool to help them enter into conversations with staff at the businesses. As a result of this project, 15 businesses adjusted the tension on heavy restroom doors to make them easier for all people to open.

Starting in July, Woodward took over the role of NC ADA Network Coordinator and will work with grassroots groups across the State on developing ADA projects. NCCDD wishes to thank Karen Hamilton for many years of service dedicated to improving access, understanding and awareness across North Carolina for all people with disabilities.
Save
Save
Save
Save
Save
Save
Save
Save
Save
Save
Save