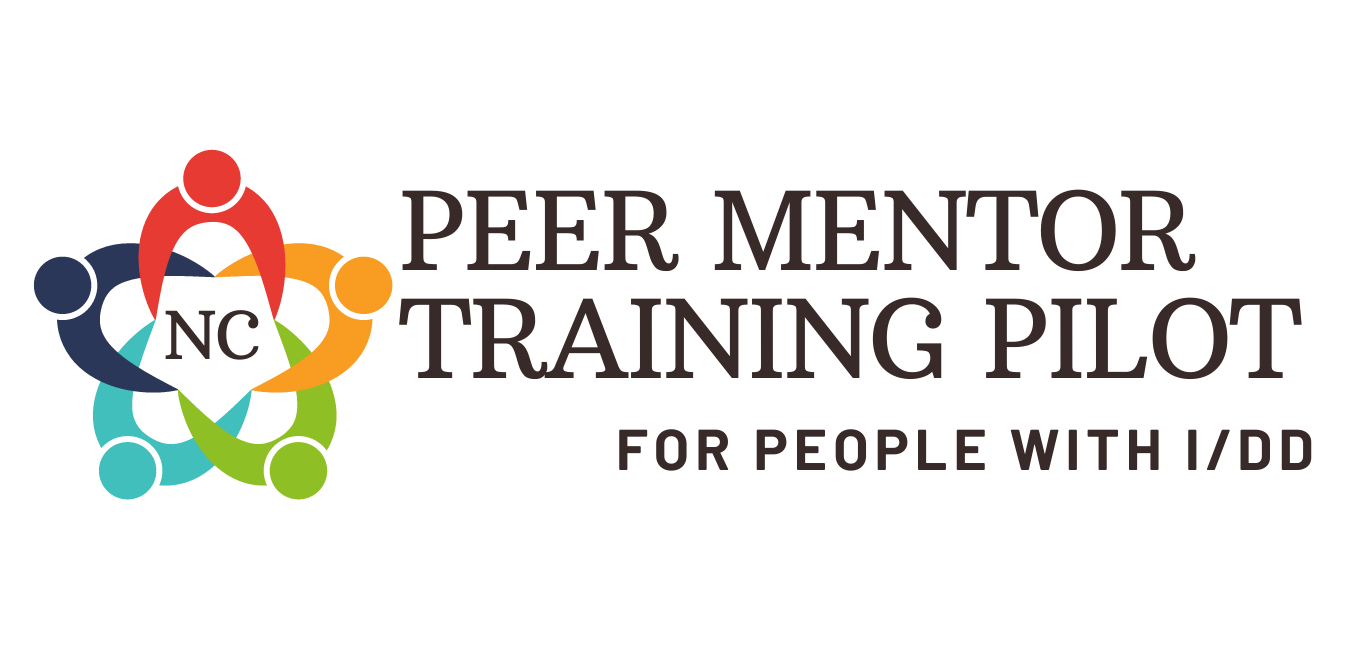 Peer Mentor Training: The focus of this area is to demonstrate that peer mentors with an intellectual and other developmental disability (I/DD) can positively impact the lives of other individuals with I/DD and their families.
Coordinated by Community Bridges – Consulting Group this initiative is a joint venture of Optum and the National Association of Councils on Developmental Disabilities (NACDD) and the North Carolina Council on Developmental Disabilities. The purpose of the Peer Mentoring Training for People with IDD: Second Cohort is to implement the piloted peer mentoring training program for individuals who live independently with the use of Home and Community-Based Services (HCBS).

This initiative supports NCCDD's Goal 3 of the Council's Five-Year Plan: Increase advocacy for individuals with I/DD.


Why is NCCDD funding this initiative?
Aspects of this initiative are mandated in the Developmental Disabilities and Bill of Rights Act (DD Act) for Councils on Developmental Disabilities, and part of the NCCDD Five-Year State Plan to:
Support opportunities for individuals with I/DD who are considered leaders to provide leadership training to individuals with I/DD who may become leaders
Support I/DD professionals, other professionals and community leaders to receive leadership development; and
Increase individual, family, public and system knowledge and engagement to provide system advocacy for the financial security and community living opportunities of individuals with I/DD.
Also, to increase individual, family, public and systems educational opportunities and engagement to improve the lives of individuals with I/DD and the system.
What are the major goals and objectives?
Implement the piloted curriculum to train 7 – 10 Peer Mentors with individuals with intellectual and other developmental disabilities.
Conduct evaluation of Peer Mentor Training for People with individuals with intellectual and other developmental disabilities curriculum.
Build and manage relationships with and among partners and other key stakeholders and serve as a resource for content, ideas, and thought partnership.
Create infrastructure for networked connectivity, acting as a liaison to build deep, sustainable partnerships, prioritizing transformational change.
Analyze a diversity of data points to inform next steps and long-term goals.
Identify and respond to conflicts and misalignment between stakeholders.
Lead monthly stakeholder calls and other activities that deepen connections and relationships to and among stakeholders.
Gainful employment for graduates of the Peer Mentor training for people with I/DD.
What has taken place since the start of the program? (Activities)
The pilot initiative started on March 1, 2021 and ended September 31, 2021. Cohort 2 initiative started on October 1, 2021 and ends March 31, 2021.
Designed and engaged a rigorous recruiting, interview and selection process for pilot trainees.
Developed and tested a peer mentor training curriculum.
The pilot training concluded July 2021 with 15 graduates.*
Several graduates have been sought for employment opportunities after completing the Peer Mentoring training.
Alliance Health created then posted the "Community Health Worker I - I/DD Peer Support" position.
Two articles published post-graduation: one program focused, and one participant focused.
Initiative coordinator sought and was accepted to present at two conferences on the Peer Mentor Training for Individuals with I/DD initiative.
Developed NC I/DD Peer Mentor training website: https://www.iddpeermentor.com/
*COVID-19 physical distancing restrictions required virtual/online delivery of all pilot training sessions. Future sessions may be delivered in-person.
What long-term changes are expected as a result of this initiative?
More individuals with I/DD and their families will knowledgeably advocate and take part in decisions that affect their lives, the lives of others and/or systems.
An accessible network of trained peer mentors with I/DD will promote systems change locally and at state and federal levels.
More provider organizations will offer a service like the Community Health Worker I - I/DD Peer Support
Who can I contact for questions?
Coordinator Kelly Friedlander, Principal Consultant, Community Bridges Consulting Group, kelly@cb-cg.com
NCCDD: Melissa Swartz, Systems Change Manager, Melissa.Swartz@dhhs.nc.gov
Additional Resources
Peer Mentor Training website address: www.iddpeermentor.com
Click here to download a one pager of this initiative.
Dec. 2020 i2i Conference Presentation: click here to download pdf of ppt. slides; Watch the youtube recording of the presentation here: https://youtu.be/0NAaxv9bKzo
Watch some of the pilot training cohort talking about the program here: https://youtu.be/zAgMgdPoRMo and https://youtu.be/tlJU_JaHSlI