---
A YEAR OF CRISIS AND TRANSFORMATION
This was a year of crisis and transformation for the intellectual and/or other developmental disability (I/DD) community in North Carolina. NCCDD has worked hard to implement and improve the systems and programs impacting the I/DD community during this critical time.
Meet the Need NC is a new initiative funded by NCCDD that aims to recognize and respond to the unmet needs of individuals with I/DD. The initiative brought diverse stakeholders together to develop a collective impact strategy to address two primary crises: the 15,000-person waiting list for the Innovations Waivers and the Direct Support Professional (DSP) workforce shortage. Read more from Bryan Dooley and Talley Wells here.
---
NCCDD Celebrates Advocates and Leaders
NCCDD honors the significant contributions made by advocates who are actively working to change attitudes and support greater choices for a more inclusive North Carolina. The Council established its Advocacy and Leadership Awards to honor leaders in the disability community who help build a better North Carolina for people with intellectual and developmental disabilities (I/DD). The 2020 Hefner Memorial award was presented posthumously to Deborah Wooolard and Bill Donohue of Winston-Salem, NC and the Riddle Distinguished Service award was presented to Betsy MacMichael of Durham, NC. The Leadership Award was presented to Suvya Carroll of Durham, NC. Watch the videos below to learn more about the 2020 recipients. Read more about the 2021 Awards Ceremony here.
---


COUNCIL KICKS OFF NEW FIVE-YEAR STATE PLAN (2022-2026)
NCCDD's 2022-2026 Five-Year State Plan is advancing the Developmental Disabilities Assistance and Bill of Rights Act of 2000 (DD Act) through its pillars of self-determination, independence, productivity, integration, and inclusion for individuals with intellectual and/or other developmental disabilities (I/DD) and their families. The Council kicked off its new Five-Year State Plan priorities based on information from national and state data, stakeholder input and directly from the I/DD community.The new plan's goals, to be achieved by 2026, include: 1) Increase financial security through asset development for individuals with I/DD; 2) Increase community living for individuals with I/DD; and, 3) Increase advocacy for individuals with I/DD. Read more about the new Five-Year State Plan here.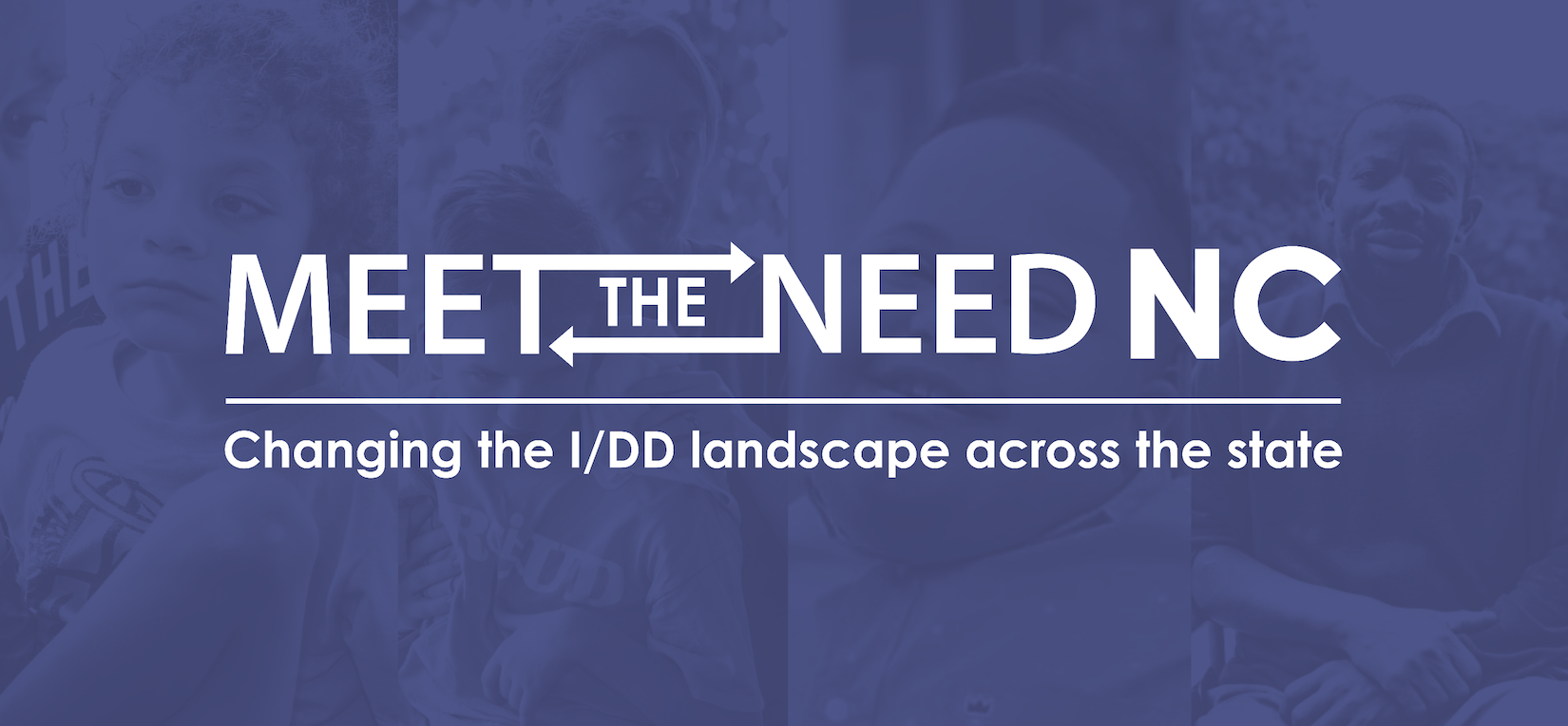 Individuals with I/DD in North Carolina are experiencing two crises of unmet needs. The first crisis is North Carolina's waiting list of over 15,000 people who need Home and Community Based Services through the Innovations Waiver. The second crisis is the unmet needs of individuals who qualify for services but are not receiving them due to a workforce shortage of direct support professionals.
To help address these two crises, NCCDD has funded a four-year grant for the Mental Health Transformation Alliance (MHTA) to develop and carry out a coordinated approach to positively impact the Medicaid Innovations Waiver waiting list in North Carolina. The Leadership Alliance of Neurodevelopmental Disabilities (LAND), a program of MHTA, is leading the groundbreaking initiative.
---

TAKING INITIATIVE
Through its Five-Year State Plan, NCCDD promotes advocacy development, community living and financial asset development so people with intellectual and/or other developmental disabilities (I/DD) have options regarding work, housing, friendships, community activities and other personally defined outcomes. The statewide initiatives are detailed in the Five-Year State Plan (2022-2026) and supported by NCCDD and its collaborative partners. Read more about the new and current initiatives supported by NCCDD.
---

NCCDD Meets the Community
With the lifting of Covid-19 restrictions, NCCDD began offering a hybrid approach for people to attend events in person or virtually throughout the state of North Carolina. Boone and Greenville area residents gathered for story sharing events while others attended online. Mini-grants given by NCCDD to organizations from Asheville to Davidson saw a variety of activities including a movie night showing "Peanut Butter Falcon", a booth at the farmer's market providing hands-on employment experiences, and training for individuals working with people with disabilities. Read more about NCCDD meeting the community here.
---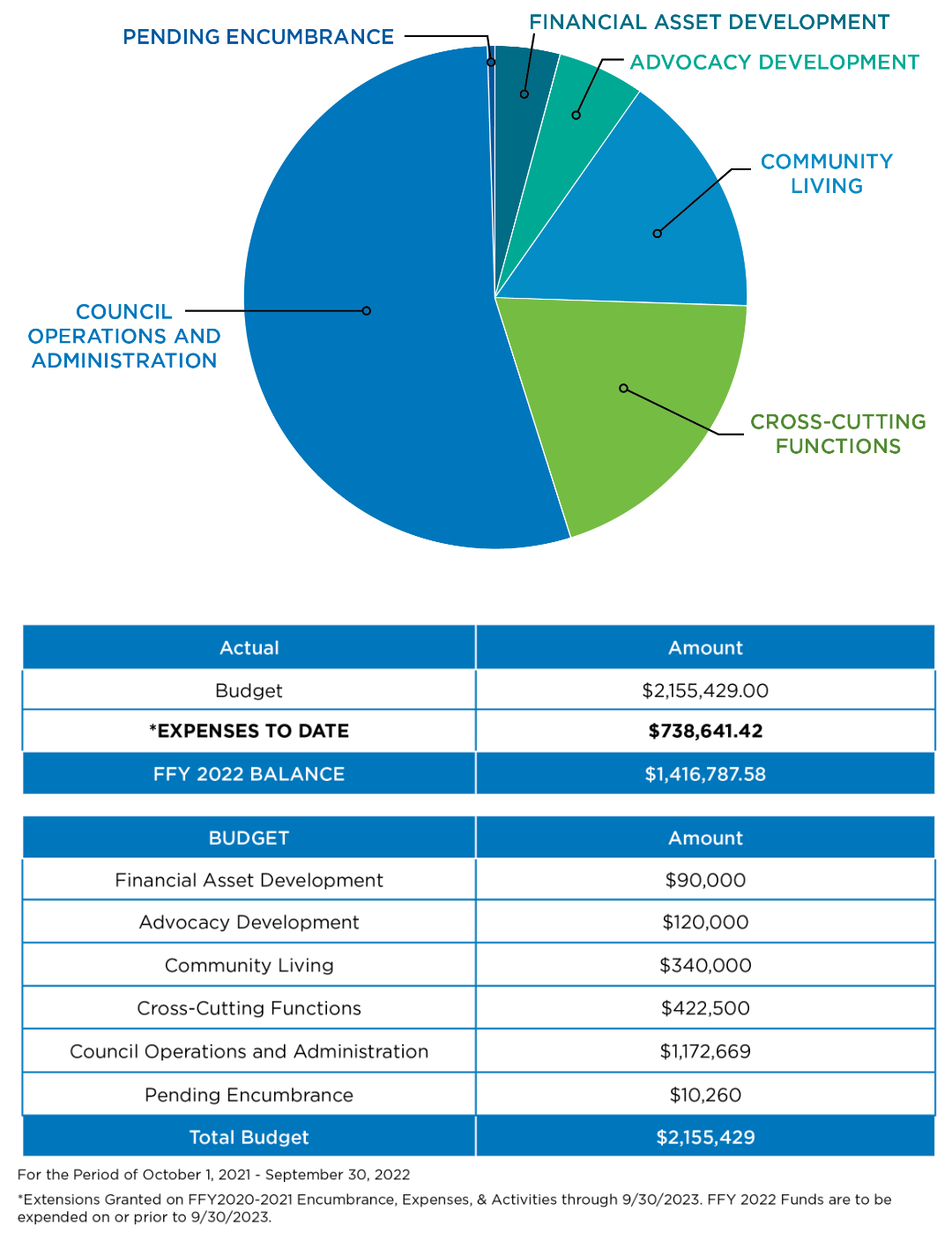 Thanks to our Council Members, Partners and Staff
North Carolina Council on Developmental Disabilities (NCCDD), a 40-member body appointed by the Governor, is made up of:
People with intellectual and/or other developmental disabilities (I/DD)
Parent/Family member/Guardian
Representatives of State agencies
State legis4lators
Representatives from Disability Rights NC and the Carolina Institute for Developmental Disabilities
Provider and Local Management Entities/Managed Care Organization representatives
View our current Council here. View our Current Partners here.
---
English Version

Download the pdf:

Read the pdf online:

Spanish Version

Download the pdf:

Read the pdf online:
---
© NCCDD 2021 Annual Report • North Carolina Council on Developmental Disabilities • 820 South Boylan Avenue • Raleigh, NC 27603
919-527-6500 (voice/tdd) • 800-357-6916 (voice/tdd) • Info@nccdd.org